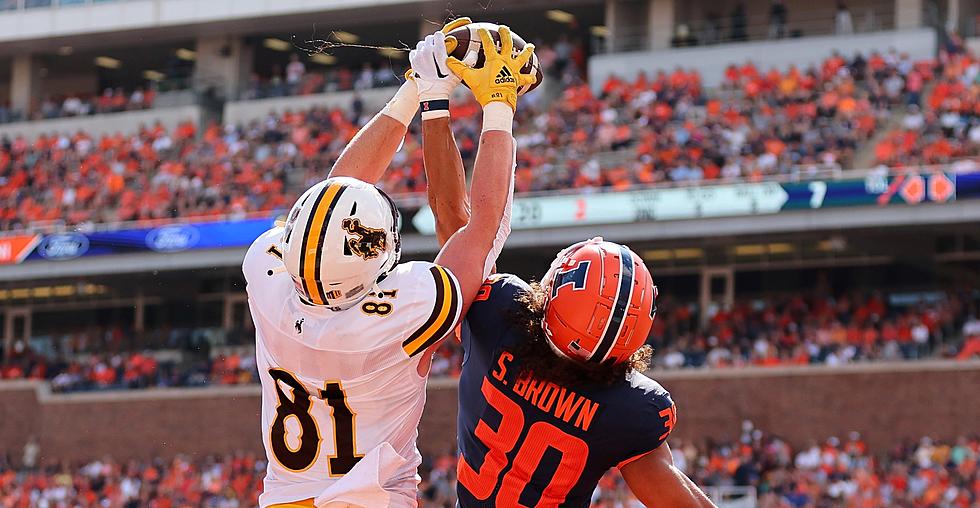 132 Wyoming Students Honored on MW Scholar-Athlete Team
CHAMPAIGN, ILLINOIS - AUGUST 27: Sydney Brown #30 of the Illinois Fighting Illini breaks up a pass in the endzone intended for Treyton Welch #81 of the Wyoming Cowboys during the first half at Memorial Stadium on August 27, 2022 in Champaign, Illinois. (Photo by Michael Reaves/Getty Images)
* University of Wyoming press release
LARAMIE -- The Mountain West Conference announced its 2022-23 Scholar-Athlete Team on Tuesday. The University of Wyoming had 132 student-athletes recognized.
The Wyoming women's swimming and diving team led the way with 22 honorees. The remaining 110 Cowboys and Cowgirls included 18 from football and women's soccer, 15 from women's cross country, 10 from women's track and field, nine from volleyball, eight from both women's basketball and men's cross country, seven from men's track and field, six from women's golf, five from men's golf, four from women's tennis and two from men's basketball.
In order to qualify, the individual must have completed two semesters or three questers at their school and have a cumulative GPA of 3.5 or higher.
University of Wyoming Student-Athletes who earned 2022-23 Mountain West Scholar-Athlete Team
Men's Basketball (2)
Ethan Anderson
Hunter Thompson
Women's Basketball (8)
Tess Barnes
Lexi Bull
Allyson Fertig
Emily Mellema
Grace Moyers
Tommi Olson
Quinn Weidemann
Bailey Wilborn
Men's Cross-Country (8)
Henry Ilyasova
Enzo Knapp
Charles McIntyre
Mason Norman
William Persin
Joshua Rodgers
Trevor Stephen
McGinley Zastrow
Women's Cross-Country (15)
Kaylee Bentley
Libby Berryhill
Kennedy Burch
Leah Christians
Riley Frankel
Brooke Holzworth
Kaylee Kearse
Addison Laughlin
Katelyn Mitchem
Michelle Renner
Molly Sitter
Anna Spear
Abigail Whitman
Madyson Willis
Ashley Wood
Football (18)
Brady Bohlinger
Charlie Coenen
Caleb Cooley
Buck Coors
Frank Crum
Ethan Drewes
Marco Machado
Ralph Fawaz
James Gibbs
Luke Glassock
Andrew Johnson
Ryan Marquez
Thomas McEvoy
Caleb Merritt
Will Pelissier
Clayton Stewart
Treyton Welch
Wyatt Wieland
Men's Golf (5)
Patrick Azevedo
Kirby Coe-Kirkham
Jimmy Dales
Cade McLaughlin
Kristof Panke
Women's Golf (6)
Grace Dunkleberger
Maria Farnum
Jaden Gonzalez
Samantha Hui
Rachel Stoinski
Jessica Zapf
Women's Soccer (18)
Maria Allen
Ally Beavers
Alyssa Bedard
Lily Brongo
Taylor Brook
Gabby Clutter
Nikayla Copenhaver
Rae Gerking
Alyssa Glover
Kylee Holstad
Faith Joiner
Sydney Miller
Haylee Rice
Eliza-Grace Smith
Melia Stubbs
Jamie Tatum
Amber Vokoun
Keelie Wortmann
Women's Swimming & Diving (22)
Madeline Bane
Claire Becker
Kayla Cunningham
Brooke Ford
Kali Frankowiak
Ellie Fritscher
Emily Giles
Alicia Gonzalez
Gabriella Haigler
Rachael Horne
Lana Jeter
Nettie Knapton
Sydney McKenzie
Katelyn McPherson
Sage Morton
Britt Nichols
Carly Palmer
Zoe Robison
Anna Roesler
Alex Stein
Lauren Swartz
Kylee Theiler
Women's Tennis (4)
Violetta Borodina
Ana Fernandez
Mihaela Kaftanova
Maria Orehkina
Men's Track and Field (7)
Hunter Brown
Sage Coventry
Jaymison Cox
Guy Hamasaki
Caige McComb
Peter Mead
Kareem Hatem Mersal
Women's Track and Field (10)
Mary Carbee
Elayna Chafee
Jordan Christensen
Gabrielle Drube
Isabelle Harvey
Sadie McMullen
Julia Kay O'Neil
Jenae Ramirez
Cosette Stellern
Kayla Stibley
Women's Volleyball (9)
Tierney Barlow
Macey Boggs
Corin Corruth
Lydeke King
Katarzyna Partyka
Ashton Reese
Kendal Rivera
Rylee Schulz
Zoee Smith
UW: University of Wyoming Cowboys' Greatest Games From the First Decade of the 2000's