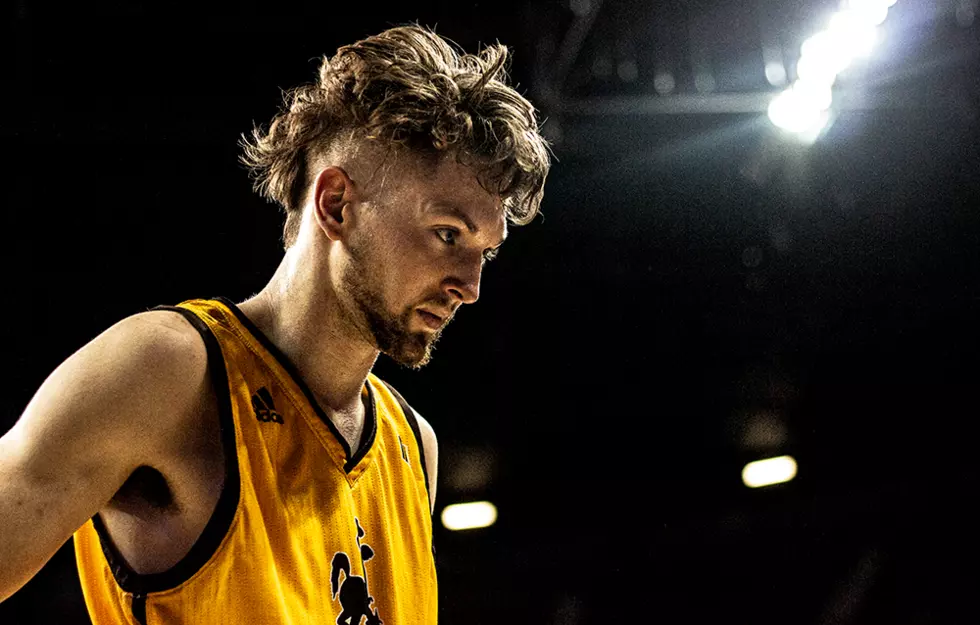 3 Quick takes: A 72-hour ride that won't soon be forgotten
G2NEV_HENDRICKS-DURING-1-PT-LEAD-30-SECONDS-LEFT
LAS VEGAS -- For 72 hours, Wyoming basketball was fun again.
This young group, made up of 11 underclassmen and a pair of scrappy seniors, made everyone forget about the 7-23 season that is now a distant memory.
Even if it was for just 72 hours.
This team captured your imagination again. In fact, even if for just those brief 72 hours, captivated college basketball fans all over the globe.
Yes, San Diego State and Utah State will play for a Mountain West title Saturday in Sin City, but make no mistake, the Wyoming Cowboys are the story line of this tournament.
It was the sharp-shooting of senior Jake Hendricks. The hard-nosed attack mode of freshman Kwane Marble. The emergence of Kenny Foster and the return of Hunter Thompson.
It was about Hunter Maldonado, the player who carried this team on his back all season long. The outcome wasn't often pretty, but that kid just kept plugging away.
These last three days also gave the world a glimpse of the raw emotion of Wyoming head coach Allen Edwards.
Whether it was a tearful postgame interview after the improbable victory over Nevada in the quarterfinals, the fiery speech to his players in the locker room, the bundle of sticks he waved in the huddle or even his technical foul that seemed to rally the troops Thursday night, the Cowboys' fourth-year bench boss practiced what he preached -- laying it all on the line.
Does this team still have deficiencies? you bet.
But you almost forgot about those these last 72 hours, didn't you?
I've written these words for three straight nights now: This team wasn't supposed to be here.
You believe that. I believe that. The problem -- we aren't on the roster.
This group has been scrutinized, picked apart and left for dead by you and me. Often times, who could've blamed us? Eight-game losing streaks, blowouts and the inability to close out winnable games became the theme of the 2019-20 season. For long stretches of cold winter weeks, there didn't seem to be a light at the end of the tunnel.
If there was, it surely was a train coming full speed ahead.
The greatest trait about this version of the Cowboys was their ability to drown us out. All of us. They said they didn't care. They obviously meant it.
While their coach is fielding questions about his future -- and rightfully so -- Maldonado and Crew dug deeper. When I asked them questions about giving up and how hard it must be to continue to fall short, they all talked about "the process."
In the media, we call that "coach speak." They call it reality.
Say what you will about this ragtag bunch, they won't listen anyway.
For 72 hours, they were your team again. And you were damn proud.
The one that got away
With 4:35 on the game clock, Marble toed the stripe and knocked down a pair of free throws. They were points 65 and 66.
This game was all tied up.
The crowd in Las Vegas could sense something special was about to happen. Could the 11 seed really win its third straight and make the championship game Saturday night?
Sam Merrill answered that question in a hurry. It was an emphatic, "no."
The Aggies star guard, along with big man Neemias Queta, took Utah State on a 13-0 run, all but burying any hopes of a true Cinderella story. They also saved any hope the Aggies have of making the NCAA Tournament.
The Cowboys held Merrill in check most of the night. He netted just nine points in the first 20 minutes. That all changed in the second half. Merrill went 9-for-15 from the field and sank three triples, including the dagger that gave the Aggies a 77-66 lead with just 1:40 remaining.
Wyoming had no answers for Queta, who finished the night with 21 points and five blocks, including three in a row with the Cowboys attempting to make a late, furious comeback.
Still, Edwards' crew refused to go away.
With 1:12 remaining, Foster hit his third 3-pointer of the night. Despite all the chaos and the demoralizing double-digit Utah State run, this was a two-possession game.
Unfortunately for the underdogs, that's as close as it would get.
Oh, what could have been.
What does the future hold?
That will be the biggest question heading into this offseason. And, of course, it all starts at the top.
Was this Edwards last game as the Cowboys head coach? And if it indeed was, who will follow him out the door?
Make zero mistake -- the team loves its coach. They play for him. Didn't they prove that this week? Then again, what happened in the regular season? See, there will be plenty of questions.
If this team returns intact, the Cowboys really have something in Marble and Foster, among others. We all know what Maldonado is capable of. We see glimpses from Milton, Brandon Porter, TJ Taylor and Thompson. And what about Tyler Morman, the 6-foot, 11-inch forward who lost most of the season because of a variety of injuries?
He sure could've helped tonight.
What we do know is AJ Banks and Hendricks just played their last game in a Cowboys uniform. That is about the only certainty we have.
Where does confidence play a part in all of this?
These guys are young yet they just knocked off a pair of league heavyweights. They took the second-best team and preseason favorite to the brink.
That is invaluable experience.
I won't pretend to know what Wyoming athletics director Tom Burman is thinking. In fact, who envies that guy right now? If anything, Edwards just made a slam-dunk decision one you might lose a little sleep over.
What is apparent, if this cast of characters are back next season -- Edwards or not -- the Cowboys could have something here. An NCAA Tournament team? A MWC title contending team? I'm not ready to go there yet.
But do you think they are scared of the big dogs anymore?
I don't.