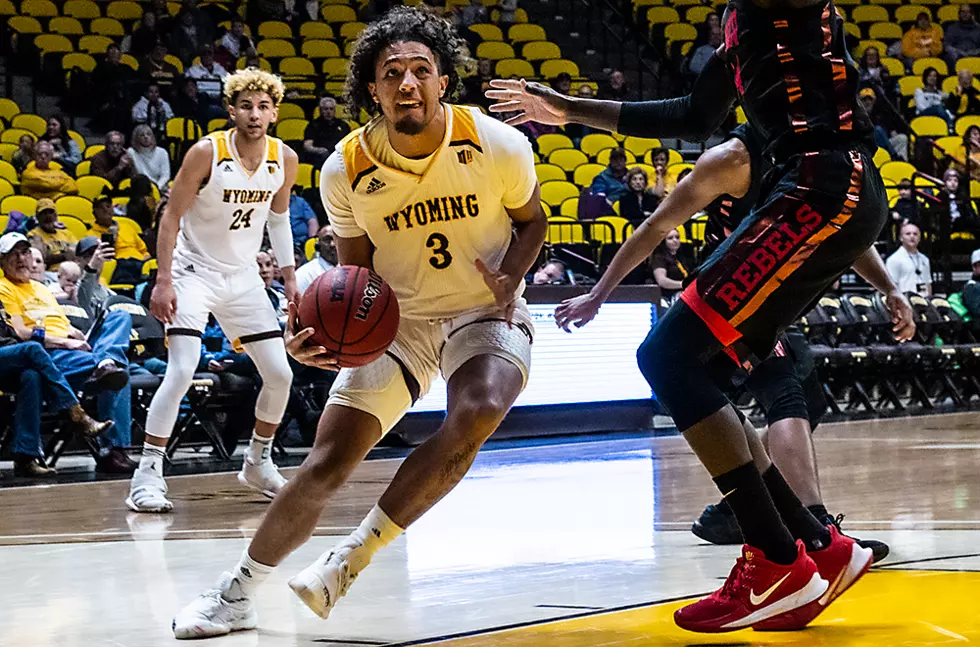 3 Quick takes: The future is now — start Kwane Marble
UNLV_no-3-grainy
SAN DIEGO -- This year is lost.
In fact, it went bye-bye almost the second the 2019-20 schedule dropped. It's no secret that Wyoming wasn't going to field a team that would compete for a Mountain West title this season.
Heck, just competing would be a welcome change most nights.
The Cowboys did that Tuesday night. The score just doesn't appear to back up the claim.
Wyoming fell to No. 4 San Diego State -- the lone unbeaten team in Division-I basketball -- 72-55 in front of nearly 12,500 inside a cram-packed Viejas Arena in San Diego.
The game never got totally out of hand, which is surprising seeing that the visitors turned the ball over 16 times, which led the 18 fast-break points for the Aztecs. SDSU shot 54.3 percent for the field and connected on 9-of-20 three pointers. They also finished with eight steals.
"We are a young group and haven't experienced an atmosphere like this," Wyoming head coach Allen Edwards said. "I wasn't disappointed in the fight by our guys, we were playing an elite team. We really fought and tried to get better as the game went on."
One of the reasons this one didn't turn into the 23-point blowout Las Vegas bettors were banking on is because of freshman guard Kwane Marble. The shooter from Denver went 4-of-9 from the field and nailed a three while turning in a 12-point performance off the bench.
The off-the-bench part needs to become a thing of the past.
Marble has scored in double figures in three of his last four outings, including a career-best 19-point showing in a home loss to UNLV. Before the rookie put up six-point performances in back-to-back games against Colorado State and San Diego State in early January, he has been one of the Cowboys most productive players on the offensive end.
In other words, exactly what Edwards' group has desperately needed.
AJ Banks is a great person. He has a big, engaging smile. He's funny. The Las Vegas native has assimilated to Laramie so much that he even wears Cowboy boots.
He plays hard, efficient defense most nights.
But lately, that's all he's doing. And it's not enough.
It's time to start looking toward the future. And the future at the point guard position appears to be Marble, one of the lone bright spots over this season-long seven-game losing streak.
During that seven-game span, Banks has scored just 15 points. He has just eight assists and three steals. You can tack on 12 turnovers, too.
While Banks has gone ice cold, Marble has become arguably the best player on the court. He can bring the ball up the floor, pass with precision and play a little defense himself.
Marble was on the court for 33 minutes in San Diego, third most on the team behind Jake Hendricks and Hunter Maldonado. The Cowboys have been notorious slow starters and were again Tuesday, falling behind 8-2 after netting the first bucket of the game.
Banks scored that. He never scored again. Just like when UNLV was in Laramie last week.
Again, why isn't this Marble in the starting five?
At this point, Edwards and Co. have to be looking toward the future, right? Freshman Kenny Foster has been a regular starter. Why not Marble?
Maybe instead of an 8-2 deficit to start this one, Marble calms the tide and sinks one? Maybe he gets a steal? Maybe he dishes out an assist?
He's shown he can do it. Let's see it from the jump.
The mysterious case of TJ Taylor
I've been hard on the 6-foot, 6-inch guard from Chesapeake, Virginia, this season. And for good reason -- the kid can play.
The sophomore has poured in eight points per game over the last two outings. It's his first burst of offensive consistency this season. The truly frustrating part is Taylor has scored 22 in a game. He's also netted 16 once and 12 in two games.
However, he has also been held to two-points or less 10 times. He bottomed out in Fort Collins, failing to get on the stat sheet in 19 minutes of play.
He is way too talented to have splits like this. And he certainly should never be held scoreless.
Edwards says consistency is Taylor's biggest hindrance. The numbers prove that.
At this point in the season fans should be talking about the pieces on this team that will equate to a brighter future. Taylor's name should be in that conversation. Right now, it's not.
As maddening as this season has been for fans, players, coaches and anyone invested in this program, it's the inconsistency that keeps rising to the top. Taylor has had a pair of solid outings in a row. He needs to keep that going if he wants anyone to believe in his abilities. Right now, he can't be trusted.
A few nice games and he will vault himself right back into the convo. And he has the talent to do it. He will get his next chance when Utah State pays a visit to Laramie next Tuesday night.
Is Maldo OK?
Sometimes we forget that Maldonado went through seven-plus months of intense rehab for his back and leg after last year's season-ending injury.
When he averages 17.4 points per night, it makes it easy for all of us to pass over.
But has this heavy lifting of carrying this team through the first two-plus months of the season finally gotten to the redshirt sophomore?
Tuesday night in San Diego, Wyoming's leading scorer put up just seven points. In the Cowboys last game, a 65-50 home loss to Fresno State, Maldonado matched that number.
These last two games have been -- by far -- his poorest two offensive showings of the season. In fact, they are the only two games that Maldonado has failed to score in double digits.
Typically, it wouldn't be the worst thing in the world to see Maldonado not lead the team in scoring, but finishing third in scoring like he did Tuesday, or fourth like he did against the Bulldogs, spells doom for the Cowboys.
If Wyoming has any chance to crack the win column in league play, Maldonado will have a big say in that. But, if he is not 100 percent, it might be time to tap into the youth.
I don't know for a fact that Maldonado is hurt. That's pure speculation on my part. But aren't we all kind of wondering at this point?
Seven points is just not a Maldo type of performance.