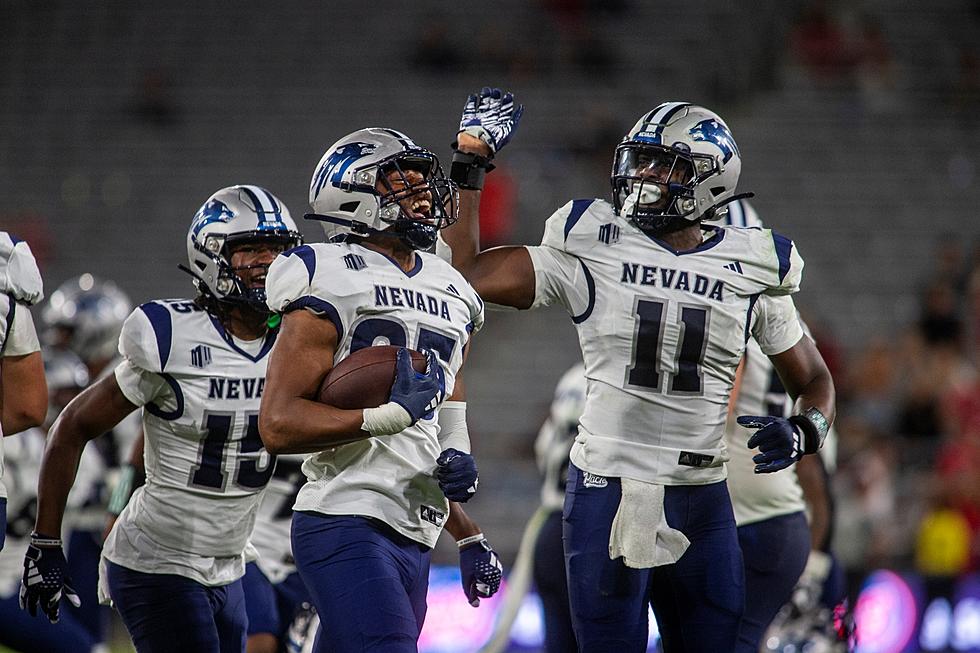 Around the MTN: Panic Time on Montezuma Mesa?
SAN DIEGO, CA - OCTOBER 21: Nevada linebacker Jonathan Maldonado (95) and linebacker Marcel Walker-Burgess (11) celebrate stopping a San Diego State fourth down in the second half of a college football game between the Nevada Wolf Pack and the San Diego State Aztecs on October 21, 2023, at Snapdragon Stadium in San Diego, California. (Photo by Tony Ding/Icon Sportswire via Getty Images)
* A Mountain West press release contributed to this report
LARAMIE -- When does basketball season start?
That's likely the war cry in southern California after San Diego State was clipped by winless Nevada 6-0 last Saturday night inside a sparsely-populated Snapdragon Stadium, dropping the Aztecs to 3-5 overall and 1-3 in Mountain West play.
The visitors snapped a 16-game losing skid in the process, pitching their first shutout in more than 12 years.
"Obviously, we are pretty disappointed in our performance," SDSU coach Brady Hoke told the San Diego Union-Tribune. "It's not what we expected."
You're not alone, coach.
The Wolf Pack features, statistically, one of the worst defenses in the FBS. No team had allowed more yards per game (510). Only UMass (42.4) had allowed more points than Ken Wilson's team (39.4).
SDSU, which finished 0-of-10 on third down, managed just 204 yards of total offense in this stunner, just 47 coming through the air. Jalen Mayden completed just 6-of-14 passes and his late fumble sealed the upset. Brandon Talton's two first-half field goals -- one from 37 and another from 39 yards out -- was enough to get the job done.
The Aztecs (3-5, 1-3) haven't suffered a losing season since 2009. To avoid that, Hoke's squad needs to win three of its last four. The final stretch includes bookended home tilts with Utah State and Fresno State. Road meetings with Colorado State and San Jose State are also on the docket.
Here are some other news and notes from around the Mountain West landscape:
Colorado State welcomes in-state rival and 19th-ranked Air Force and UNLV visits Fresno State in a battle of 6-1 squads receiving votes in the national polls to highlight the Mountain West's Week 9 schedule.
Air Force (7-0, 4-0 MW) moved up three spots to No. 19 in both the Associated Press and AFCA polls this week. The Falcons are riding a 12-game winning streak, one shy of the longest in program history and currently the fourth-longest active streak in the FBS.
Three other MW teams are receiving votes in the national polls this week. Fresno State (6-1, 2-1) and UNLV (6-1, 3-0) are receiving votes in both the AP and AFCA polls, while Wyoming (5-2, 2-1) is receiving votes in the AFCA poll for the eighth straight week.
Air Force earned a 17-6 win at rival Navy in Week 8, taking a shutout deep into the fourth quarter in capturing the first win needed to retain the Commander-in-Chief's Trophy. The Falcons got the only offense they would need to start the second quarter, with senior quarterback Zac Larrier finding senior wide receiver Dane Kinamon for a 94-yard touchdown, the longest pass play in program history. Junior placekicker Matthew Dapore added a 40-yard field goal in the third quarter and senior linebacker Alec Mock had an 18-yard interception return for a touchdown to cap the Air Force scoring. The Falcon defense was dominant, forcing Navy to punt on 10 of its first 11 possessions and then grabbing interceptions on the next two. Air Force held the Midshipmen to just 124 yards of total offense on the day, including just 22 on the ground.
Colorado State (3-4, 1-2) dropped a 25-23 decision at UNLV in Week 8, with the lead changing hands four times in the final four minutes. Graduate kicker Jordan Noyes hit his third field goal of the day, a career-long 55-yarder, with just 44 seconds left to put the Rams ahead 23-22, but the Rebels were able to drive the the length of the field and convert the game-winning field goal as time expired. Redshirt freshman quarterback Brayden Fowler-Nicolosi went 21-for-32 for 235 yards and a touchdown, sophomore running back Vann Schield ran for 90 yards on 11 carries and senior running back Avery Morrow rushed 18 times for 49 yards and a score. Junior defensive back Jack Howell and graduate defensive back Chigozie Anusiem had 11 tackles apiece to pace the Rams. Graduate defensive end Mohamed Kamara earned midseason All-America honors from the AP and CBS Sports last week.
UNLV became bowl eligible for the first time since 2013 with its come-from-behind win over Colorado State in Week 8, starting its final drive down one point with just 40 seconds left. Quarterback Jayden Maiava marched the squad down to the 10-yard line by going 4-for-4 for 50 yards, and senior placekicker Jose Pizano hit a 28-yard field goal as time expired to lift UNLV to the win. It was a career day for Pizano, who hit a program-record six field goals, tying the MW mark, and scored a program-record 19 kicking points, which ties for third in a game in MW history. In addition to earning MW Special Teams Player of the Week honors, Pizano, who hit three field goals over 40 yards, shared College Football Network's Special Teams Player of the Week national distinction. Maiava was named the MW Freshman of the Week after finishing the game 27-for-36 for a career-best 353 yards.
Pizano has now made 18 field goals this season, which leads the FBS. Pizano joins Colorado State's Cayden Camper (10/9/2021) and Utah State's Dominik Eberle (9/8/2018) as Mountain West kickers to make six field goals in a game.
Idle in Week 8, Fresno State last took the field in its 37-32 win over Utah State on Friday, Oct. 13. The Bulldogs got career games from junior running back Malik Sherrod and junior tight Tre Watson, with Sherrod rushing 24 times for 131 yards and three touchdowns, all career-highs, and Watson accumulating five catches for 76 yards and two TDs, all career-highs. Junior quarterback Logan Fife, making his first start in nearly a year, threw for a career-best 291 yards and a touchdown in relief of injured starter Mikey Keene, who was added to the Manning Award Watch List last week. Fresno State trailed 32-31 after the Aggies scored with 4:42 to play, but Sherrod's 11-yard run with 2:19 to go was the difference and senior nickel Morice Norris Jr. sealed the win with an interception with about a minute left as the Bulldogs became bowl eligible for the third time in five years.
UNLV and Fresno State each have a +9 turnover margin this season, which is tied for third-highest in the FBS behind Penn State (+11) and Oklahoma (+10).
Boise State (3-4, 2-1) hosts Wyoming (5-2, 2-1) in a battle of squads with 2-1 league records that were idle last week. Bronco running back Ashton Jeanty had 31 carries for a career-high 212 yards and three touchdowns in Boise State's 31-30 setback at Colorado State in Week 7, also adding five catches for 42 yards in the contest, which CSU won on a Hail Mary as time expired. Jeanty, a sophomore averaging 124.0 rushing yards and 56.6 receiving yards per game this season, earned midseason All-America first-team honors from the AP, ESPN and CBS Sports last week in addition to landing on the midseason watch list for the Maxwell Award. The last FBS player to have a season averaging 120.0+ rushing yards and 50.0+ receiving yards was Utah State's Emmett White in 2000.
Wyoming dropped a 34-27 decision at Air Force in Week 7 for its first MW loss of the season. Graduate quarterback Andrew Peasley connected with graduate tight end Treyton Welch for a 7-yard touchdown with 6:14 left to tie the contest at 27, but what would have been the go-ahead extra point was blocked and the Falcons got the winning score with 2:17 remaining. Peasley finished 15-for-25 for a season-high 212 yards and matched his career-high with three TDs through the air and added 48 yards and another TD on the ground. The Cowboys, who also missed a pair of field goals in addition to having an extra point blocked in the seven-point setback, played without injured running back Harrison Waylee, who has averaged 135.0 rushing yards per game in his four appearances this season. Wyoming has not committed a turnover in any of its last three games, with only Michigan (five) having a longer active streak among FBS teams. The Cowboys' current streak is also tied for their longest such streak this century (also Nov. 3-17, 2012).
Nevada (1-6, 1-2), which snapped its 16-game losing streak with a 6-0 win over San Diego State in Week 8, returns home to host New Mexico in Week 9. The Wolf Pack got a pair of first-half field goals from senior placekicker Brandon Talton against the Aztecs and the defense did the rest, posting Nevada's first shutout in more than 12 years. Redshirt freshman linebacker Jonathan Maldonado capped the defensive effort by recovering a San Diego State fumble at the Nevada 25-yard line with just over a minute to play. The Wolf Pack held SDSU to just 204 yards of total offense, including just 47 passing.
New Mexico (3-4, 1-2) halted its 14-game Conference losing streak in emphatic fashion in Week 8, topping Hawai'i 42-21. Senior quarterback Dylan Hopkins was 20-for-25 for 202 yards and three TDs, setting a program record for completion percentage (80) with a minimum of 20 completions. He was named the MW Offensive Player of the Week and was tabbed one of the Manning Award's Stars of the Week. One the defensive side of the ball, sophomore safety Jermarius Lewis had a career game, logging a team-best seven tackles to go along with his first career sack, a forced fumble and two interceptions, both of which came in the end zone in the fourth quarter to squash Hawai'i rallies. For his efforts, he was named the MW Defensive Player of the Week.
San José State (3-5, 2-2), which visits Hawai'i in Week 9, topped Utah State 42-21 in its last outing to even its MW mark. Spartan quarterback Chevan Cordeiro went 15-for-20 for 119 yards and three TDs through the air and rushed for 53 yards in the win over the Aggies, while running backs Kairee Robinson and Quali Conley each scored twice and piled up 124 and 94 all-purpose yards, respectively. Robinson, who went over 2,000 career yards rushing in the game, set a program record for consecutive games with a rushing TD, as he has now scored at least one in seven straight. Cordeiro also made moves up the record book, as he now has 79 career TD passes, which is tied for fifth in MW history. Defensively, SJSU had three takeaways in a game for the fourth time this season, with sophomores Jordan Pollard and Jay'Vion Cole recording interceptions and redshirt freshman Kayden Collins recovering a fumble.
Hawai'i (2-7, 0-3) dropped a 42-21 decision at New Mexico in Week 8. Junior quarterback Brayden Schager threw for at least 300 yards for the third straight game, finishing 33-for-52 for 345 yards and three TDs. He is third in the FBS this season with 2,433 passing yards and is fourth with 20 TD passes. Two of those touchdown passes went to senior wide receiver Steven McBride, who finished with 75 yards on five catches. Senior linebacker Isaiah Tufaga had a game-high 12 tackles.
New Mexico senior quarterback Dylan Hopkins has been tabbed the Mountain West Offensive Player of the Week, while Lobo sophomore safety Jermarius Lewis has been named MW Defensive Player of the Week. UNLV senior kicker Jose Pizano earned MW Special Teams Player of the Week honors and Rebel quarterback Jayden Maiava was selected as the MW Freshman of the Week.
The weekly honor is the second in the careers of Hopkins, Pizano and Maiava. It is the first for Lewis.
OFFENSIVE PLAYER OF THE WEEK
DYLAN HOPKINS, NEW MEXICO
Senior, Quarterback, Maryville, Tenn. / Maryville HS / UAB
Went 20-for-25 for 202 yards and three touchdowns in leading New Mexico to a 42-21 win over Hawai'i, snapping the Lobos' 14-game Conference losing streak.
Set a program record for completion percentage (80 percent) with a minimum of 20 completions.
Turned in a QB rating of 187.5.
Threw touchdown passes of 28, 3 and 17 yards.
Led New Mexico to touchdowns on five of its first six drives.
DEFENSIVE PLAYER OF THE WEEK
JERMARIUS LEWIS, NEW MEXICO
Sophomore, Safety, Summit, Miss. / North Pike HS
Forced a fumble and had two interceptions in New Mexico's 42-21 win over Hawai'i.
Had a team-best seven tackles, including a 4-yard sack, and two pass breakups.
Forced a fumble on his first career sack, which ended a Hawai'i drive on the Lobo 14-yard line.
Both interceptions came in the fourth quarter and were in the end zone.
SPECIAL TEAMS PLAYER OF THE WEEK
JOSE PIZANO, UNLV
Senior, Kicker, Lehi, Utah / Lehi HS / Missouri State
Set a UNLV record and tied the MW record with six made field goals, including the game-winner as time expired in the Rebels' 25-23 win over Colorado State.
Added an extra point for a school-record 19 kicking points scored, tying for third-most in a game in MW history.
Converted field goals of 42, 43, 25, 34, 46 and 28 yards.
Named the College Football Network Co-Special Teams Player of the Week.
Helped the Rebels become bowl eligible for the first time since 2013.
FRESHMAN OF THE WEEK
JAYDEN MAIAVA, UNLV
Redshirt Freshman, Quarterback, Las Vegas, Nev. / Liberty HS
Went 27-for-36 for a career-high 353 yards in helping the Rebels to a 25-23 win over Colorado State.
With UNLV trailing 23-22 with 40 seconds remaining, Maiava orchestrated the game-winning drive, going 4-for-4 for 50 yards to get the Rebels into field-goal range.
Completed 75 percent of his passes on the day.
Remained undefeated as a starting quarterback.
Helped the Rebels become bowl eligible for the first time since 2013.
POKES: The Seven Best Games In The History Of The Wyoming-CSU Border War Rivalry (Naturally, they were all Wyoming wins)