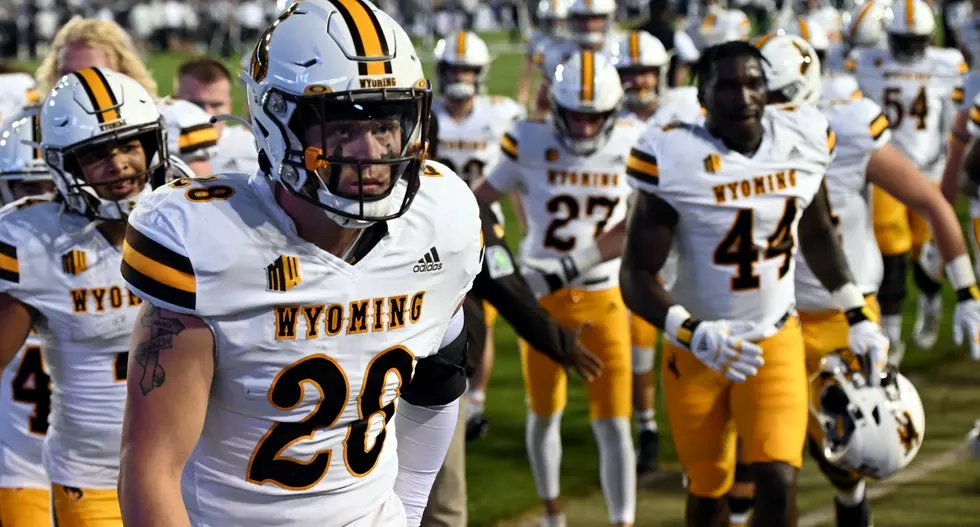 Behind the numbers: Wyoming vs. Fresno State
Easton Gibbs became the 61st Cowboy in history to eclipse 100 tackles in a single season. The sophomore linebacker registered 12 stops in the Pokes' 30-0 loss to Fresno State Friday night in Central California./ DJ Johnson photo
FRESNO, Calif., -- Wyoming's eighth win of the season is on hold.
In fact, Fresno State -- for the second consecutive year -- didn't allow the Cowboys to even get on the scoreboard in Friday night's 30-0 blanking inside Valley Children's Stadium. Andrew Peasley and Co. only entered the red zone once. That ended with a turnover on downs.
The visitors played this one without a number of regulars -- we'll get to that in a minute -- but mainly, the effects of last Saturday's 20-17 loss to Boise State still lingered.
Craig Bohl said his team might have ran out of gas just getting to Fresno for this Black Friday beating. It sure appeared that way.
Let's take a look at some numbers and stats from this one:
2
That's how many Clayton Stewart punts were blocked in this one. Mac Dalena got a mitt on the first one. Eight plays later, Jake Haener hit Nikko Remigio from six yards out to give the Bulldogs a 14-0 lead. Evan Williams swatted the next one. This time the ball rolled out of the back of the end zone for a safety.
23
That's the number of points the Cowboys allowed in the first half. That was the most this season. Tulsa did put up 20 in the first 30 minutes of the Pokes' home opener.
406
That's how many days ago this UW team was shutout in a game. That one also came courtesy of Fresno State last October. The 'Dogs rolled to a 17-0 victory inside War Memorial Stadium.
5
That's the number of years in the last seven that the Cowboys have won at least seven games. They cap the regular season with a 7-5 mark overall and a 5-3 record in Mountain West play.
6
That's how many times UW has been bowl eligible over the last seven seasons. In 2018, the Cowboys finished 6-6 but did not receive a postseason invite.
3-3
That's Wyoming's road record this fall. The Cowboys won at New Mexico, Hawaii and Colorado State. The losses came at Illinois, BYU and Fresno State.
12
Titus Swen became the 12th running back in Wyoming history to eclipse the 1,000-yard rushing mark in a single season. The junior from Fort Worth finished the night with 75 yards on 24 attempts. This is the 16th time in program lore that a back has gone over 1,000 yards on the ground. Brian Hill, Ryan Christopherson, Dabby Dawson and Xazavian Valladay all eclipsed that mark twice during their UW career.
10th
Swen is now 10th on the school's all-time rushing list with 2,173 yards. He moved past former Cowboys Dawson (2,124 career rushing yards from 1988-89), Alvester Alexander (2,127 from 2009-11), Walt Goffigan (2,167 from 1980-83), Kevin Lowe (2,188 from from 1981-84) and Derek Armah (2,190 from 2000-03).
111
That's how many tackles Easton Gibbs tallied during his sophomore season. The Pokes' middle linebacker racked up a team-high 12 in the loss at Fresno State. He became only the 61st Cowboy in 126 years of Wyoming football to record 100 tackles in a single season. That was Gibbs' fifth double-digit tackle performance this season and the 10th time in his career.
1
Tight ends John Michael Gyllenborg and Nick Miles both hauled in their first-career pass in Fresno. Gyllenborg, a 6-foot-5, 237-pound freshman from Leawood, Kansas, snagged three balls against the Bulldogs for 21 yards. Miles, 6-foot-5, 261-pound sophomore from Parker, Colo., caught one for 11 yards. Jaden Williams, a freshman defensive tackle, and Cayden Hawkins, a freshman linebacker, both appeared in their first collegiate game Friday night.
3.3
That's the amount of yards per play the Cowboys rolled up against the Bulldogs. Fresno State finished with 4.5.
3-of-14
That's Wyoming's success rate on third down. The 'Dogs converted on just 4-of-12.
4-for-4
Fresno State was perfect in the red zone in this one. Running back Jordan Mims scored three touchdowns on the ground and Haener and Remigio hooked up for the other score. UW was 0-1 inside the 'Dogs 20-yard line.
7-for-70
UW is the least-penalized team in the Mountain West. It sure didn't look that way Friday night. That's the number of infractions committed and the yardage that followed. Fresno State was hit with nine flags for 75 yards.
2
That's how many turnovers the Pokes committed in this loss. Both were Peasley interceptions, the first snagged by linebacker Malachi Langley and the second coming courtesy of Cam Lockridge.
3
That's how many sacks the visitors finished with in the loss. DeVonne Harris added one to his team lead and now sits at 8.5 on the year. Oluwaseyi Omotosho and Gavin Meyer also got to Haener.
8
That's how many different receivers caught passes from Haener Friday night, including six for 83 yards from Zane Pope.
12-of-29
That's Peasley's completions and attempts against Fresno State. The junior threw for 104 yards and tossed two picks.
8
That's how many interceptions UW quarterbacks have thrown over the last four games. Jayden Clemons has the lone touchdown throw. That was a 32-yarder to Alex Brown that eventually served as the game-winner against Border War rival, Colorado State.
10
That's how many starters the Cowboys played without against the Bulldogs. On offense, (RB) Dawaiian McNeely, (RB) DQ James, (WR) Will Pelissier, (WR) Brown, (TE) Treyton Welch and (TE/FB) Parker Christensen didn't play. (DT) Cole Godbout, (DT) Jordan Bertagnole, (N) Keonte Glinton and (CB) Jakorey Hawkins couldn't go. Wideout Joshua Cobbs also left late in the fourth quarter with a concussion, per Bohl.
13-17
That's UW's record in November since Bohl arrived on campus back in 2014.
96-of-114
That's how many players on Wyoming's roster are underclassmen. That's 86%.
40,214
That's the announced attendance inside Valley Children's Stadium Friday night in Fresno.
UW vs. NIU September 11, 2021