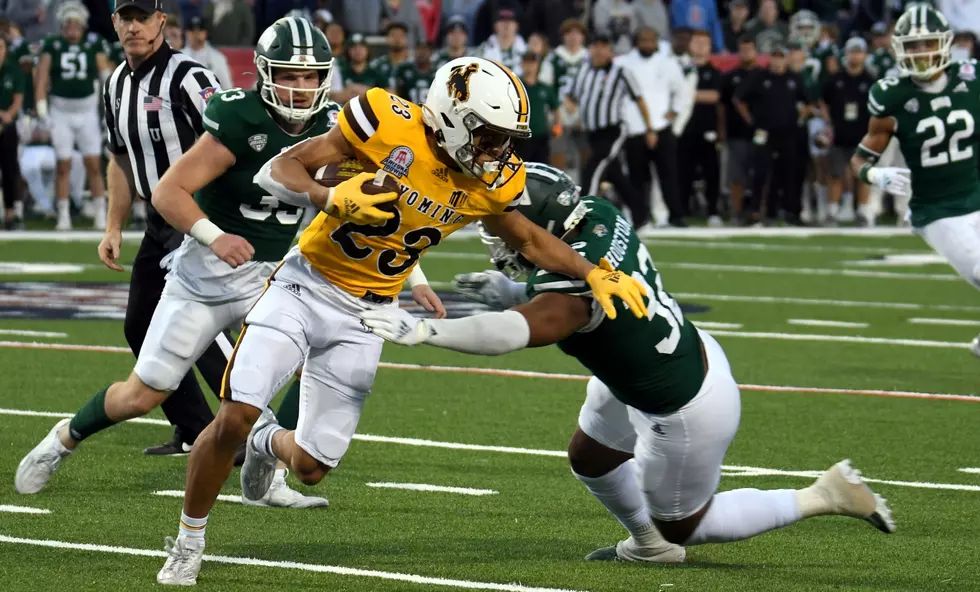 Behind The Numbers: Wyoming vs. Ohio
Freshman wide receiver Caleb Merritt attempts to avoid a tackler during the fourth quarter of Wyoming's 30-27 overtime loss to Ohio in Friday's Arizona Bowl./ DJ Johnson photo
TUCSON, Ariz., -- A play or two.
That's what Craig Bohl figured this game might come down to.
It did, the biggest coming when Ohio quarterback CJ Harris connected with Tyler Foster on a 10-yard touchdown strike to lift the Bobcats to a 30-27 overtime victory in Friday night's Arizona Bowl.
"There's a lot of guys in that locker room that are gut wrenching right now," Wyoming's ninth-year head coach said postgame. "I feel for them. I feel for the guys who aren't going to put on the pads another time. They poured everything they had into that game. The whole team. The coaches did, as well."
Let's take a look at some stats, records, milestone and numbers from this tilt in Tucson:
9-9
That is now Wyoming's all-time record in bowl games. Craig Bohl is now 3-2 overall in the postseason during his nine seasons in Laramie.
1-3
The Cowboys are now 1-3 in bowl games played inside Tucson's Arizona Stadium. The lone win came against Georgia State back in 2019. UW dropped Copper Bowl decisions to Cal (17-15 in 1990), Kansas State (52-17 in 1993) and now Ohio. The Pokes are now 1-5 overall in postseason games played in the state of Arizona. The 1976 squad fell to Oklahoma 41-7 in the Fiesta Bowl in Tempe.
3
The Pokes' bowl-game winning streak was halted at three after Friday's loss to the Bobcats. Wyoming won the Potato Bowl in 2017 (37-14 over Central Michigan) and again in 2021 (52-38 over Kent State). Sandwiched between those two victories was that 2019 win in Tucson over the Panthers, 38-17.
2-2
UW is now .500 against teams from the Mid-American Conference in bowl games. The wins came over Central Michigan and Kent State. Aside from Friday's loss to Ohio, the Cowboys also fell 37-15 to Temple -- then a member of the MAC -- in the 2011 New Mexico Bowl.
2
That's how many Wyoming bowl games have gone into overtime. The team is now 1-1 after Friday's loss to Ohio. In 2009, Austyn Carta-Samuels and the Cowboys outlasted Fresno State 35-28 in the New Mexico Bowl. That contest went into double overtime.
27,691
That's the announced attendance Friday inside Arizona Stadium. According to the record books, 36,892 attended Wyoming's win over Georgia State back in 2019. The smallest crowd to witness a Cowboys bowl appearance came last December when just 10,217 showed up to Albertsons Stadium. The largest, 78,963 at Tulane Stadium back in 1967. LSU outlasted Lloyd Eaton's Pokes 20-13 in the Sugar Bowl.
5
Bohl has taken his UW teams to that many bowl games, the most by any head coach in program history. Paul Roach took the Cowboys to three (1987 Holiday Bowl, 1988 Holiday Bowl and 1990 Copper Bowl), Eaton (1966 Sun Bowl, 1967 Sugar Bowl) and Dave Christensen (2009 and 2011 New Mexico Bowl) each went twice.
14
That's how many points Wyoming scored in the first quarter of Friday's tilt. For the first time all season, the Cowboys found the end zone on the opening drive of the game, marching 70 yards on nine plays. Jordon Vaughn capped that possession with a 17-yard touchdown run. UW hadn't scored that many points in the opening 15 minutes since its 2021 visit to Utah State.
2020
That's the last time this program lost an overtime game. That was a 37-34 setback against Nevada in Reno. Wyoming knocked off Tulsa 40-37 in double overtime last September.
18
That's how many passes Andrew Peasley completed on 30 attempts Friday in Tucson. The junior signal caller racked up 186 yards through the air and tossed a touchdown and an interception in the loss. The Utah State transfer connected on his first five passes of the game.
91
That's how many of Peasley's passing yards landed in the hands of tight end Treyton Welch. He snagged the lone touchdown throw, too. That was a 17-yard connection late in the first quarter. Welch hauled in a career-high five catches in the loss.
2
That's how many touchdowns Vaughn scored in his Wyoming debut. The redshirt freshman from Houston, making his first-career start, rushed for 67 yards on 16 attempts.
4
That's the number of grabs made by wideout Ryan Marquez against Ohio. He accounted for 38 yards on his career day.
6
That's how many games Easton Gibbs recorded double-digit tackles this season after tallying a team-best 10 in the loss to Ohio. The middle linebacker also finished with a sack, a tackle for loss and a forced fumble.
6
Four Cowboys chalked up that many tackles in this one. Nickelback Wrook Brown also added a tackle for loss and a pass breakup. Linebacker Shae Suiaunoa also batted down a CJ Harris throw and Braden Siders racked up a pair of sacks and three tackles for loss. Fellow defensive end DeVonne Harris was the other player to finish with six stops.
21
That's how many field goals John Hoyland has booted this fall, surpassing Cory Wedel for the most in a single season in school history. Hoyland's record breaker came from 53 yards out at the end of the first half. No. 22 was a 29-yarder in overtime.
2
That's how many punts Clayton Stewart dropped inside Ohio's 20-yard line. The Texan also hammered a 53-yarder.
16
That's how many total yards the Cowboys' offense finished with in a forgettable third quarter. They rolled up 75 in the final frame of regulation. That all came on one drive that ended with a five-yard touchdown run by Vaughn to give the Pokes a brief 24-21 lead with 2:08 remaining.
105
With a stable of unproven, inexperienced running backs, UW rushed for this many yards against the Bobcats. Vaughn led the way with 67 yards, Sam Scott, a linebacker turned running back, added 11 and back-up quarterback Jayden Clemons finished with 10 on two carries.
7
That's how many different Cowboys caught a pass in this one. Jaylen Sargent (2-for-12) and Caleb Merritt (2-for-10) caught their first-career passes. So did fullback Caleb Driskill, who snagged one throw. Alex Brown finished with a career-high three grabs for 28 yards.
4
That's how many sacks Ohio tallied against a UW front that had allowed just 15 through 12 games during the regular season. The Cowboys finished with three quarterback takedowns in Tucson. Siders had two and Gibbs landed the other.
1
Each team finished with that many takeaways. Ohio fumbled a punt into the arms of UW linebacker Cole DeMarzo in the first quarter and Peasley tossed a pick into the arms of Larry Cox early in the fourth quarter.
7-16
That is Wyoming's third-down conversion rate. The team went 1-of-4 in this all-important category in the third quarter. Ohio finished 7-for-15 on the night.
3-3
That's the Cowboys' red zone success rate against the Bobcats. All three trips inside the Ohio 20 resulted in touchdowns.
3.2
That was UW's average yards per rush in the loss. Ohio amassed 201 yards on the ground, averaging 5.3 per attempt.
7-6
That's Wyoming's overall record after Friday's Arizona Bowl loss.
University of Wyoming's Top 50 Football Players
The rules are simple: What was the player's impact while in Laramie? That means NFL stats, draft status or any other accolade earned outside of UW is irrelevant when it comes to this list.
This isn't a one-man job. This task called for a panel of experts. Joining 7220's Cody Tucker are Robert Gagliardi, Jared Newland, Ryan Thorburn, and Kevin McKinney.
We all compiled our own list of 50 and let computer averages do the work. Think BCS -- only we hope this catalog is fairer.
Don't agree with a selection? Feel free to sound off on our Twitter:
@7220sports
- #Top50UWFB
- University of Wyoming's Top 50 Football Players