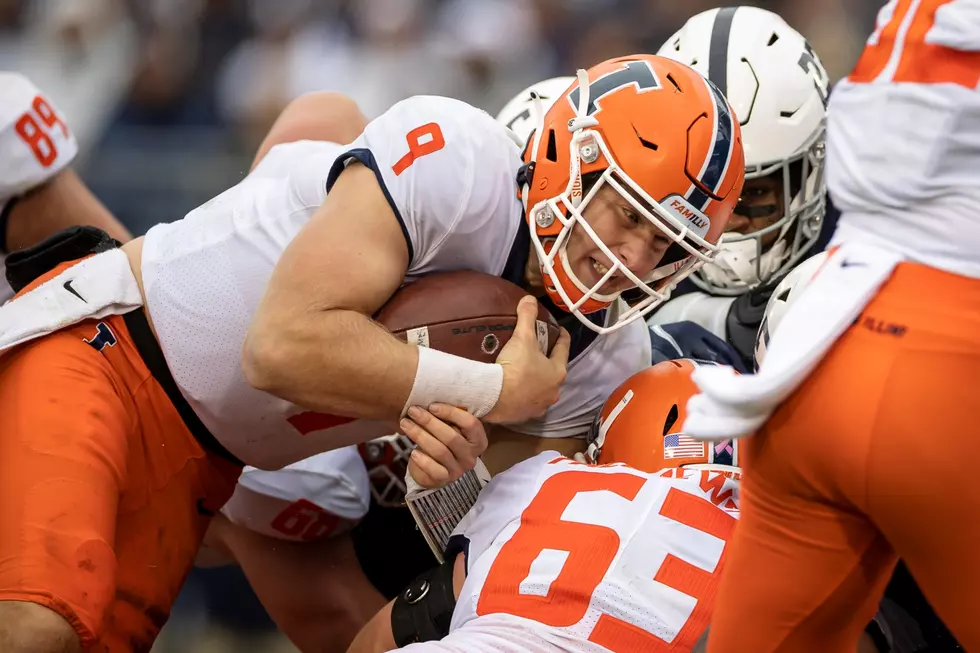 Bielema knows who his starting QB is … but he's not telling
STATE COLLEGE, PA - OCTOBER 23: Artur Sitkowski #9 of the Illinois Fighting Illini fights for a first down against the Penn State Nittany Lions during the first half at Beaver Stadium on October 23, 2021 in State College, Pennsylvania. (Photo by Scott Taetsch/Getty Images)
LARAMIE -- Bret Bielema knows who his starting quarterback will be on opening day when Wyoming pays a visit to Memorial Stadium Saturday afternoon in Champaign. His team knows, too. So does the guy who got the nod.
He's just not telling you.
Bielema's also not revealing who his middle linebacker or second cornerback will be.
"I don't see the advantage of letting that be known before Saturday," he said. "... It's what I'm doing, I think, is best to help our team prepare for a win."
Illinois' second-year head coach told the media Monday that this has been a two-horse race under center between junior Artur Sitkowski and senior Syracuse transfer, Tommy DeVito.
"I think our guys understand the value of these first games and what it allows us to do," Bielema said. "I think we learned last year firsthand that sometimes you just show up on game day and let everybody see the University of Illinois unfolded for the first time in reality is a good thing. So we'll kind of stick to that message."
That's a really long-winded way of saying you'll know who the guy is the minute the Illini offense takes the field.
Sitkowski, who transferred from Rutgers after the 2020 season, saw action way earlier than expected last August. After starter Brandon Peters sustained a shoulder injury early in the Week-Zero opener against Nebraska, the then-sophomore backup entered the game and completed 12-of-15 throws for 124 yards and a pair of touchdowns in a 30-22 victory over the Huskers.
MORE UW FOOTBALL STORIES:
* Q&A with Wyoming defensive coordinator Jay Sawvel
* Wyoming's Keonte Glinton stepping into 'prime position' this fall
* Wyatt Wieland's confidence growing with each grab
* Pokes Practice Report: Message received loud and clear
The 6-foot-5, 225-pound signal caller appeared in four more games, including connecting on 8-of-19 passes and throwing an interception before breaking his right wrist in the NCAA's first-ever nine-overtime affair. The Illini pulled off the 20-18 road upset at No. 7 Penn State.
The Old Bridge, N.J. product threw for 704 yards last fall while completing 50% of his passes. He also tossed six touchdowns and two picks.
After Peters graduated, Bielema said he had a frank conversation with Sitkowski.
"I've been around Art for obviously a full season now," he said. "You know, I think the concerns that we had going in the first place when I told Art that we were going to go after a quarterback that was going to be a portal quarterback -- I'm very upfront with our players -- I think one of the things I greatly respect is the relationship that I have with our players and being honest, full throttle.
"I told him, you know, specifically about Tommy. Art's reaction then is the same that it is right now today -- I think he wants Illinois to be successful."
Take that for what it's worth, but it sure sounds like DeVito is the guy. Two defensive coaches on Wyoming's staff think so, too.
DeVito appeared in just three games for the Orange in 2021, throwing one touchdown pass and a pair of interceptions. The 6-foot-2, 210-pound New Jersey native completed 61.5% of his throws in limited action.
While at Syracuse, DeVito appeared in 26 games and started 15. His best outing came in a 52-33 win over Western Michigan in 2019 when the then-sophomore completed 27-of-35 passes for 287 yards and four touchdowns.
While DeVito poses the biggest threat in the running game, neither quarterback exactly scares defenses with his feet. Sitkowski has rushed for a grand total of minus-40 yards on 70 attempts (including sacks) and DeVito has averaged 1.1 yards per carry.
Even though Bielema isn't divulging who he is going with against the Cowboys, he said confidence won't be an issue.
"To see them, hear them compete is awesome," he said. "I would say both of them -- obviously I've known Tommy less -- but both of them are playing as good of football right now today as I've ever seen either one of them play."
Wyoming and Illinois will kickoff at 2 p.m. Mountain Time and the game can be seen on the Big Ten Network.
Wyoming Cowboys football players in the NFL: Then and now