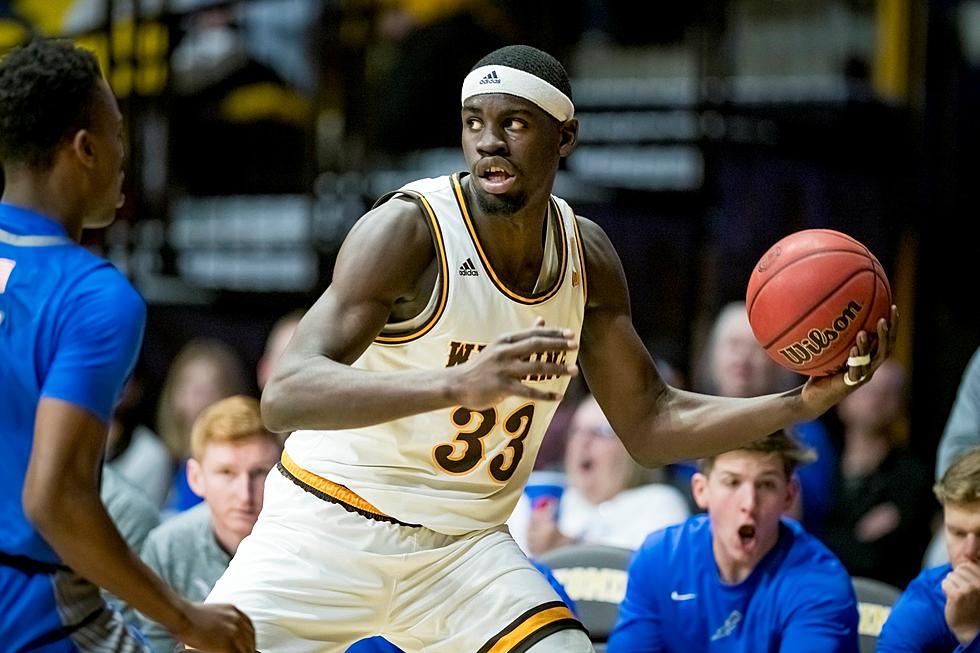 BREAKING: Wyoming's Graham Ike Announces He Will Redshirt
Graham Ike netted 27 points in the Cowboys 75-67 victory over Air Force Saturday afternoon in Laramie./ UW courtesy photo
LARAMIE -- The million-dollar question has officially been answered.
Wyoming's Graham Ike will forgo this season and take a medical redshirt after sustaining a foot injury in early November that sidelined him through the Cowboys' first 21 games, the junior announced Friday on social media.
"After a difficult several months of rehabilitating my foot following an injury sustained in the preseason, it is with great sadness that I have decided it is in my best interest to redshirt the rest of the 2022-23 basketball season," Ike penned on Twitter. "Huge shoutout to my teammates for their support, strength and brotherhood. It has definitely been a challenge being on the sidelines, but I am proud of how they've come together to fight hard all season.
"I'd also like to thank our amazing fans, the school and my coaching staff for its support during this time. I will continue working on my rehab with my physical therapists and I look forward to coming back to the game stronger than ever."
Jeff Linder announced on Nov. 4 that Ike would miss "6-to-8 weeks" with a lower-leg injury. Wyoming's third-year head coach declined to specify the nature of the setback but Ike has worn a black walking boot on his right foot throughout the season.
"Graham will come back from this even better than he was before," Linder said in a statement. "He has a bright future ahead of him and his long-term health is our top priority. As much as he wanted to be on the floor playing this season, he made the best decision for his future, and I can't wait to see what the future has in store for him. "
Ike, the Mountain West's preseason Player of the Year, averaged nearly 20 points and 10 rebounds last season while leading Wyoming to the First Four of the NCAA Tournament. He earned First Team All-Mountain West honors and was the league's second-leading scorer. The Aurora, Colo., product scored in double-figures in 32 of his 33 outings during the 2021-22 season. Nine times he eclipsed the 25-point mark in a game, including sinking a game-high 35 in a win over Denver.
Ike was named the Lute Olson National Player of the Week after dropping 28 points and pulling down 12 rebounds against Utah State then following that up with a 25 and 18 game against San Jose State.
Without Ike, the Cowboys won three of their first four games. A four-game losing skid followed. After back-to-back victories over Texas A&M-Commerce and Louisiana Tech, UW lost eight straight, including its first six tilts in conference play.
"It's what's best for him and it's what's best for him moving forward in his career," Linder said last week, referring to Ike's status. "... If the opportunity presented itself, he's a guy that, he'd like to play. But at the same time, too, we're not going to jeopardize his future to just come back for a handful of games."
Wyoming (7-14, 2-7) travels to San Jose State (13-9, 4-5) Saturday to take on the Spartans. Tipoff is set for 8 p.m. and the game will be televised on CBS Sports Network.
30 Ways To Say You're From Wyoming Without Saying You're From Wyoming
These are the most mentioned ways to say you're from Wyoming, without actually saying you're from Wyoming.
- 30 Ways To Say You're From Wyoming Without Saying You're From Wyoming