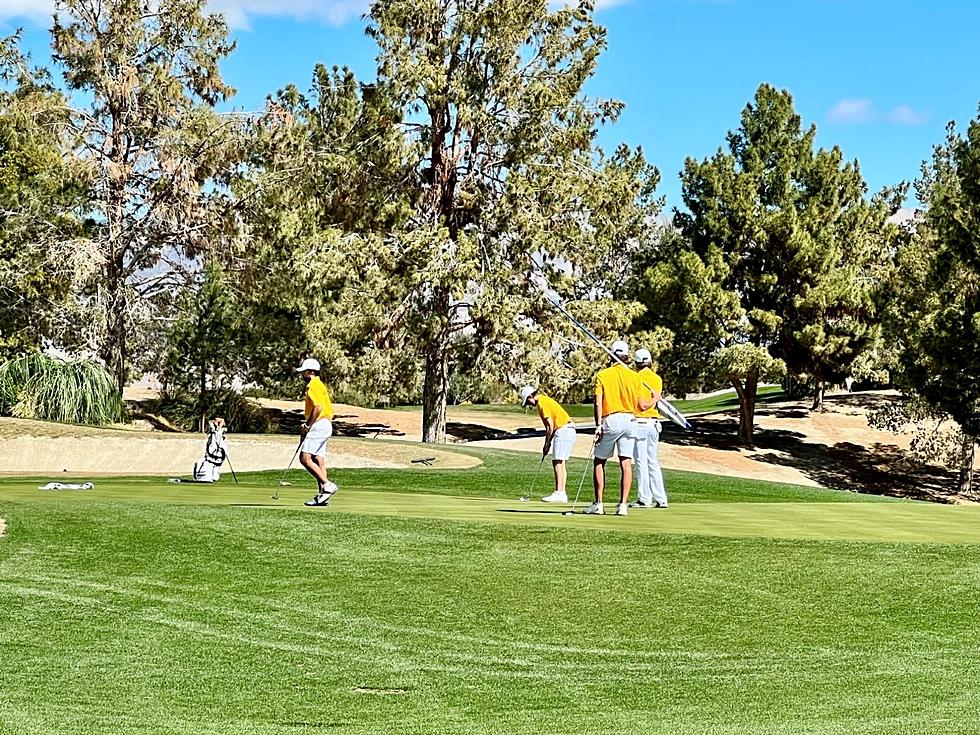 Cowboy Golfers Coe-Kirkham, Dales Earn Academic All-District Honors
The Wyoming Cowboys entered Friday's final round of the Wyoming Desert Intercollegiate with a six-stroke lead and they never relinquished that lead on way to a three-stroke victory over second-place Fresno State./ UW courtesy photo
* University of Wyoming press release
LARAMIE -- University of Wyoming men's golfers Kirby Coe-Kirkham and Jimmy Dales were named Academic All-District on Tuesday as selected by the College Sports Communicators (CSC). It marked the second time in Coe-Kirkham's career that he earned the honor and the first time for Dales.
The two received Academic All-District honors in the At-Large category that includes the 10 men's NCAA sports of fencing, golf, gymnastics, ice hockey, lacrosse, rifle, skiing, volleyball, water polo and wrestling.
Both Coe-Kirkham and Dales achieved perfect 4.00 cumulative grade-point averages at the University of Wyoming and both graduated earlier this month with their bachelor's degrees from UW. Coe-Kirkham earned his B.S. in Energy Systems Engineering, and Dales completed his B.S. in Economics.
At this year's Mountain West Conference Championship in Tucson, Ariz., April 28-30, Dales and Coe-Kirkham were the highest finishers for the Cowboys as they both tied for 13th place in the field of 55 collegiate golfers.
The duo led Wyoming to a fifth-place team finish in the 11-team field -- its highest finish in school history at the MW Championship. Their performances also helped UW earn a bid to the Inaugural GOLFWEEK/National Golf Invitational (NGI) that was played in Maricopa, Ariz., May 19-21. Wyoming placed second in a field of 13 top ranked men's golf programs at the GOLFWEEK/NGI. Coe-Kirkham finished 18th, and Dales placed 21st in the NGI, which featured 65 individual golfers.
Coe-Kirkham concluded his career as a Cowboy this season having recorded 19 career Top-25 individual finishes and five Top-25 finishes for the 2022-23 season.
His highest finish of the 2022-23 season was a seventh-place finish at the San Diego Classic. Coe-Kirkham also earned Academic All-District honors as a sophomore in the 2019-20 season.
Dales, who was only a junior this season and has athletic eligibility remaining, has recorded 11 career Top 25 finishes, including five this season. Dales highest finish of the 2022-23 season was a sixth-place showing at the Wyoming Cowboy Classic. He recently won the U.S. Open Local Qualifier in Westminster, Colo., earning him a spot in the U.S. Open Final Qualifying Tournament at Lakes Golf and Country Club/Brookside Golf and C.C. in Columbus, Ohio, on Monday, June 5.
Dales will be trying to qualify for the 123rd U.S. Open that will be played on the Los Angeles Country Club in Los Angeles, Calif., on June 15-18.
Both Cowboys will now advance to the CSC Academic All-America ballot for the At-Large category. The Academic All-America team for the At-Large category will be announced on Wednesday, June 21.
Criteria for Selection to Academic All-District Teams
To be nominated, a student-athlete must be a starter or important reserve with at least a 3.50 cumulative grade point average (on a 4.0 scale) at his/her current institution. The cumulative grade-point average may NOT be rounded up to 3.50.
Nominated athletes must have participated in at least 50 percent of the team's games at the position listed on the nomination form (where applicable).
No student-athlete is eligible until he/she has completed one full calendar year at his/her current institution and is at least a sophomore academically and athletically.
10 Of The Most Famous Wyomingites In History
We asked our listeners to tell us who they thought was the most famous Wyomingite in History, here are the top 10 picks. NOTE: To be a Wyomingite you do NOT have to be born here, but you DO have to have lived here for at least a year.
- 10 Of The Most Famous Wyomingites In History