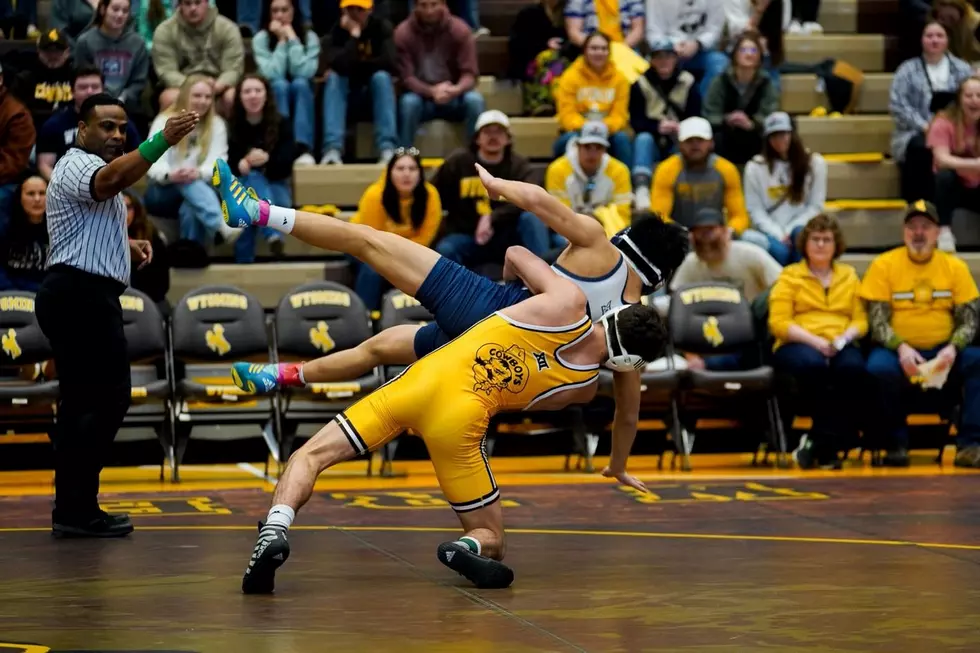 Cowboy Wrestling Falls to Lancers in Big XII Battle
The Wyoming Cowboy Wrestling squad was in action on Saturday afternoon hosting Big 12 foe California Baptist inside of the UniWyo Sports Complex. Three Wyoming grapplers picked up wins against the Lancers, but California Baptist took the dual, 22-10./ UW courtesy photo
* University of Wyoming press release
LARAMIE -- The Wyoming Cowboy Wrestling squad was in action on Saturday afternoon hosting Big 12 foe California Baptist inside of the UniWyo Sports Complex. Three Wyoming grapplers picked up wins against the Lancers, but California Baptist took the dual, 22-10.
Job Greenwood was the first Cowboy to pick up a win in the dual and he did so in dominant fashion against Brady Hoshino at 141 pounds. Greenwood wasted no time getting to his offense scoring two early takedowns to lead 4-1 after the first period. Along with controlling the match on his feet, Greenwood was dominant from the top position racking up over four minutes of riding time on his way to a 13-2 major decision win over Hoshino.
At 157 pounds, No. 11 Jacob Wright put together a strong performance against Duece Johnston. Wright controlled the pace of the match from the first whistle building up a 4-2 lead after one period. Wright then added on two more takedowns in the second period to run away with a 10-5 decision victory. For Wright, it is his 96th career win as he moves one step closer to eclipsing the century mark.
One of the closest matches of the dual took place at 165 pounds where Cole Moody squared off against CBU's Frank Almaguer. It was Almaguer who took an early 2-1 lead before Moody seized control of the match in the second period building up riding time and taking a 4-3 lead. In the third period Almaguer would tie the match up with an escape, but with the riding time point secured Moody held on for a gritty 5-4 victory.
The Pokes will now turn their focus to next weekend and their final two home matches of the season as they are set to host Utah Valley on Saturday, Jan. 4 and then close out the weekend against Northern Colorado on Sunday, Jan. 5.
Wyoming Cowboys 10 | California Baptist Lancers 22 
125 – Eli Griffin (CBU) major dec. No. 16 Jore Volk (WYO) 10-1
133 – Antonio Saldate (CBU) dec. Josh Kyle (WYO) 10-7
141 – Job Greenwood (WYO) major dec. Brady Hoshino (CBU) 13-2
149 – Chaz Hallmark (CBU) dec. Chase Zollmann (WYO) 7-3
157 – No. 11 Jacob Wright (WYO) dec. Duece Johnston (CBU) 10-5
165 – Cole Moody (WYO) dec. Frank Almaguer (CBU) 5-4
174 – Louis Rojas (CBU) dec. Brett McIntosh (WYO) 5-3
184 – Peter Acciairdi (CBU) dec. Quayin Short (WYO) 4-3
197 – Caden Gerlach (CBU) dec. Guillermo Escobedo (WYO) 4-0
285 – Chris Island (CBU) dec. Terren Swartz (WYO) 5-2
Ageless Tashaun Gipson on the brink of Super Bowl appearance
Former Wyoming football player Tashaun Gipson can punch his ticket to the Super Bowl Sunday if his San Francisco 49ers can upset the top-seeded Eagles in Philly
Former Wyoming walk-on Marcus Epps leaving his mark in the NFL
Former Wyoming football player Marcus Epps has been an iron man for the top-seeded Philadelphia Eagles this season and is now one win away from the Super Bowl