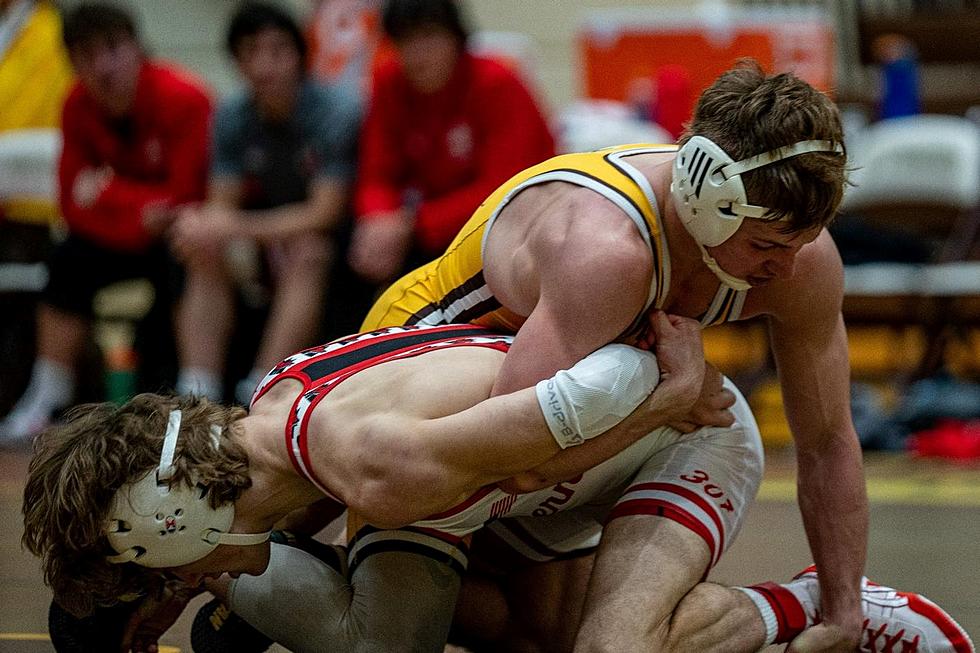 Cowboys Begin Season With Victory Over Western Wyoming
The University of Wyoming wrestling team commenced its regular season Sunday at the UniWyo Sports Complex. The Cowboys defeated Western Wyoming, 31-10./ UW courtesy photo
* University of Wyoming press release
LARAMIE -- The University of Wyoming wrestling team commenced its regular season Sunday at the UniWyo Sports Complex. The Cowboys defeated Western Wyoming, 31-10.
"They are a tough team," head coach Mark Branch said. "Those guys were coming here to scrap, and I thought they were more aggressive than us across the board. It was the first time competing for a lot of our guys, so you never know what you're going to get. We know some things we need to talk about and focus on, and that's the good thing about competing."
It's a season largely filled with unknowns for Wyoming. The majority of Sunday's starting lineup was comprised of transfer portal additions or sparingly-used returnees from a season ago.
Plenty of those newly-minted Cowboy starters logged victories. First and foremost, No. 28 Gabe Willochell – a transfer from Edinboro – recorded a fall of No. 4 River Wardle at the 2:23 mark at 141.
Fellow Edinboro transfer, Ethan Ducca, also registered a victory, a 4-2 decision over No. 1 Darion Johnson at 184. Kevin Zimmer, who ascended to the starting heavyweight role, closed the dual with a 12-3 major decision over Dmarian Lopez.
Another call up to the starting rotation, Aidan Noonan, had a thrill for the dramatic. He logged a come-from-behind 5-4 decision win over No. 2 Chris Lopez.
A well-known returnee and the highest-ranked Poke, No. 16 Jore Volk, got the fans excited early. He boasted a 19-0 technical fall victory over Sefton Douglass at 125.
Another familiar face, Tyce Raddon, made quick work of Wesley Reeves. He carded a fall just 1:38 into the bout.
Brett McIntosh bumped down a weight class from 174 to 165. He earned a major decision, 17-6, of No. 4 Jayden Luttrell.
Wyoming is back in action this upcoming week. The Cowboys travel to CSU Bakersfield on Friday at 8 p.m. before taking on Cal Baptist on Saturday in their Big 12 opener at 8 p.m.
Wyoming 31 | Western Wyoming 10
125 – No. 16 Jore Volk (WYO) tech. fall Sefton Douglass (WWCC), 19-0
133 – No. 1 Cody Phelps (WWCC) dec. Cooper Birdwell (WYO), 7-6
141 – No. 28 Gabe Willochell (WYO) fall No. 4 River Wardle (WWCC), 2:32
149 – Aidan Noonan (WYO) dec. No. 2 Chris Lopez (WWCC), 5-4
157 – No. 6 Tristan Stafford (WWCC) dec. Cooper Voorhees (WYO), 13-10 (SV-1)
165 – Brett McIntosh (WYO) major dec. No. 4 Jayden Luttrell (WWCC), 17-6
174 – No. 6 Will Harmon (WWCC) major dec. Ridge Briggs (WYO), 9-1
184 – Ethan Ducca (WYO) dec. No. 1 Darion Johnson (WWCC), 4-2
197 – Tyce Raddon (WYO) fall Wesley Reeves (WWCC), 1:38
HWT – Kevin Zimmer (WYO) major dec. No. 7 Dmarian Lopez (WWCC), 12-3
Bonus Intrasquad Matches
Garrett Ricks dec. Ethan Kyle, 10-7 (SV-1)
Seamus Casey tech. fall Kevin Anderson, 17-1
Sloan Swan dec. Warren Carr (WYO), 2-0
Paolo Salminen dec. Ridge Briggs, 9-3
Jack Braman fall Dylan Catlin
Cole Brooks major dec. Brayden Sonnetag, 18-1
Joey Novak major dec. Tyce Raddon, 12-2
Mason Ding dec. Bradley Moore, 5-1
Riley Davis major dec. Seamus Casey, 14-1
Sloan Swan dec. Logan Ours, 8-0
David Saenz dec. Garrett Ricks, 10-8
Josh Kyle dec. Jack Braman, 5-2
Logan Catlin major dec. Winston McBride, 13-4
Paolo Salminen dec. Cooper Voorhees, 14-10
Kevin Zimmer dec. Mason Ding, 4-1 (SV-1)
Cole Brooks major dec. Gabe Willochell, 17-9
Aidan Noonan dec. Sloan Swan, 5-4
Cooper Birdwell dec. David Saenz, 4-2
10 Reasons Why You're Lucky to Be Living in Wyoming
Here Are the Top 10 Reasons Why You're Lucky to Be Living in Wyoming
- 10 Reasons Why You're Lucky to Be Living in Wyoming,