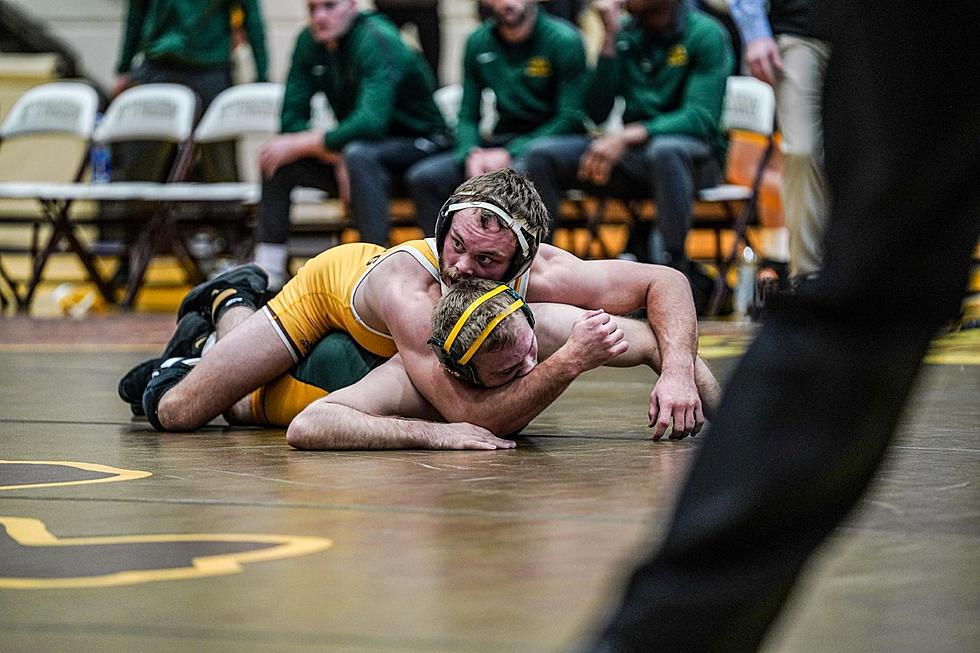 Cowboys come up short against NDSU
The No. 19 ranked Wyoming Cowboys hosted their second dual of the weekend on Sunday welcoming the North Dakota State Bison into the UniWyo Sports Complex for a Big 12 Showdown. Four cowboys won matches, but NDSU took the dual 14-22./ UW courtesy photo
* University of Wyoming Athletics media relations release
LARAMIE -- The No. 19 ranked Wyoming Cowboys hosted their second dual of the weekend on Sunday welcoming the North Dakota State Bison into the UniWyo Sports Complex for a Big 12 Showdown.
Four cowboys won matches, but NDSU took the dual 14-22.
"Jaron (Jensen) and Tate (Samuelson), I believe, really stood out and took to heart what we talked about on Friday. They just kept coming and really opened up their matches." UW head wrestling coach Mark Branch said, "We just made a few too many mistakes today and those are game changers in dual like this." 
Jensen put the Pokes on the board early at 149 pounds as he squared off against Austin Braun. Jensen picked up an early takedown and then piled on the riding time in the first and second periods to a take 2-0 lead into the third period. Jensen then opened the final period by scoring seven unanswered points blowing the match open on the way to his 16-3 major decision victory.  
At 174 pounds No. 12 Hayden Hastings took the mat against No. 24 Austin Brenner for a match that would come down to the wire. Hastings scored the lone take down of the match in the first period, but it was Brenner who led 3-2 heading into third period. Hastings scored an escape to tie the match and with the riding time point secured Hastings held off a flurry of attacks from Brenner to win the match 4-3. 
No. 14 Samuelson would make it two wins in a row for the Cowboys after an impressive showing against NDSU's DJ Parker. With the match scoreless in the second period, Samuelson pushed the pace scoring a reversal and ending the period with a statement takedown scoring off a blast double leg shot. From that point on it was all Samuelson as he wrapped up the 11-3 victory. 
The final win of the dual for Wyoming came from Brendon Garcia, who was making his first dual start of the season for the Pokes going up against NDSU's Lucas Rodriguez. Rodriguez scored the first point of the match with an escape in the second period which was directly followed by a takedown form Garcia. Garcia then added a third period escape to gut out a 3-1 victory. 
Up next on the schedule for the Pokes will be their final home dual of the season. The Cowboys host Oregon State next Saturday, Jan. 22 inside the UniWyo Sports Complex for senior day.  
No. 19 Wyoming Cowboys 14 | North Dakota State Bison 22 
141- No. 29 Dylan Droegemueller (NDSU) dec. Chase Zollmann (WYO) 8-2 
149 – Jaron Jensen (WYO) major dec. Austin Braun (NDSU) 16-3 
157 – No. 7 Jared Franek (NDSU) major dec. No. 11 Jacob Wright (WYO) 12-0 
165 – No. 14 Luke Weber (NDSU) dec. No. 15 Cole Moody (WYO) 10-5 
174 – No. 12 Hayden Hastings (WYO) dec. No. 24 Austin Brenner (NDSU) 4-3 
184 – No. 14 Tate Samuelson (WYO) major dec. DJ Parker (NDSU) 11-3 
197 – No. 32 Owen Pentz (NDSU) fall (4:49) No. 3 Stephen Buchanan (WYO) 
285 – No. 19 Brandon Metz (NDSU) dec. Terren Swartz (WYO) 8-3 
125 – Brendon Garcia (WYO) dec. Lucas Rodriguez (NDSU) 3-1 
133 – No. 25 Kellyn March (NDSU) dec. No. 33 Job Greenwood (WYO) 6-3
Vietnam Veteran Comes Home to Wyoming
- Vietnam Veteran Comes Home to Wyoming