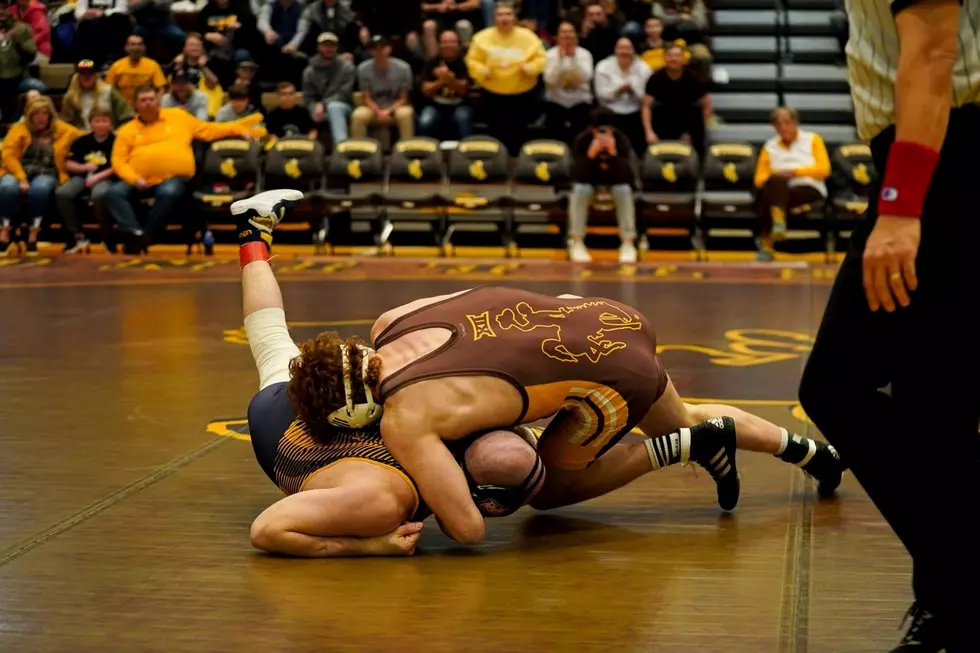 Cowboys Drop Heartbreaker to No. 19 Northern Colorado
The Wyoming Cowboy wrestling squad wrapped up their home slate on Sunday as they welcomed No. 19 Northern Colorado to the UniWyo Sports Complex for senior day. In a dual that came down to the final match, the Cowboys battled all afternoon but came up short against the Bears, 16-19./ UW courtesy photo
* University of Wyoming press release
LARAMIE -- The Wyoming Cowboy wrestling squad wrapped up their home slate on Sunday as they welcomed No. 19 Northern Colorado to the UniWyo Sports Complex for senior day. In a dual that came down to the final match, the Cowboys battled all afternoon but came up short against the Bears, 16-19.
"We definitely set the tone early today and Garrett's match was exciting, he really got the crowd into it and got our team pumped up," UW head wrestling coach Mark Branch said. "It was a really hard fought dual and it stinks to come down to the last match and lose but those things happen in wrestling. I feel bad for our seniors because we put ourselves in a position to win that dual, but our kids are getting their heads above water finally and are fighting harder and we can build off of that."
No. 16 Jore Volk opened the dual on a high note in his match against No. 16 ranked Stevo Poulin. After an explosive first period the two grapplers found themselves tied 2-2 heading into the second period. Following an escape in the second, Volk would start the third period with a 3-2 lead. With the match on the line, Volk went to work riding out Poulin for the entire third period to seal a 4-2 win for his third ranked victory of the season.
It was another thrilling bout at 133 pounds where Garrett Ricks faced off against Jace Koelzer. After battling for seven minutes the two grapplers were tied 4-4 sending the match to sudden victory. In overtime, Ricks defended a series of attacks from Koelzer before hitting a counterattack to score the winning takedown sealing a 6-4 victory.
At 157 pounds, No. 11 Jacob Wright found himself in a ranked battle against No. 31 Vinny Zerban. Wright scored the only points of the match grinding out a 2-0 win over Zerban for his 98th career victory.
HM Cole Moody came up big for the Cowboys at 165 pounds putting on a dominant display against Cody Eaton. Moody was on his offense early scoring two takedowns in the first period and adding on near fall points in the second period to cruise to a 12-2 win.
Quayin Short tacked on another win for the Pokes at 184 pounds putting together a controlling win over Andrew Donahue. Short scored the only takedown of the match on his way to a 5-1 victory.
Despite winning five matches on the day, the Cowboys led by only three points going into the final match of the day. With the dual on the line UNC's Xavier Doolin secured a fall to push the Bears past the Pokes in a nail biter.
Up next on the schedule for Wyoming will be their final dual of the season as they hit the road to take on Oregon State on Jan. 11.
Wyoming Cowboys 16 | No. 19 Northern Colorado Bears 19 
125 – No. 16 Jore Volk (WYO) dec. No. 16 Stevo Poulin (UNC) 4-2
133 – Garrett Ricks (WYO) dec. Jace Koelzer (UNC) 6-4 (SV-1)
141 – No. 1 Andrew Alirez (UNC) major dec. Job Greenwood (WYO) 18-6
149 – Chris Sandoval (UNC) dec. Chase Zollmann (WYO) 4-3
157 – No. 11 Jaconb Wright (WYO) dec. No. 31 Vinny Zerban (UNC) 2-0
165 – HM Cole Moody (WYO) major dec. Cody Eaton (UNC) 12-2
174 – No.31 Andrew Berreyesa (UNC) dec. Brett McIntosh (WYO) 4-2
184 – Quayin Short (WYO) dec. Andrew Donahue (UNC) 5-1
197 – Xavier Vasquez (UNC) dec. Tyce addon (WYO) 3-2
285 – Xavier Doolin (UNC) fall (2:18) Terren Swartz (WYO)
DUMB: 10 Absolute WORST Tourist Incidents at Yellowstone National Park