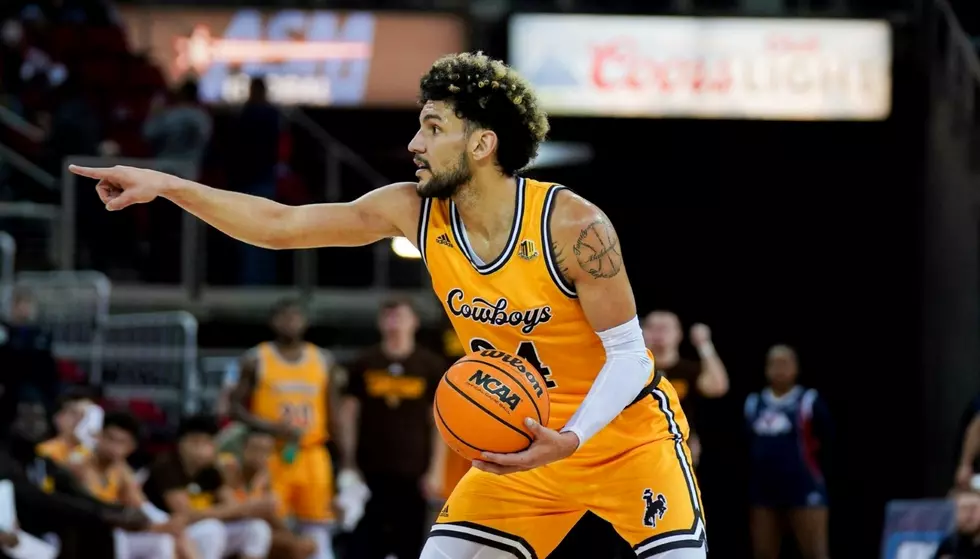 Cowboys Furious Second-Half Comeback Bid Falls Short
Hunter Maldonado and the Cowboys dropped the Mountain West opener Wednesday, falling at Fresno State, 58-53./ UW courtesy photo
* University of Wyoming press release
FRESNO, Calif., -- The University of Wyoming men's basketball team constructed a sizable comeback Wednesday at Fresno State. However, it wasn't enough, as the Cowboys fell, 58-53, inside Save Mart Center in the two teams' Mountain West Conference opener.
The loss drops the Pokes to 5-8 overall and 0-1 in league action. The victory improves the Bulldogs to 5-7 overall and 1-0 in the MW.
"Hopefully, this is a game we can build off of by the way we played defensively in the second half," head coach Jeff Linder said.
Wyoming trailed by as many as 18 points in the second half but made that evaporate with strong defensive play. The Cowboys held Fresno State to a 1-for-23 stretch during the meat of the closing half and were able to take a lead as a result.
"You can't spot a team an 18-point lead," Linder said. "But that's when we had the sense of urgency to guard."
Sophomore Noah Reynolds gave the Pokes their first lead of the second half, 51-49, on a layup with 3:11 to play in the contest. He made another layup with 1:36 remaining that vaulted Wyoming ahead, 53-51, but that ended the scoring for the Pokes.
Jemarl Baker hit a go-ahead 3-pointer off an offensive rebound with 1:01 left in the game that made it 54-53. The Bulldogs tacked on four free throws to ice the contest.
Reynolds paced the squad with 16 points on 7-for-15 shooting with a pair of 3s. Senior Hunter Maldonado added 13 points, while junior Jake Kyman and senior Hunter Thompson chipped in nine and eight points, respectively.
Baker led all scorers with 20 points. Isaih Moore was the only other Bulldog in double figures at 13.
Wyoming fell into the large hole mostly because of a sluggish first half that resulted in a 38-25 deficit. The Pokes shot 43 percent (10-for-23) from the floor, while Fresno State hit 55 percent (16-for-29) of its shots and enjoyed a 15-0 run at one point.
The Pokes finished the game connecting on 43.2 percent (19-for-44) of their field goals and 29 percent (7-for-24) of their 3s. They narrowly lost the rebounding battle, 35-33.
The Bulldogs attempted 16 more shots, finishing at 37 percent (22 of 60) from the floor and 23 percent (7 of 31) from 3-point land.
Wyoming returns to Laramie on Saturday for its first conference home game. The Cowboys play host to No. 22 New Mexico at 2 p.m. in a contest that can be seen on CBS Sports Network.
LOOK: Pokes' unis through the years