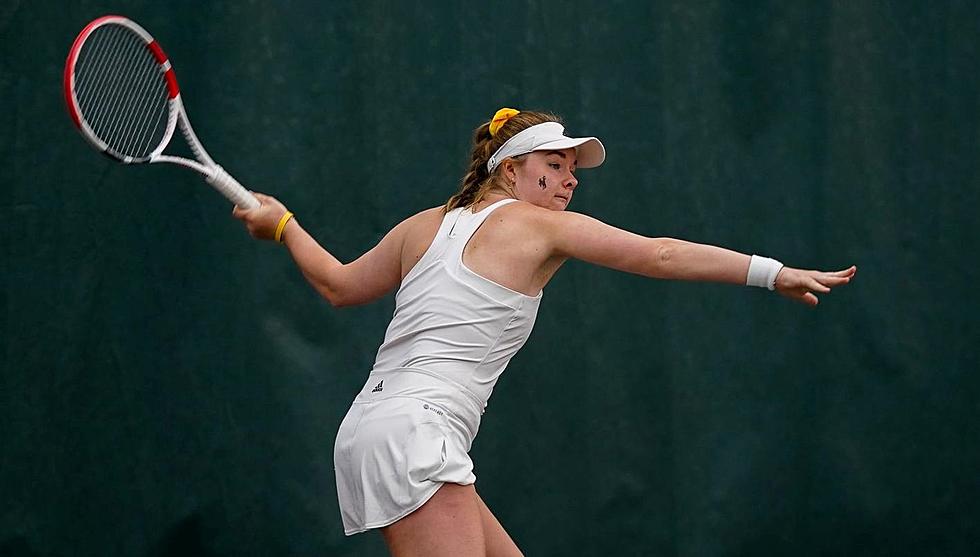 Cowgirl Tennis Bests Boise State, 4-1
The Wyoming Cowgirl tennis team got back to their winning ways Saturday with an impressive 4-1 win on the road at Boise State. Although the Cowgirls won comfortably against the Broncos, the final score was not indicative of how close the contest was./ UW courtesy photo
* University of Wyoming press release
BOISE, Idaho – The Wyoming Cowgirl tennis team got back to their winning ways Saturday with an impressive 4-1 win on the road at Boise State. Although the Cowgirls won comfortably against the Broncos, the final score was not indicative of how close the contest was.
"We didn't play our best tennis and a lot of that was due to Boise State," said Head Coach Dean Clower. "To win matches on the road, is no easy task. I thought we stayed disciplined in the moments we needed to and that's what wins matches. We have a quick recovery and need to be ready to take on a Utah State team that just came off a huge victory today."
Ana Fernandez clinched the victory for the Cowgirls (11-9, 6-1 MW) at the No. 5 singles spot, winning in three sets.
Fernandez rallied to win her matchup, 3-6, 6-2 and 6-4. Wyoming also got wins at the No. 3 and 4 spots on the day. Both Violetta Borodina and Noesjka Brink earned straight-set victories, but both had to win via tiebreaker in the second set. Borodina won 6-2, 7-6 (7-3) at the third spot while Brink won 6-3, 7-6 (7-5) at the No. 4 position.
Wyoming started the day, much like it ended it, fighting to clinch the Doubles Point against Boise. The Cowgirls edged out the Broncos at the No. 3 spot, in another tiebreak, as Brink and Nikol Dobrilova got the point with a 7-6 (7-5) win.
Borodina and Maria Oreshkina won at the second doubles spot Saturday, 6-3.
"I think it was a great win for us today!" said Lucia Malinak post-match. "We were fighting and playing Cowgirl Tennis on every line. That is exactly what we need to win."
The Cowgirls now look to make it a perfect weekend and keep pace with Air Force for the top of the league standings, Sunday morning in a 10 a.m., contest against Utah State.
Wyoming 4, Boise State 1
Doubles competition
1. Discenza/Marruffo (BSU) def. Ana Fernandez/Sophie Zehender (WYO) 7-5
2. Violetta Borodina/Maria Oreshkina (WYO) def. Baptista/Stewart (BSU) 6-3
3. Noesjka Brink/Nikol Dobrilova (WYO) def. Ernstberger/Heffernan (BSU) 7-6 (7-5)
Singles competition
1. Zehender (WYO) vs. Ernstberger (BSU) 7-6 (7-5), 4-3, unfinished
2. Marruffo (BSU) def. Oreshkina (WYO) 7-6 (7-4), 6-3
3. Borodina (WYO) def. Stewart (BSU) 6-2, 7-6 (7-3)
4. Brink (WYO) def. Baptista (BSU) 6-3, 7-6 (7-5)
5. Fernandez (WYO) def. Heffernan (BSU) 3-6, 6-2, 6-4
6. Dobrilova vs. Discenza (BSU) 5-7, 6-6, unfinished
From Bison to Triceratops - All of Wyoming's Official Things
Every state in our nation has chosen things that represent the state in one way or another to be official state things. Like a flower, or animal.
Wyoming
is no different.
The Equality State, or the Cowboy State, depending on which state slogan you want to go with, has a state flower. But did you know we also have a state tree and a state fish? Yes, we even have a state code.
To be an official thing, a member of the state legislature must write and submit a bill to the legislature declaring that a thing will be the official state thing. Then the legislature votes to pass the bill, or not, if it passes, the governor signs the bill into law and we have a new official state thing.
Here is what we have so far, all of Wyoming's official things. Now you can win big on Wyo Trivia Night if that's a thing that exists.
- From Bison to Triceratops - All of Wyoming's Official Things