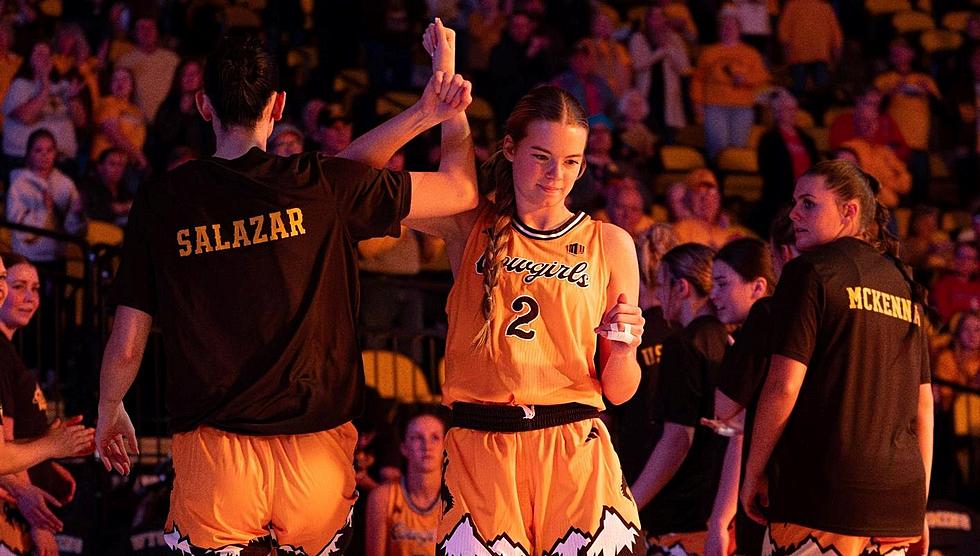 Cowgirls Face First Road Contest of the Season at Denver
The Wyoming Cowgirl basketball team will head on the road for the first time this season as they travel to face Denver at 6 p.m., Tuesday, November 14./ UW courtesy photo
* University of Wyoming press release
LARAMIE -- The Wyoming Cowgirl basketball team will head on the road for the first time this season as they travel to face Denver at 6 p.m., Tuesday, Nov. 14.
Tuesday's contest will be broadcast live on Midco Sports Plus and can be heard across the Cowgirl Radio Network with David Settle on the call.
ABOUT THE COWGIRLS
Wyoming (1-1) is coming off a 71-52 loss Saturday to Nebraska in the Arena-Auditorium. The Cowgirls and Cornhuskers battled for nearly 30 minutes Saturday, but Nebraska was able to close the final 11:36 of the contest on a 23-8 extended run. Malene Pedersen led the Cowgirls with a season-best 13 points in the loss while Allyson Fertig added 11. Maren McKenna had the strongest game of her young career as she scored nine points, tallied an assist and a steal in nearly 13 minutes off the bench.
In the loss, Allyson Fertig recorded her 100th career block, becoming the sixth Cowgirl in program history to reach the century mark in that statistical category. Fertig became the first Cowgirl since Hillary Carlson (2008-11) to reach the milestone. Saturday marked the 20th time Pedersen has scored 10-plus in her career while it was the 41st time for Fertig.
Through two games in 2023-24, Wyoming is scoring 64.5 points per game and is shooting 90.6-percent from the free-throw line (29-32). Fertig leads UW averaging 14.5 points and 7.5 rebounds per game on nearly 53-percent shooting. Kati Ollilainen and Pedersen are second on the squad with 9.5 points per while Tess Barnes is averaging 6.5 points and leads the team with four assists per contest.
Through two games, the Cowgirl reserves are averaging 27 points per game, led by Ollilainen's 9.5 a contest. Marta Savic is averaging five points and three rebounds per game for Wyoming. Last season, Wyoming averaged nearly 17.5 points per game from the bench.
SCOUTING DENVER
Tuesday will be the home opener for Denver this season. The Pioneers are 1-1 on the season and are averaging 65 points per game and allowing just 58 a contest. Denver is shooting nearly 44-percent from the floor and 26-percent from 3-point range. Pioneer opponents are shooting at a 37-percent clip overall and 20-percent from beyond-the-arc. DU has a minus-2 rebounding margin on the young season.
Emma Smith leads the Pioneers averaging 17.5 points and four assists per game. Smith also leads the squad with four made 3-pointers and six steals. Jojo Jones had a double-double of 12 points and 13 rebounds against Air Force but didn't play in the win over North Alabama. Jones is one of four Pioneers to have a block in 2023-24. Makayla Minett is averaging nine points and 3.5 rebounds per game this season.
SERIES HISTORY AGAINST DENVER
Wyoming leads the all-time series with the Pioneers 26-5 and is 9-4 on the road at Denver all time. The Cowgirls and Pioneers have met every year since 2007 with UW going 14-2 in those contests. Wyoming has won three consecutive in the series. Last season's 68-45 victory in Laramie was the first-career victory for Head Coach Heather Ezell. In two career games against the Pioneers, Fertig is averaging 14.5 points and 13.5 rebounds per game. In last year's win, Fertig recorded 21 rebounds. Ola Ustowska is averaging 7.7 per contest in three career games against DU and is shooting 5-of-11 from 3-point range.
UW: University of Wyoming Cowboys' Greatest Games From the First Decade of the 2000's