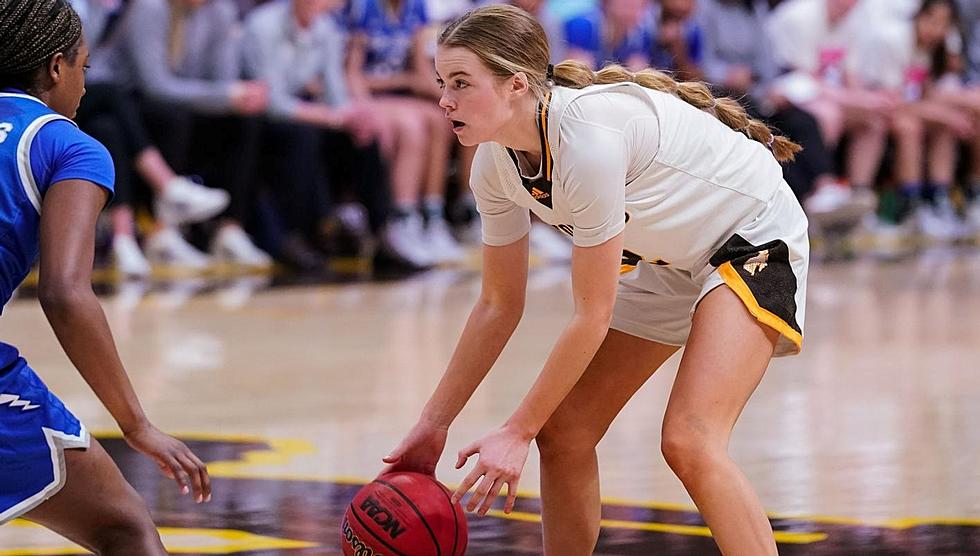 Cowgirls Host Western Colorado Thursday in Exhibition
The Wyoming Cowgirl basketball team unofficially begins the 2023-24 season Thursday as it hosts a 6:30 p.m., exhibition against Western Colorado inside the Arena-Auditorium./ UW courtesy photo
* University of Wyoming press release
LARAMIE -- The Wyoming Cowgirl basketball team unofficially begins the 2023-24 season Thursday as it hosts a 6:30 p.m., exhibition against Western Colorado inside the Arena-Auditorium.
Thursday's exhibition will be broadcast live on the Mountain West Network and can be heard across the Cowgirl Radio Network with David Settle on the call.
ABOUT THE COWGIRLS
Wyoming is in its second season under Head Coach Heather Ezell, who led the Cowgirls to a 23-11 record last season. The 23 wins were the most in program history for single-season wins by a first-year head coach. UW returns a pair of starters from last season's squad, both of whom were All-Mountain West honorees. Allyson Fertig returns after being named to the 2022-23 All-Mountain West Team. Malene Pedersen, meanwhile, was named the league's Freshman of the Year a season ago. Rejoining the duo is returning 2021-22 All-Mountain West Team selection McKinley Dickerson (Bradshaw), who was away from the team last season on a Mission.
Fertig averaged 13.3 points, 8.7 rebounds and 2.1 blocks per game last season while shooting nearly 59-percent from the floor. Pedersen was second on the team in scoring with 11 points per game and in assists with 81 (2.4 apg). Both those marks led all Mountain West freshman. Pedersen also made a team-high 82 free throws while shooting 88.2-percent at the stripe. In 2021-22, Dickerson led the Cowgirls averaging 14.9 points, 5.7 rebounds and 1.4 assists per game.
The All-Mountain West trio is joined by returning letterwinners Tess Barnes, Emily Mellema, Grace Moyers, Paula Salazar, Marta Savic, Ola Ustowska and Bailey Wilborn. Mellema led the Cowgirl bench last season averaging 6.3 points per game while also averaging 1.7 assists per game. Mellema's 31 steals in 2022-23 were second on the squad. Barnes averaged 4.6 points and 2.6 rebounds per game and was second on the team with 33 made 3-pointers. Savic, meanwhile, averaged 4.1 a game off the bench and led all UW reserves averaging 3.8 rebounds.
Five newcomers will be playing in their first seasons in the Brown & Gold in 2023-24. Those include freshmen Mikyn Hamlin (Hugoton, Kan.), Maren McKenna (Hyde Park, Utah), Kati Ollilainen (Helsinki, Finland) and Madi Symons (Coeur d' Alene, Idaho). Joslin Igo (Douglas) transferred into UW after spending the previous two seasons at Casper College.
Tickets are still on sale for the 2023-24 season. Fans can go online to purchase tickets at the link HERE or by going to the UW Ticket Office located on Willett Drive. Fans can also call the Wyoming ticket office at 307-766-7220.
SCOUTING WESTERN COLORADO
The Mountaineers are led by second-year Head Coach Adam Jacobson. Western Colorado was picked to finish 13th in the Preseason RMAC Poll. WCU returns a pair of starters from last season's 6-21 squad in Rachel Cockman and Brooklyn Seymour. Cockman leads the returning Mountaineers in most statistical categories. Cockman averaged nearly 14 points and 5.6 rebounds per game last season while shooting a team-best 52-percent from the field. Cockman led WCU with 29 blocks last season and made 16 3-pointers. Seymour, meanwhile, averaged 5.3 rebounds and 1.6 assists per game in 2022-23. Seymour averaged 5.7 points per game and was third on the team with 47 made free throws.
Western Colorado averaged just over 55 points per game a season ago and allowed opponents to score at a 62-point clip. The Mountaineers shot 37.7-percent overall from the field and made 30-percent of their 3-pointers. Mountaineer opponents shot 37.3-percent from the floor and just over 30-percent from beyond-the-arc. WCU committed six more turnovers per game last season than its opponents.
SERIES HISTORY AGAINST WESTERN COLORADO
Although Thursday's contest is an exhibition, the Cowgirls and Mountaineers have met when it counted one other time in program history. Wyoming defeated WCU 104-29 in the season-opener of the 2014-15 season in Laramie. Those 104 points were the ninth-most for a single game in program history.
10 Reasons Why You're Lucky to Be Living in Wyoming
Here Are the Top 10 Reasons Why You're Lucky to Be Living in Wyoming
- 10 Reasons Why You're Lucky to Be Living in Wyoming,