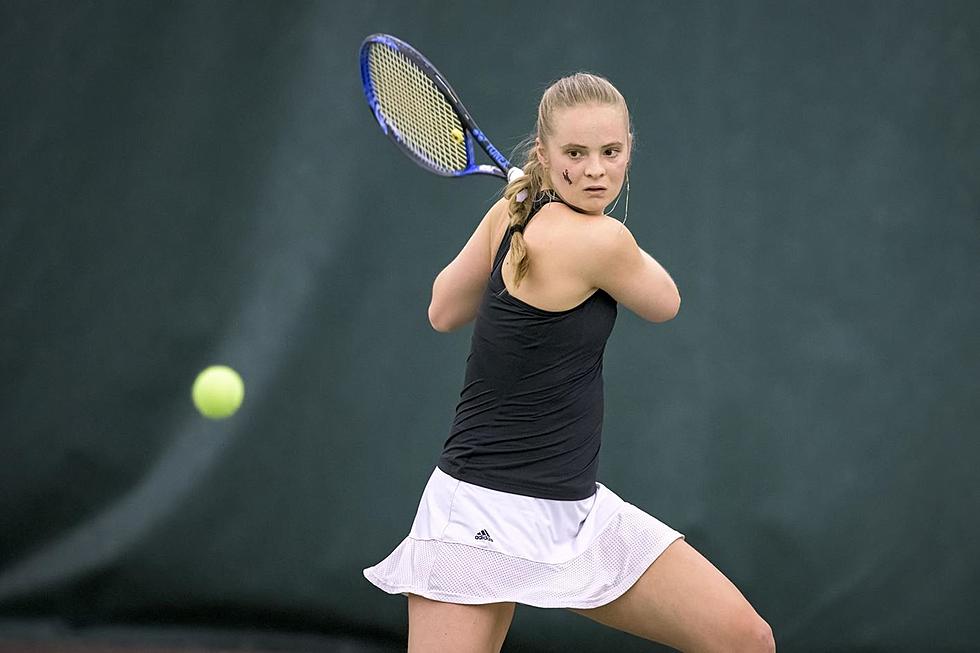 Cowgirls sweep singles play to defeat West Alabama
The Wyoming Cowgirl tennis team made it three wins in-a-row and a perfect 2-0 weekend down in Mississippi as UW defeated West Alabama Sunday, 6-1./ UW courtesy photo
* University of Wyoming Athletics media relations release
MCCOMB, Miss. (Feb. 6, 2022) – The Wyoming Cowgirl tennis team made it three wins in-a-row and a perfect 2-0 weekend down in Mississippi as UW defeated West Alabama Sunday, 6-1, to move to 4-4 on the season.
After dropping the doubles' point to begin the day, the Cowgirls responded to sweep all six singles matches to secure victory. UW had four straight-set victories in singles' play and also rallied to win another on the way to going 6-0 in singles play.
At the No. 1 spot, Maria Oreshkina won a hard-fought match 7-6 and 7-6. Sophie Zehender won at the No. 2 position, 6-1, 6-3 while at No. 3 singles, Noesjka Brink was victorious 6-2 and 6-3. Lucia Malinak rounded-out the straight-set wins at No. 5, 6-2 and 6-4.
Ana Fernandez rallied to win in the No. 4 position Sunday. After dropping the first set 4-6, she won the next two sets in thrilling fashion, winning 7-6 and 6-4. Ida Krause capped the day at the sixth spot, splitting the first two sets 6-4 and 5-7 before winning in the third-set tiebreaker 10-7.
Krause and Oreshkina picked up the Cowgirls' lone doubles win on the day, winning at the first doubles spot, 6-1.
The Cowgirls are now off for two weeks and will return to action with their home opener Sunday, February 20 at 1 p.m., as MSU Denver comes to Laramie.
Wyoming vs. West Alabama
2/6/2022 in McComb, Miss.
Wyoming 6, West Alabama 1
Doubles competition
1. Ida Krause/Maria Oreshkina (WYO) def. Franco/De la Garza (UWA) 6-1
2. Sanz/Deewajee (UWA) def. Fernandez/Zehender (WYO) 6-3
3. Vidnere/Ly (UWA) def. Brink/Kaftanova (WYO) 6-3
Singles competition
1. Oreshkina (WYO) def. Sanz (UWA) 7-6, 7-6
2. Zehender (WYO) def. Franco (UWA) 6-1, 6-3
3. Brink (WYO) def. De la Garza (UWA) 6-2, 6-3
4. Fernandez (WYO) def. Ly (UWA) 4-6, 7-6, 6-4
5. Lucia Malinak (WYO) def. Vidnere (UWA) 6-2, 6-4
6. Krause (WYO) def. Arevalo (UWA) 6-4, 4-6, 10-7
From Bison to Triceratops - All of Wyoming's Official Things
Every state in our nation has chosen things that represent the state in one way or another to be official state things. Like a flower, or animal.
Wyoming
is no different.
The Equality State, or the Cowboy State, depending on which state slogan you want to go with, has a state flower. But did you know we also have a state tree and a state fish? Yes, we even have a state code.
To be an official thing, a member of the state legislature must write and submit a bill to the legislature declaring that a thing will be the official state thing. Then the legislature votes to pass the bill, or not, if it passes, the governor signs the bill into law and we have a new official state thing.
Here is what we have so far, all of Wyoming's official things. Now you can win big on Wyo Trivia Night if that's a thing that exists.
- From Bison to Triceratops - All of Wyoming's Official Things