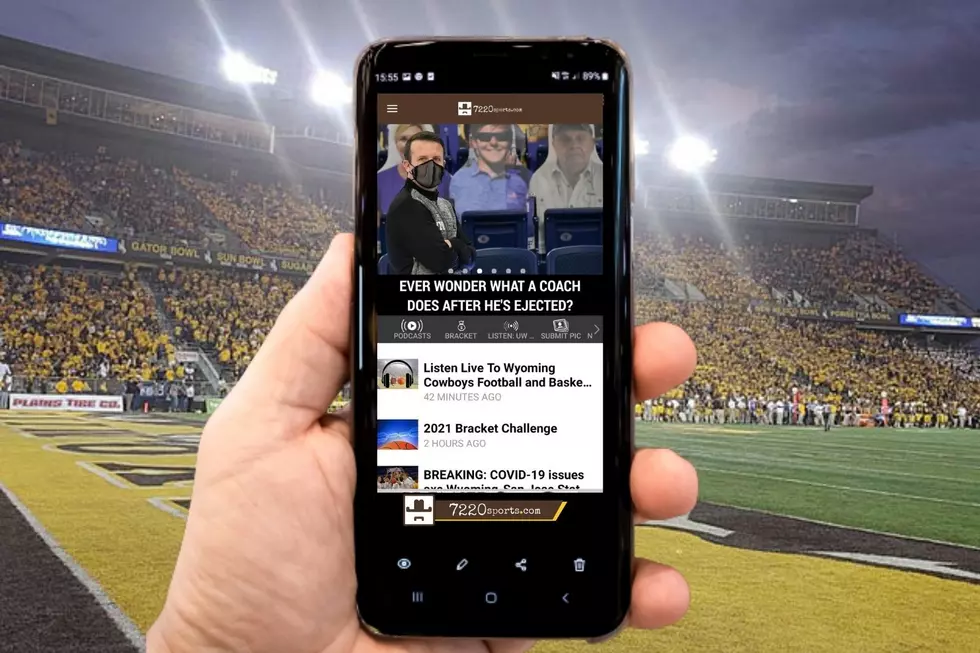 DOWNLOAD: The 7220sports.com mobile app
Getty/Thinkstock/Townsquare Media
CHEYENNE -- Here are a few numbers that might be of interest to you.
* This season marks 125 years of Cowboy football
* Craig Bohl is entering his eighth campaign on the sideline in Laramie
* Wyoming was selected second in the Mountain Division this preseason and even received two first-place votes
* 95. That's the percentile of returning players on this roster, which is second in the nation
* There are just 34 days until the Pokes' season opener in Laramie against Montana State
* Fall camp is five days away
You know where you could find information like that? Yep, 7220sports.com. Not to mention we are the only outlet that covers the Pokes and also has a mobile app. You can find that -- for FREE -- right HERE or anywhere else you get your download your apps.
What are the benefits of downloading this app, you ask?
* Last month, for instance, 7220sports.com posted 73 articles. July is supposedly a "slow month." You get the hint
* Remember, we travel to all the away football games, too. You'll be getting all the latest from the road in real time. We also have photographer DJ Johnson bringing you his fun features and awesome shots. That happens when you get the all-access pass
* Push notifications will send breaking news right to your home screen so you never miss a thing. We also send out a daily email with all the latest. Just remember to enable alerts once the install is complete
* The increasingly popular Roaring Repeater Podcast is one button away. All episodes are instantly archived
* You can listen to other audio on the app, too ... like actual Wyoming football and men's basketball games. A certain NFL team with numerous former Pokes just might be available also
Here's how the more technical personnel in the office describes the features:
• Push notification for breaking news, weather, contests, shows and more
• Read the latest news, watch videos, view photo galleries & listen to audio content
• Submit Photos/Videos directly from the app
• Apple CarPlay & Android Auto modes let you to stay focused on the road while listening
• Do not disturb modes for alerts
• Save articles for reading later
• Features full multi-tasking with background audio and controls
• Share the latest news via Facebook & Twitter
• Supports AirPlay feature for wireless streaming to your AirPlay-compatible device
• 3D Touch added for iOS Devices
You get the picture. Tons of Wyoming Cowboys content, one-stop shop. What more can you ask for?
Football season is just around the corner. Snag that free 7220sports.com app today!
Wyoming Cowboys football players in the NFL: Then and now