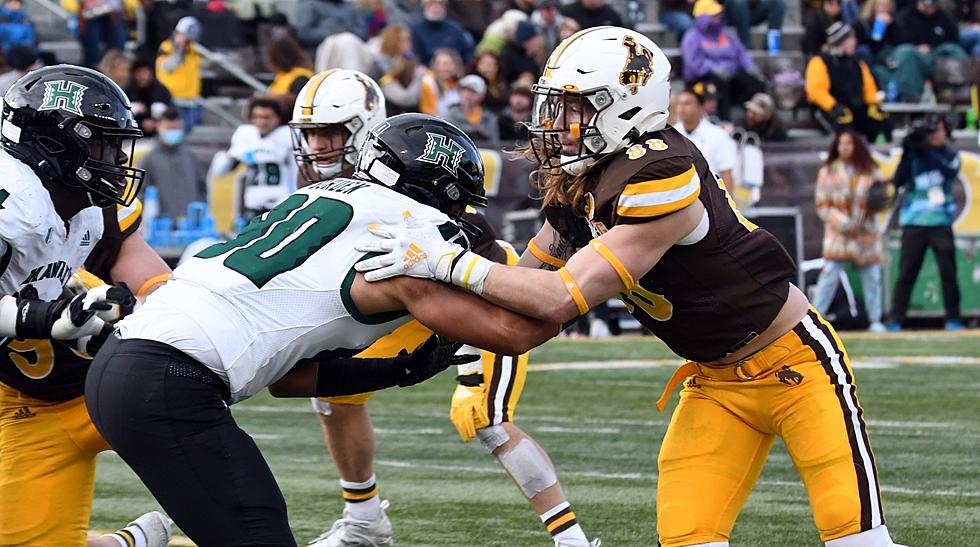 Garrett Crall not yet ready to reminisce with one game remaining
Garrett Crall was one of seven 'super seniors' to play their final home game Saturday in Laramie./ DJ Johnson photo
LARAMIE -- Garrett Crall isn't quite ready to reminisce.
For one, the Cowboys still have a game remaining. Secondly, the grind of a football season and that one-week-at-a-time mentality isn't just an overused cliché for the senior, it's real life. That's all he's known over the previous six seasons.
"Looking behind you doesn't really move you forward," he said.
Atop Crall's Twitter profile, there's a four-photo collage that tells a tale.
The pictures feature a tall slender kid with short blonde hair, but the real story is about an overlooked high school quarterback from a village of 3,400 in northwest Ohio, who was simply looking for an opportunity.
Any position, anywhere.
He found that in Laramie.
Crall joined the Wyoming football team in the spring of 2016. Though he isn't ready to look back at the career he built in this place, there's no denying what these images mean to him.
"Coach (Craig) Bohl was -- he was gutsy, man," Crall said with a grin. "I mean, they just came off a 2-10 season and then they brought in a kid from Hicksville, Ohio that weighed 190 pounds. Fans had to be like, 'What the heck is he doing?'
"... Obviously, that's why he's coach Bohl and he's a smart dude. He knows a lot more than anybody else. So, I guess, hopefully it paid off for him."
Now, that kid is 239 pounds. That youthful look is long gone, too. There's now a beard and hair that flows out of the back of his helmet and rests on his shoulder pads.
When Crall looks in the rear-view mirror at his radical transformation from walk on-to team captain, the memories will surely roll in.
There's the bowl games. He's been a part of four of those. On Dec. 21 in Boise, he'll play in his third when the Cowboys take on Kent State in the Famous Idaho Potato Bowl.
Crall will finish his career with nearly 200 tackles to go along with at least 14.5 quarterback sacks from the defensive end spot. Those numbers are impressive enough without mentioning he played the last five games of the 2018 season with a broken bone in his left foot. That same injury, along with labrum surgery, cost him the first three of the Cowboys' six games during a COVID-19 shortened 2020 campaign.
Like any player, though, his thoughts will likely drift to the relationships made during this unlikely journey.
His first teary eyed goodbye has already taken place.
"I can't tell you the impact that he left on my life," Crall said, referring to Pete Kaligis, Wyoming's defensive tackles coach who was hired to take over the same role at Washington State this offseason. "I was actually in rehab when he texted us that he was leaving ... I walked straight upstairs and walked in the room and he turned around and we just gave each other a hug."
There will be a lot of those over the coming weeks.
Crall will likely be remembered most for the way he led by example and treated people. He's the type of person who would treat the janitor the same way he does the athletics director.
Sound like team captain material?
As for those photos on his Twitter feed, he admitted he has busted them out a few times. Not to see how far he's come, but to prove to young, incoming defensive linemen that anything is possible.
"Guys will come in and be like, 'man, I'm too small to do this,'" he said with a smile. "I was like, 'look at this. If I can do it, you can do it."'
Jaylen Pate is one of those players.
"He would definitely get on me when I first came here," Pate said back in August. "Not just on the field, but it might be things like being on time and different things like that.
"... If I mess up, he'll definitely let me know. I know Garrett means well and I never take it the wrong way."
Marty English, UW's defensive ends coach, said Crall served as another coach on and off the field.
"He took time and spent it with them," English said, referring to when Crall was injured early in 2020. "Then, when he did get to come back, just to watch the way he practiced that stepped up our level ... You know how high the standard is, where the bar is set and you know how to practice to get there. He continually keeps everybody in that mold."
This season didn't go to plan for Crall and the Cowboys. Championship aspirations were put on the backburner after dropping four straight games in October. He expected more from this team -- and himself. While you might not be excited about a trip to the blue turf next week, Crall doesn't share those sentiments.
This is his last chance to slip that jersey over his head.
Crall hopes a future in pro football awaits. If not, one thing is certain -- he wants to lead -- whether that's in the weight room as a strength coach or the military, his initial plan before realizing his college football dream.
Crall doesn't know what emotions will strike when he strolls out of Albertsons Stadium next Tuesday night. He's in the moment, sharing wisdom with the next crop of Cowboys and focusing on leaving this place better than he found it.
Those are his words.
"It's been fun, you know, trying to grow through all this and I think I've completely changed as a person and as a man," he said. "So, you know, it's been a great experience. Surely after this bowl game -- it'll be a couple of weeks before I start training -- maybe I'll look back and reflect, but as for now, like I said, I just never felt looking in the past really helps you."
LOOK: Pokes' unis through the years