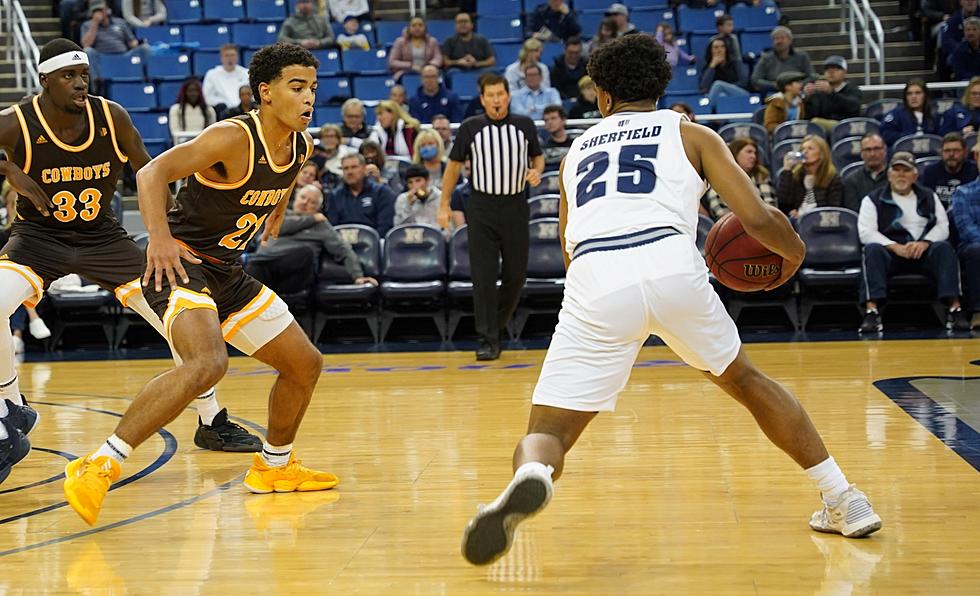 Get to know the name Noah Reynolds
Wyoming's freshman guard Noah Reynolds scored seven points in the Cowboys 77-67 victory over Nevada Monday night in Reno./ UW courtesy photo
RENO, Nev., -- Get to know the name Noah Reynolds.
Why?
Well, not only did the freshman net seven points and snag a pair of steals in Monday night's 77-67 road victory over Nevada, he did it with just one full practice under his belt after a 10-day quarantine.
That's impressive enough for a guy who has played in just seven of the Cowboys' 15 games so far this season, but you can add in the fact that his primary responsibility in this one was guarding the Mountain West Player of the Year, Grant Sherfield.
Sherfield did finish with 20, nearly a point above his season average, but he earned it all night long, making just 8-of-19 shots.
The damage could've been severe. Going up against a rookie, should've made it a near guarantee. Sherfield has scored 20 or more eight times, including a 31-point night in a November win over George Mason.
The odds weren't in Wyoming's favor.
MORE UW HOOPS NEWS:
* All hands on deck: Pokes down Nevada in Reno, 77-67
* Tuck's 10 takes: Jeffries wasn't just hitting triples in this one
* SOURCES: DuSell ruled out at Nevada
* Tuck's 10 takes: Ike sinks Aggies with 3.3 seconds remaining
To make matters even more chaotic, Reynolds didn't make the initial trip with the team to Logan, Utah, Friday afternoon. He didn't pass COVID-19 protocols yet. That came on Sunday when the school's charter was leaving Denver to pick the team up in Utah before heading to Reno.
He was on that flight.
Jeff Linder is sure glad he was, too.
"For him to show up on Sunday, get a workout in and get a practice in, then to step up and to guard Grant Sherfield like he did, It just speaks of his his competitiveness and his toughness," Wyoming's second-year head coach said. "I haven't seen a freshman do that a long time and under those circumstances."
So, just how is this Reynolds guy anyway?
The 6-foot-3, 202-pound guard was an All-State selection at Notre Dame High School in Peoria, Illinois. As a senior, Reynolds averaged 15.3 points and 6.3 assists per game while leading his team to a 14-1 record. He also added 5.6 rebounds and more than two steals per outing.
Reynolds was named the Journal Star Large-School Boys Basketball Player of the Year after his junior season. Notre Dame went 30-1 as Reynolds averaged 16.8 points a night. He hit 61.5 % of his shots from the field, including a 41.7% clip from beyond the arc.
His previous best outing during his time in Laramie came in the Cowboys 108-59 win over Hastings College in late November. Reynolds scored six points that night on 2-of-4 shooting. Both of those were triples.
Linder said there was one definite trademark on full display Monday night in Reno.
"I'm not sure I've ever coached a guy other than maybe Derrick Marks that has the confidence that he has as a freshman," Linder said, referring to his former guard at Boise State who was named the Mountain West Player of the Year in 2014-15 and led the Broncos to a pair of NCAA Tournament runs. "You know, he really hasn't gotten the opportunity, but every day he prepares himself for the opportunity. He lives in the gym. That's what he's about."
High praise.
The Cowboys might have to rely on Reynolds without the services of Xavier DuSell (Hamstring) and Kenny Foster, who could be out of commission for an extended period of time.
Wyoming (13-2, 2-0) hosts San Jose State at 7 p.m. Wednesday night inside the Arena-Auditorium.
UW: University of Wyoming Cowboys' Greatest Games From the First Decade of the 2000's