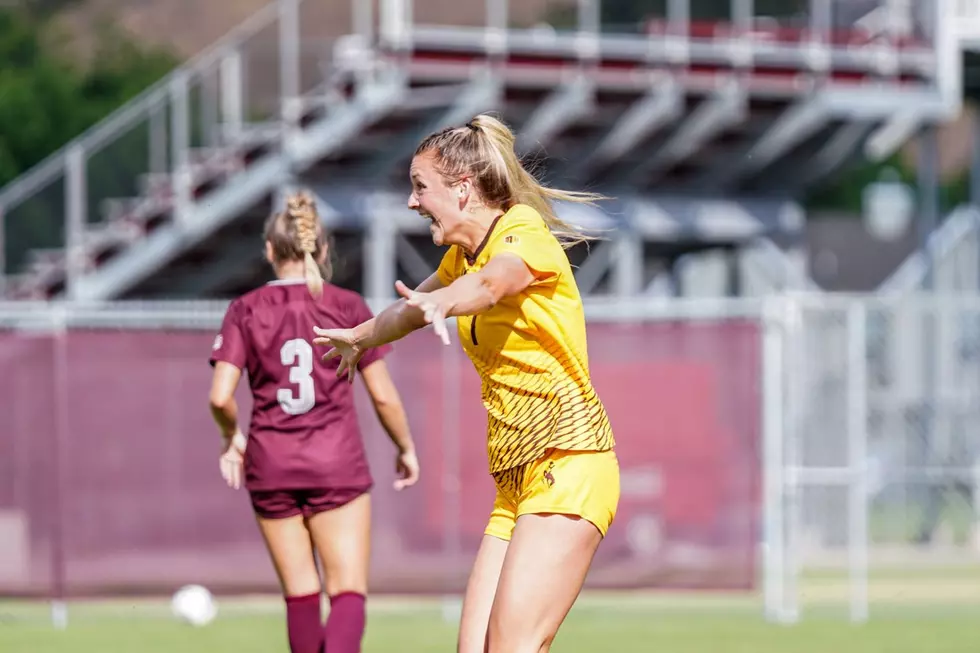 Glancing back at a historical, unforgettable Cowgirl soccer season
The Cowgirls drew with Montana, 2-2, marking the fifth straight draw in matches between the two squads./ UW courtesy photo
* University of Wyoming press release
LARAMIE -- The University of Wyoming soccer team enjoyed a joyous 2022 campaign. The Cowgirls closed the season strong, broke records and made a plethora of pleasant memories to look back on, as they head into the 2023 season with plenty of momentum.
"This group never stopped believing, never stopped grinding, and they always knew they were capable of greatness," Corbin said. "Watching them step into that and making it a reality for themselves was such a privilege to be able to witness."
Greatness this season came in the form of a Mountain West Conference regular-season crown. The Cowgirls shared the title with New Mexico and San Jose State.
Capturing that regular-season championship wasn't easy. Wyoming not only had to win its last three matches, but also needed some outside help, and it received it when the San Diego State and New Mexico played to a 0-0 tie in the regular-season finale.
That result locked up just the second regular-season title in program history and first since 2018. Following the Aztec-Lobo result was a San Jose State 1-0 victory over Fresno State that gave the Cowgirls the No. 1 seed.
Wyoming rode that momentum into the MW Tournament. It defeated San Diego State in the semifinals to make its third-ever appearance in the title match.
The No. 1 seed also gives the Cowgirls the privilege of hosting its first-ever 2023 MW Tournament at the Madrid Sports Complex.
"Earning the right to host the Mountain West Conference Tournament next year is so fun," Corbin said. "It's not only going to mean so much to our program but the Wyoming community, as well."
That's the prize that awaits Wyoming in the 2023 season. But for the time being they can reflect on the history it made during the 2022 season.
First and foremost, Wyoming's improvement from finishing 11th in the final 2021 MW standings to finishing first in the final 2022 standings is the best single-season improvement in league history. The Cowgirls were 4-7-0 in conference play in 2021 and 6-3-1 in 2022.
More than half of those conference victories were accomplished in thrilling fashion. Wyoming logged four come-from-behind wins, which were the most-ever in a single season in school history. The Cowgirls never had more than two such victories in any one season.
Three of those four rallies occurred in the 88th minute or later. All three go-ahead goals were off the foot of senior Jamie Tatum.
She carved her name into the record books in more than one location. The Mountain West Conference Offensive Player of the Year ascended to second in career goals with 22, second in career points with 57, third in career game-winning goals with seven, and fifth in career assists with 13.
Tatum was also a key cog in what was the fastest consecutive goals scored in school history. She netted a goal just 19 seconds before junior Alyssa Bedard did in a game against North Dakota State this season.
Bedard and Tatum registered goals just 1:10 from one another in a victory at Colorado State. That marked the fifth-fastest consecutive goals scored in program history.
Tatum and Bedard were both First-Team All-MW selections. In addition to those postseason honors, Corbin was named MW Coach of the Year and freshman Alyssa Glover was named to the MW All-Newcomer Team.
Those three aforementioned Cowgirls return along with a host of other teammates. In fact, Wyoming will return all 11 starters and many more significant reserves as it looks to pick up where it left off in 2023.
"The foundation is about as strong as it could get," Corbin said. "We are going to have a lot of seniors in the group next year – a lot of players that have been here since our staff took over – that have a clear picture of what the expectations are and how hard it is to get to where we got.
"That's a big piece of the puzzle."
15 Questions You Should Never Ask Someone From Wyoming
- 15 Questions You Should Never Ask Someone From Wyoming