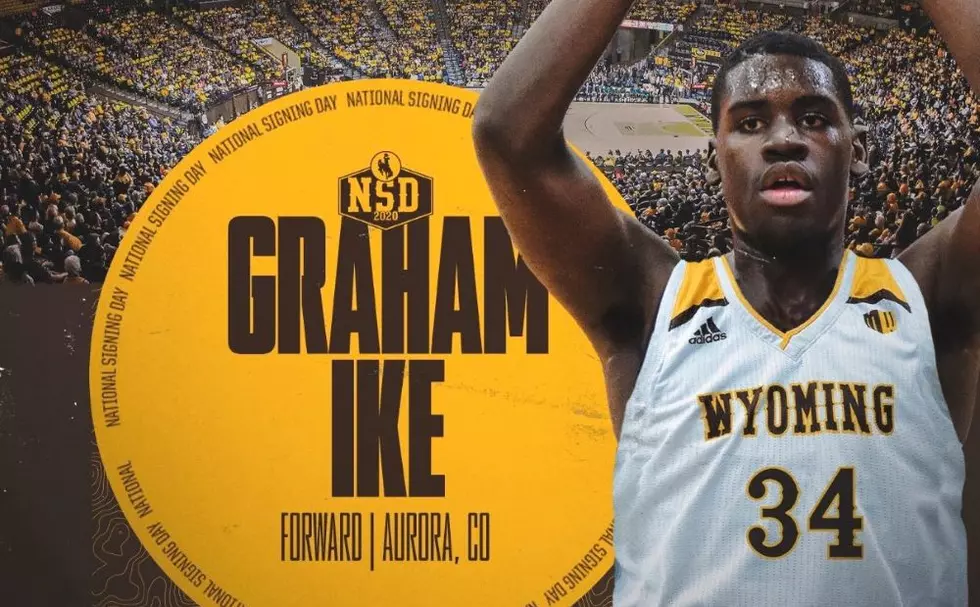 Graham Ike last Cowboy to sign on dotted line
grahamikecropUSE
LARAMIE -- You won't get to see Graham Ike play this season.
But take Jeff Linder's word for it -- he's worth the wait.
The 6-foot, 9-inch, 245-pound forward from Overland High School in Aurora, Colorado -- the same school that produced Austin Conway, Alijah Halliburton, and others -- is what Linder hopes will be "one of the best post players I ever coach."
That's big time praise.
"He was a late -- special -- addition," Linder said Wednesday on a teleconference with reporters. "He reminds me most of Shaun Vandiver (current Wyoming assistant coach), who was a hell of a player at Colorado. He was a first round draft pick. He reminds me of Shaun because he has soft hands and a high skill level inside and outside. He will demand double teams."
Here's a quick glimpse of what Linder is talking about:
As a junior in high school, Ike played in 25 games, averaging 17.6 points per outing. He added 12 rebounds a night to his stat sheet.
So why the wait?
Ike tore his ACL last November and didn't undergo surgery until January. Linder said he has yet to fully recover and won't be ready in time for the regular season. Linder, again and again, spoke about the potential Ike brings to the Cowboys' lineup.
Linder isn't taking any chances.
"His future is so bright," Linder reiterated. "I think he will make a big impact as a freshman, but the best thing for him is having the ability to redshirt. We want to make sure his knee is 100 percent.
"There's no reason to rush him back. He has a tremendous future in the Mountain West."
As a senior, Ike played in just two games before suffering the season-ending knee injury.
Ike also had offers from Air Force, Akron, Bucknell, Loyola Marymount -- Allen Edwards' new school -- and Massachusetts.