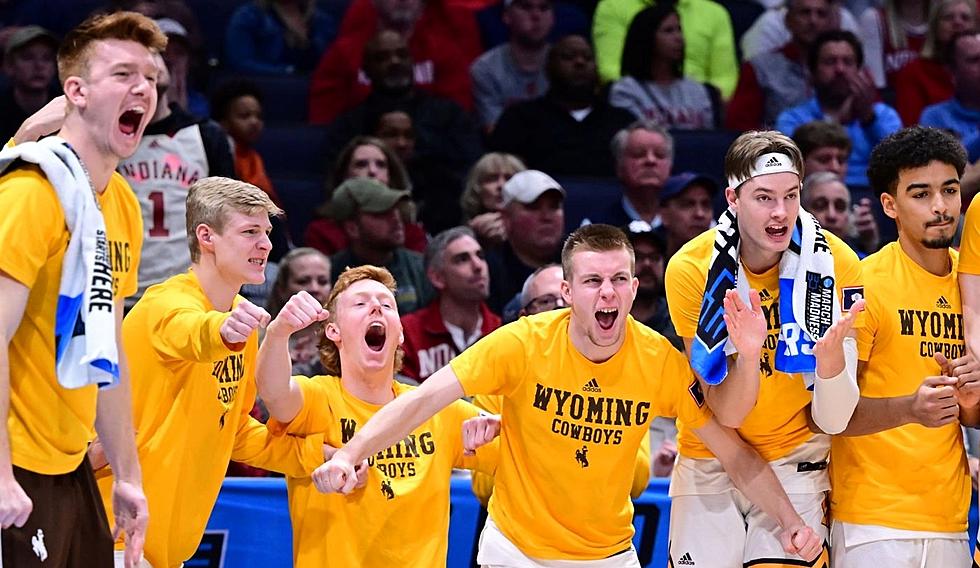 Grigsby enters NCAA Transfer Portal
John Grigsby (second from right), entered the NCAA Transfer Portal Friday with three years of eligibility remaining./ Getty Images
LARAMIE -- John Grigsby, a former walk-on from Louisville, Colo., has entered the NCAA Transfer Portal, according to verbalcommits.com.
The sophomore saw limited action in six games this season. His most significant playing time came in a 108-59 victory over visiting Hastings College (Neb.) in late November.
That night in Laramie, Grigsby played a season-high six minutes and scored the only five points of his brief Wyoming career.
As a freshman, he appeared in two contests and played a total of three minutes.
Coming out of Parker Center High School (Minn.), the 6-foot-9, 215-pound forward received offers from Army and Augustana. Division-II schools Sioux Falls (S.D.), Western State (Colo.), Concordia (Minn.) also showed interest.
MORE UW HOOPS NEWS:
* Wyoming guard Drake Jeffries announces he will not return to Laramie
* LOOK: Wyoming makes 16th NCAA Tournament appearance
* Rants & Raves: Indiana Edition
* Tuck's 10 Takes: Forgettable night won't define improbable run
As Wyoming marched to a 25-9 record this season and the program's 16th berth in the NCAA Tournament, head coach Jeff Linder credited Grigsby and the "Blue Collar Boys" with their enthusiasm on the sidelines during games and preparing the team during practices.
Grigsby averaged 12.5 points per game and shot 52% from beyond the arc during his senior season in Minnesota. He helped lead his team to the section finals before COVID-19 derailed the remainder of the season.
The previous three years, Grigsby played at Monarch High School (Colo.) where he netted 10.1 points per outing as a junior. He also pulled down 4.2 rebounds and blocked 1.2 shots a night.
Grigsby will have three seasons of eligibility remaining.
Thursday, senior guard Drake Jeffries announced via Twitter that he will forgo his final season in Laramie in an attempt to play professional basketball. Fellow seniors, Hunter Thompson and Hunter Maldonado, have yet to publicly announce their intentions for next season.
Players who enter the portal can remain with their current team.
Wyoming lands in 16th NCAA Tournament