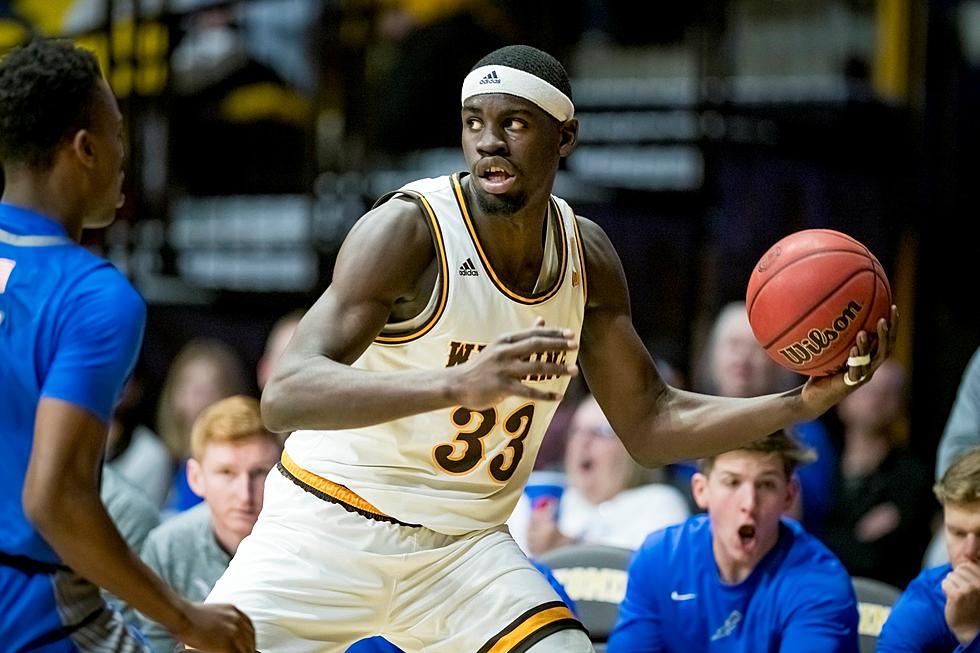 'I Think People are in Trouble This Year'
Graham Ike netted 27 points in the Cowboys 75-67 victory over Air Force Saturday afternoon in Laramie./ UW courtesy photo
LARAMIE -- The score, 66-64.
Wyoming is trailing -- time rapidly melting off the clock. There's just seven seconds remaining when Graham Ike hauls in the pass near the top of the key. The capacity crowd inside the Arena-Auditorium, deafening yet anxious.
Six, five, four ...
The 6-foot-9, 255-pound sophomore, a big man who has drilled only three triples during his two-year career in Laramie, picks, pops from beyond the arc -- bang.
Three, two, one ...
It's all over. Ike lets the locals know it, too, emphatically throwing both pointer fingers high into the sky, that trademark smile creasing his face. Your Wyoming Cowboys are the 2022-23 Mountain West Champions.
That's just one of the many scenarios that has played out in Ike's mind each morning as he rolls through his daily routine, putting up shots alone inside his cavernous home gym. It's a time when he puts his guard down and allows himself to be a kid again.
Here comes that grin again.
"That's the first championship I've won," the Aurora, Colo., product says, still stuck in mid-daydream. "Those are just the kinds of things I like to play out. So, hopefully that manifests into the present."
That fantasy could become a reality this season. Wyoming, a preseason favorite to compete for a conference title, is returning nearly all of its firepower from a squad that finished 25-9 and snuck into the NCAA Tournament for the 16th time in program history.
Ike was a catalyst for the Cowboys, averaging 19.5 points a night. He also chipped in with nearly 10 rebounds per outing, solidifying himself as one of the top post players in the country.
In fact, Jeff Linder said Ike is one of the two best offensive college basketball players going right now. He's just relaying the message from Arizona head coach and good friend, Tommy Lloyd.
The other -- Gonzaga's Drew Timme.
"There's really no one in the country that, one on one, I don't think can really guard him," Wyoming's third-year head coach said. "... There's never been a post player in the last 25 years that's been used in that many possessions in the post."
MORE UW HOOPS NEWS FROM 7220SPORTS:
* Former UW guard Drake Jeffries signs with Orlando Magic
* Cowboy hoops, Mountain West announce national TV schedule
* Much-anticipated Wyoming hoops season underway
* Wyoming announced non-conference basketball schedule
Despite that statement above, Ike slightly shakes his head and looks off into the distance when discussing his last outing.
He netted 17 points in that First Four meeting against Indiana. He also turned the ball over five times and hit just 7-of-14 shots from the field. Ike only got to the free throw line twice. He sank three of those.
That evening in Dayton, Ohio, Ike drew the task of limiting Hoosiers' star Trayce Jackson-Davis. The 6-foot-9 junior finished with a game-high 29 points in the 66-58 victory that vaulted IU into the first official weekend of March Madness. He shot 62.5% from the field and attempted 11 free throws as Ike cruised to a four-foul outing.
"He's a great basketball player, a great battler," Ike said of his Indiana counterpart. "We had a hell of a battle, him and I. I definitely enjoyed it and we'd love to see him again. I definitely learned some things from him, playing against him and still watching him. I like to watch his game while playing at that Big Ten level. And he's a lefty. There's similar characteristics between us two."
Wednesday, Jackson-Davis was named the league's preseason Player of the Year after averaging 18.3 points and 8.1 boards per game last season.
Still, Ike looks at last March's meeting as a missed opportunity.
"I think I just missed a lot of those shots. They just didn't fall," Ike said, adding that his shooting percentage began to slip over the Cowboys final five games of the regular season and into the conference tournament. "Learning from that part of the season has been one of the biggest takeaways that I've brought into the summer."
Hunter Maldonado, who led Wyoming with 21 points in that loss to the Hoosiers, said that meeting with Jackson-Davis served as an eyeopener for his teammate.
"I think Graham realized that he can be right up there with the best of them, if not better," he said. "I mean, I think he's better. He's right there, and I think people are in trouble this year. That's what I think."
If there's one part of Ike's game that poses a challenge to not only himself but the staff, it's the raw emotion he plays with.
As those February shots continued to roll off the rim, his temper was often on full display. Linder knows Ike puts plenty of pressure on officials under the basket when he throws his big frame around in the paint.
Ike attempted 222 free throws last season. That was third most in the Mountain West behind only Fresno State center Orlando Robinson (225) and Maldonado (228).
There likely should've been more. Linder said Ike can't rely on that though.
"He's still 20 years old and trying to figure some things out," he said. "But I think that maturation of being able to control his emotions, which makes him really good, is his emotions, but there's a difference between becoming too emotional, which can allow you to take yourself out of the game.
"Hopefully that's an area that he'll really grow in this year. I think that's going to allow him to take a step to where, you know, like I said, he's one of the most dominant players in college basketball, not just a post player."
UW assistant coach Ken DeWeese said that is a work in progress, but added Ike is taking steps to learn techniques that can "re-center" himself on the court.
"That's one of his biggest challenges, but also, that same energy is also what makes him really, really good," he said. "That ultra competitive side is -- that's just different. You have to have a few guys who have that."
Each morning, Ike throws on his headphones and takes a long walk to the arena. It lifts the grogginess, he said. It's peaceful.
That's a routine that culminates with an unwritten script. He works on his inside game, finishing with touch high off the glass to beat Colorado State. He toes the perimeter and drills shots from deep. His mid-range, turnaround shot, one he went to numerous times last winter, is being perfected in the lab.
Those pretend defenders don't have a chance. The real ones likely won't either.
Ike wants to play meaningful basketball in March once again. His first taste, he said, was bitter, sour. His next trip, if it plays out the way he has pictured it in his mind, nets will be sliced, banners hoisted.
"Pressure is an illusion," he said of the awaiting expectations. "You know, it's going to come with it because of what we did last season, the guys we have been bringing in and the guys we brought back.
"We're prepared for it. We want it."
Wyoming lands in 16th NCAA Tournament