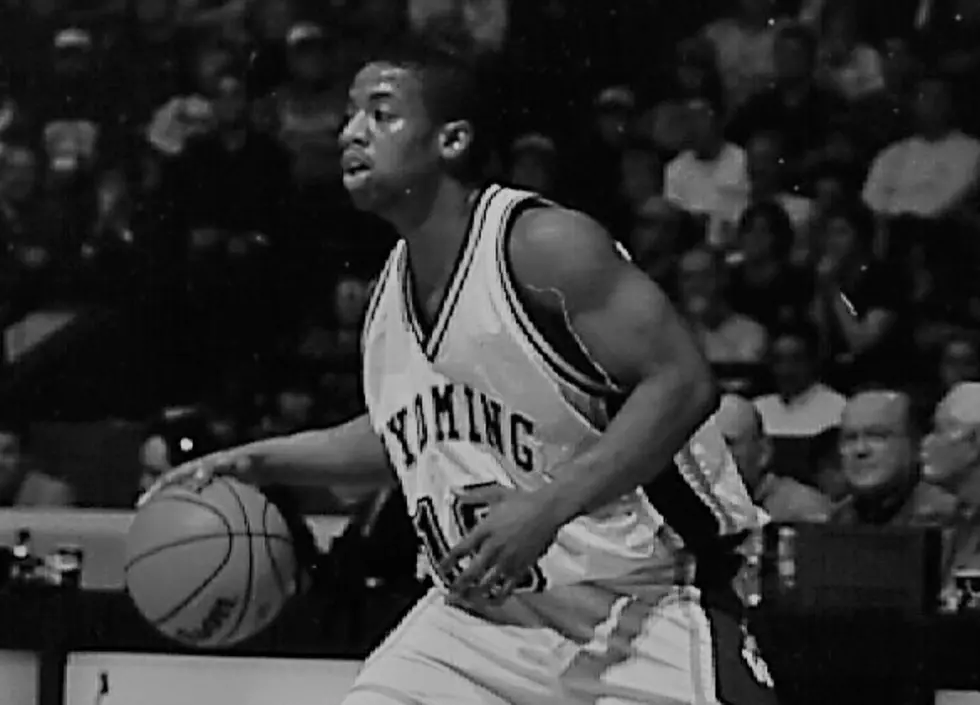 McMillian-ChrisBWCrop
LARAMIE – For Chris McMillian, Tuesday night's game against his former team feels like a basketball life come full-circle.
The guard from Brea, Calif., was once Steve McClain's newest threat in the Cowboys' back court back in 1998. More than two decades later, McMillian will be on the opposing sideline, leading the Idaho State Bengals as an assistant coach.
"It will be surreal," McMillian said about coaching against
his alma mater inside the Arena-Auditorium, the place he once called his home
court. "I don't know how I'm going to feel walking in. If anyone knows me or
remembers my career, it didn't end the way I wanted it to with a broken leg.
Maybe it will be a little bit of closure. There will be excitement, too. I'm
excited to see old faces and compete against the team that 364 days a year, I
cheer for.
"It will be weird wearing different colors."
As a junior in 2000-01, McMillian started all 30 games for
the Cowboys, averaging nearly seven points and four assists per outing. He was
the quarterback of McClain's high-flying offense that ran opponents into the
ground aided by a raucous home crowd and 7,220 feet of elevation. Wyoming won
the Mountain West championship that season, sharing the regular season title
with Utah and BYU.
Names like Josh Davis, Marcus Bailey and Uche Nsonwu-Amadi were household names in the Cowboy State.
They all returned the following season. Expectations were reaching Fennis Dembo-era levels in Laramie.
Then, it all went south for McMillian, who broke his leg
playing rec softball in Laramie over the summer. He decided to redshirt,
missing the entire season. He could only sit and watch as his teammates cut
down the nets once again and slipped MWC Champions shirts over their heads.
The Cowboys marched into the first round of the NCAA Tournament in Albuquerque and shocked the college basketball world, taking down No. 6 Gonzaga, 73-66.
To make matters even harder for McMillian, there was a new, highly touted point guard leading McClain's' offense. That man was Jay Straight. He was younger, talented and netting nearly 10 points a night to go along with three assists. Straight started all 32 games that season.
McMillian watched.
Now 39, McMillian speaks freely about his final two seasons
in Laramie. Was he upset with the situation? Yes. Was he mad at his head coach?
You bet.
Does he still feel like he was part of that unforgettable
team that upset the Bulldogs in The Pit?
"I felt every bit a part of it," he said. "I didn't log any
minutes, but I still tell people I was part of a championship team that played
in the NCAA Tournament. It pains me. It killed me not being out there with my
brothers."
McMillian still had one year remaining; however, Straight
was back and fully entrenched in the lineup. McMillian started just one game –
senior night – and averaged just over 11 minutes per game. The Cowboys were
supposed to threaten for a third straight conference title. A torn ACL for
Bailey during the regular season derailed those dreams.
"I still tell people that if Bailey doesn't get hurt, we
probably go to the NCAA Tournament again," McMillan said. "In hindsight, I
probably should've transferred. I felt like, in my heart, I was better. It was
a very, very hard time for me. I didn't watch basketball for three or four
years. Jay had a great career as well, but my pride and ego set in. Coach said
it was going to be hard for me to get minutes. It's hard for a 20-year-old to
read between the lines. Steve was great to me. I have a ton of respect for him.
"It was a great five years. I have no regrets."
When McMillian accepted the job in Pocatello, one of the
first things he noticed was the Bengals schedule -- Wyoming, Nov. 5, in
Laramie.
"I was pretty excited," McMillian said, adding that if his
Illinois-Chicago team – currently coached by McClain – would've beaten Coastal
Carolina in 2017, the Flames would've played Wyoming for the CBI title.
It wasn't meant to be. He will get his chance Tuesday
though.
For McMillian, all kind of memories come flooding back when
he thinks about accomplishments inside this arena.
Beating No. 25 TCU during his freshman season is a big one.
An opening night loss to Denver stands out, too.
"Steve came into the locker room and gave us some choice
words," McMillian laughed. "We watched film the next day and after, I called my
dad and said 'I'm going to transfer. I can't handle this.'"
He didn't. Instead, McMillian was a part of one of the best
runs in Wyoming basketball history.
He recalled a devastating buzzer-beater UNLV hit in Laramie, which eventually led to Wyoming sharing that title in 2000-01. He still can't believe the atmosphere when teammates Brett McFall and Davis connected for a half-court alley-oop on national television in a rout of ranked Utah. Speaking of the Utes, McMillian discussed the time Bailey drained a pair of last-second free throws to give the Pokes a league title.
The crowd stormed the court.
The nets came down.
The party was on.
"Those are all memories I will never forget," he said. "I still remember hearing those infamous words, 'The score, oh, the score.'"
McMillian said he started scouting the Cowboys more than a month ago. He is impressed with the shooting ability of Jake Hendricks, thinks Hunter Maldonado could be a 20-point a night guy and called Austin Mueller a "wild card."
On his drive to Idaho this past summer, McMillian stopped in Laramie to meet with current Wyoming head coach Allen Edwards and take a look at the newly remodeled A-A.
He was impressed with both.
When it comes to the current stats of the program, McMillian
said it reminds him of his first season in Laramie. The seats were empty. Wins
were hard to come by. No one was bought it – yet.
"I think Coach Edwards has done an unbelievable job," he said. "Building a culture is tough. They have had a ton of injuries. Justin James is a pro now and two years ago they won a CBI Championship. It's easy to forget those things … I can't tell you the advantage we got when that place is rocking, including the elevation. I hope fans rally around Edwards and the rest of the team, and hopefully give them the ability to play in front of a packed house. The guys aren't trying to lose. It's not a lack of effort."
Tuesday night, McMillian said Davis, Ryan Wildenborg and Joe Ries should be in the building. He is looking forward to catching up with former teammates, though they are all on a "text chain" and communicate regularly.
So, there's only one question left before McMillian's
homecoming – who wins?
"Who's going to win? I'd be remiss if I said anything other than ISU," he said with a laugh.