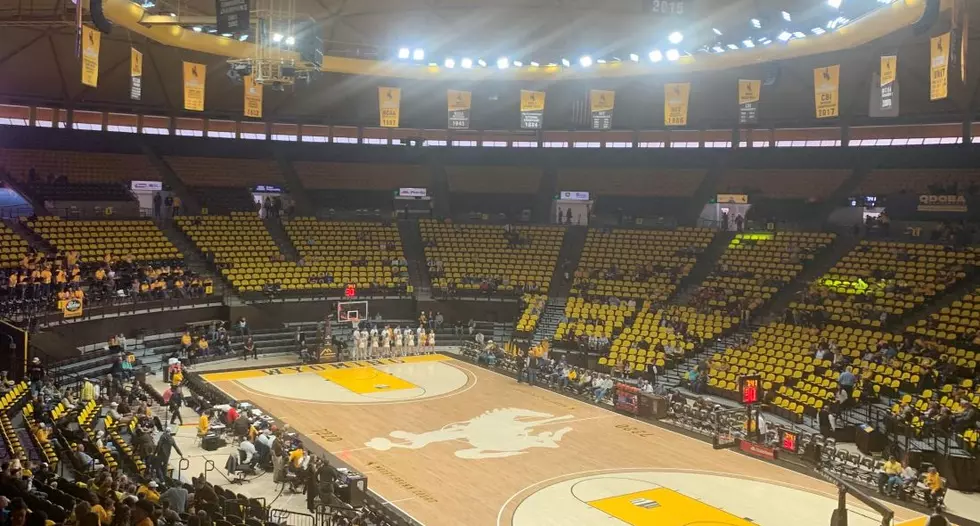 Linder and Co. land 7-footer
hoopscropUSE
"I'm ready to be a Cowboy, coach."
It was that sentence that produced this Monday night tweet from head basketball coach Jeff Linder.
Why was Wyoming's new bench boss so excited? The guy on the other end of the line was Nate Barnhart, a 7-footer who can shoot from the outside.
In other words, a potential matchup nightmare once the senior from De Soto, Kansas, makes his way to Laramie next summer.
"Throughout the whole process, he kept saying, 'let me know when you want to be a Cowboy,'" Barnhardt said over the phone Tuesday evening. "It felt great."
This great:
Barnhart had interest from other schools like Northern Kentucky, Central Arkansas, Milwaukee, and others, but the second-team All-State center was sold when he and his family made the nine-hour drive to the Gem City last weekend.
It solidified the vision that Linder and his staff could only express over numerous Zoom calls. Not to mention assistant coach Shaun Vandiver saw Barnhart in person last season when he was recruiting under Allen Edwards.
"I loved it," Barnhart said of Laramie. "It was exactly what I was looking for. I loved the college-town feel there, especially being the only four-year university in the state. That really brings the support from fans throughout the state.
"... Going out there, I got to campus and started driving around. I thought, 'this is it.' It felt right."
Barnhart made the jaunt to Yellowstone with his family when he was young. Now, at 18, he barely recalls the trip. Admittedly, he didn't know much about the program, other than Larry Nance Jr. once roamed the Arena-Auditorium for the Cowboys.
That will change this winter.
The big redhead doesn't know the stats from his junior year right off the top of his head, but he does recall scoring a career-high 30 points and pulling down 16 rebounds to lead his De Soto team to the state tournament.
If Linder is sticking to his M.O. you know the kid can shoot.
Turns out, that's one of his many strengths.
"I would say my versatility on the offensive end," Barnhart said. "I can go down and score in the post or step out and shoot the three. I'd also say my ability to pass the ball."
Sound like a Linder commit?
Former Wyoming point guard Brett McFall coaches just up the road from De Soto at Shawnee Mission South High School.
He recalls watching Barnhart as a sophomore.
"I thought he had a huge upside," McFall said Tuesday. "He was real tall and skinny, I assume he still is. But I remember thinking if he put on some weight, he could be real good"
Barnhart says he weighs about 185 pounds right now, but expects that to change, too.
Barnhart not only stars at De Soto, he is a member of the AAU team, KC Run GMC.
"Oh, it's big-time legit," McFall said. "They are a great program."
Barnhart is wrapping up fall ball right now, but said having his college decision out of the way will only help him focus for his final season in Kansas.
Speaking of that decision, did he ever think about waiting?
After all, he grew up a Jayhawks fan and his parents both attended Wichita State. Those programs, as you know, are both known for their hoops.
"Really, once Wyoming came in and I saw the interest, it makes you feel wanted," he said. "I could tell how badly they wanted me.
"It's a good fit for me."
Barnhart is the Cowboys' second known 2021 commit, joining 6-foot, 2-inch small forward, Ben Bowen, of Highlands, Ranch, Colo.