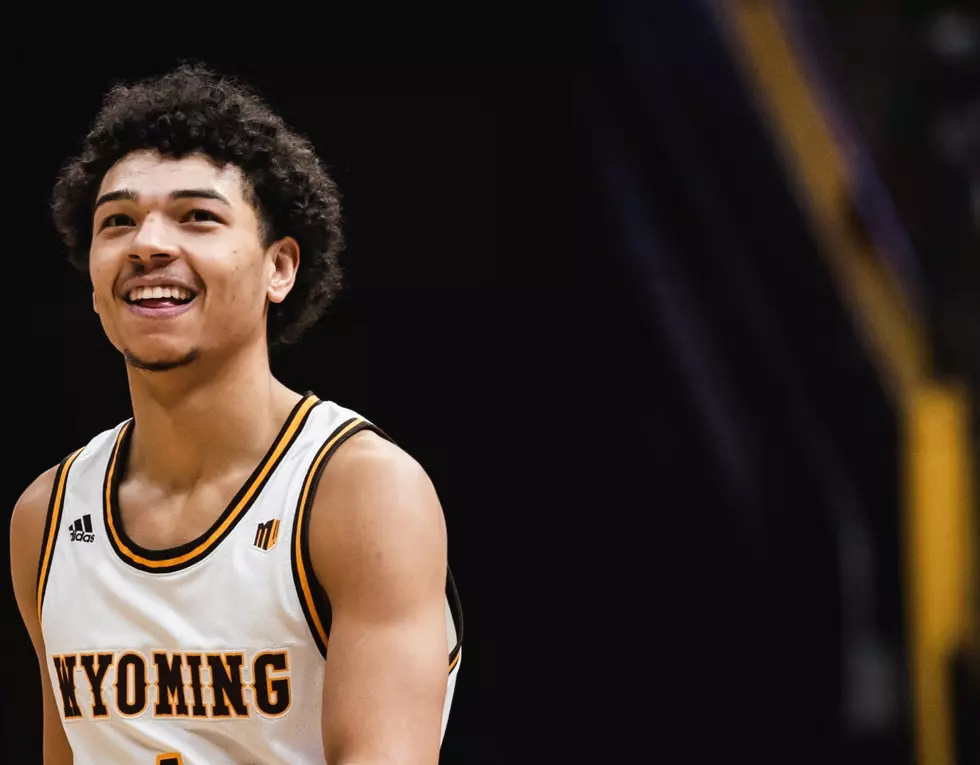 Linder holding Marcus Williams to 'higher standard'
Marcus Williams was named the MW Freshman of the Year today by the league's media, but has scored just eight points over his last two games. / UW courtesy photo
LARAMIE -- Is newly crowned Mountain West Freshman of the Year, Marcus Williams, in the doghouse?
Not exactly.
The Dickinson, Texas product played just 13 minutes of Saturday's regular-season finale in Laramie. He scored just four points in the Cowboys' 80-69 victory over UNLV. Two nights prior, Williams also finished with just four points. Those were both season lows.
After the win over the Rebels, Wyoming's first-year head coach Jeff Linder was asked if he was concerned about the recent play of his star point guard. He didn't answer that question directly, instead saying he needed to put in the work to figure things out the way his teammate Graham Ike did.
Ike scored just two points against Neemias Queta in last Thursday night's blowout loss at Utah State before exploding for 17 against UNLV.
"He has a choice," Linder said Saturday night, "he can feel sorry for himself or, like Graham did, he can come in and get better. But that's that's up to him."
During his weekly press conference Monday, just an hour or so after Williams was named the league's top freshman, Linder was asked if he expected him to make this much of impact this soon.
"I mean, all of us were probably a little bit surprised how quickly he came on," he said. "And it also was kind of a little bit of fool's gold from the non-conference (schedule) based on the quality of our opponents."
Williams averaged 17.9 points per night during the Cowboys' first seven games, including a 30-point performance in an 83-61 rout of Denver. He finished the regular season netting 14.9 per outing.
MORE UW HOOPS NEWS
* Media names Williams MW Freshman of the Year
* 3 Quick takes: A prideful Graham Ike drops the hammer on Rebs
* Pokes catch fire from deep, take down UNLV, 80-69
* Let's reflect on the 2020-21 hoops season
The offensive outburst didn't stop there though.
In Williams' first eight Mountain West games, he finished in double digits scoring. He has hit that mark just four times over Wyoming's last eight games.
"I knew, and the coaching staff knew, as we made our way into conference play off of what he had done in non-con that he's going to be at the top of everybody's scouting report," Linder said. "I do think that's where he's tailed off a little bit here late. The difference between him and every freshman in our league -- and there's some good freshmen -- but they're not at the top of the scouting report for the other opponent, like Marcus Williams is. So, Marcus is getting the other team's full attention."
This isn't the first time Linder has held Williams accountable.
After an 83-60 home setback against Boise State, Linder didn't start Williams for the series finale two nights later. Despite a 16-point effort from the rookie, Linder was not thrilled with Williams' defense against the high-powered Broncos.
"We watched the film and had a very, you know, come-to-Jesus film session in terms of what the right effort looks like," Linder said back in mid-January. "It wasn't just Marcus, but Marcus has aspirations and has the ability and talent to be a very special player and to have the ability to play at a very high level."
So, here we are again.
Linder didn't get into specifics of what he wants to see from Williams with the start of the Mountain West Tournament less than 48 hours away, but he did reiterate that he will continue to hold him to a higher standard.
"It's my job is to prepare him to be a first-team all-league guy on a winning team, in which also, if you're that, now you're in the running for the MVP of the league," Linder said. "So, unfortunately for him, the way he's come on, you know, the expectations have gone up. Whether it's right or wrong -- sometimes he probably doesn't like it -- I hold him to a standard that in my opinion is going to allow him to be an MVP-type candidate one day and not just the freshman of the year on a team that finished in eighth place."
Tough love? You bet.
"Sometimes it's hard for you for 18 year olds to understand that, yeah, it's great -- but It's not good enough," he continued. "... Hopefully, he can kind of push through some of the growing pains he's had to experience here recently. That's when he's going to take the next big jump. We've got to fight through it."
In that second game against Boise State, Williams responded with 13 points off the bench. He hit double figures in the next four games, too, including a 28-point performance in a home win over Nevada.
Four wins is what the Cowboys will need inside the Thomas and Mack Center if they want to continue their season.
Wyoming will take on San Jose State Wednesday at noon to open the men's portion of the Mountain West Tournament in Las Vegas.
WYOMING PROUD: 10 Facts About Wyoming That You May Not Know