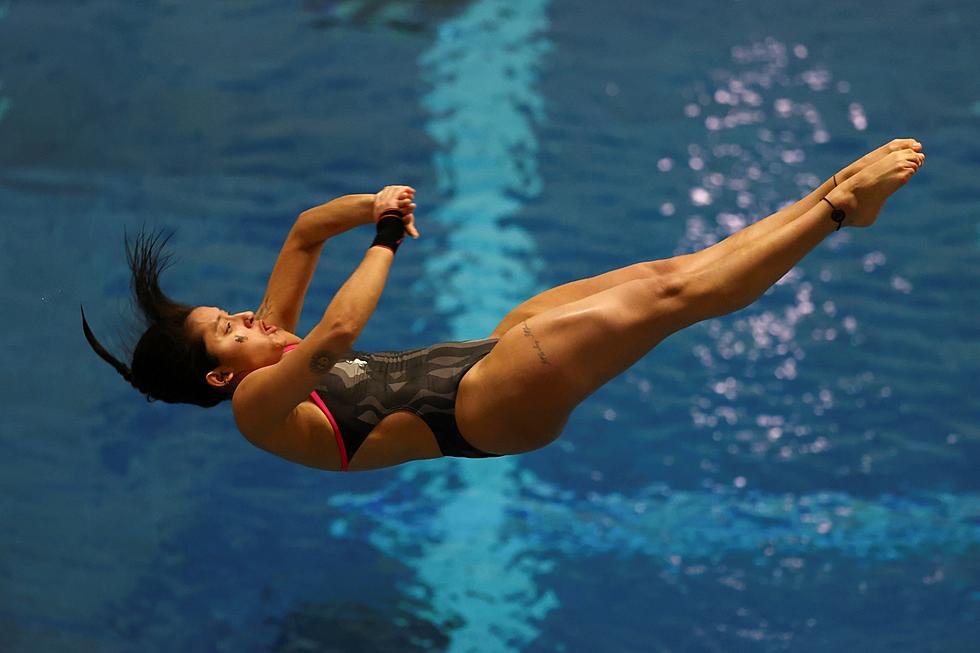 Mirafuentes paces Cowgirls with her third straight MW title in platform
Each of the last two nights featured a three-peat for the University of Wyoming swimming & diving team at the Mountain West Conference championships. Junior Melissa Mirafuentes made it three nights in a row for the Cowgirls on Saturday at Paup Pavilion. Mirafuentes dominated in platform. She tallied a final score of 328.20 to win her third consecutive MWC title./ UW courtesy photo
* University of Wyoming Athletics media relations release
COLLEGE STATION, Texas -- Each of the last two nights featured a three-peat for the University of Wyoming swimming & diving team at the Mountain West Conference championships.
Junior Melissa Mirafuentes made it three nights in a row for the Cowgirls on Saturday at Paup Pavilion.  
Mirafuentes dominated in platform. She tallied a final score of 328.20 to win her third consecutive MWC title.   
"I've never been less nervous during a competition, which never happens," UW diving head coach Ted Everett said. "But after her first dive, I knew it was over for the rest of the competition. I couldn't be more proud of this performance." 
That performance helped Wyoming finish fourth as a team with 888.5 points. San Diego State won the title, compiling 1,541.5 points, while Nevada and UNLV rounded out the top three with 1,277.5 and 1,249 points, respectively.   
"This was a really perfect end to the meet for us," head coach Dave Denniston said. "The Cowgirls did a great job all week." 
Senior Katelyn Blattner highlighted the effort in the pool. She was honored as the MWC Swimmer of the Meet after capping her individual performances with a third-place showing in the 200-yard backstroke, logging a time of 1:55.92. 
"Katelyn earning Swimmer of the Meet was the highlight for our program," Denniston said.  
Freshman Kayla Cunningham wasn't far behind, touching sixth in a time of 2:00.20. Junior Emily Giles won the B final of the 100-yard backstroke with a time of 1:59.72, and freshman Sydney Metzler took eighth in the C final, clocking in at 2:06.36.  
Freshman Maisyn Klimczak led off Saturday night with a third-place finish of her own. She swam a 16:37.14 in the 1,650-yard freestyle to take third, while fellow freshman Sage Morton finished seventh with a time of 16:51.61.  
Seniors Lainee Jones and Sani Carsrud placed second and third, respectively, in the C final of the 100-yard freestyle. Jones swam a time of 51.06, and Carsrud registered a time of 51.29.  
Cowgirls were littered all over the C final of the 200-yard breaststroke. Freshman Caitlyn Groff led the way with a third-place showing after swimming a time of 2:19.77, while sophomore Isabel Rich and senior Andrea Niemann took fourth and sixth, respectively, with times of 2:19.84 and 2:23.18.  
Sophomore Kali Franckowiak placed sixth in the C final of the 200-yard butterfly with a time of 2:04.90. Cunningham wasn't far behind in seventh after clocking in at 2:05.24.  
The 400-yard freestyle relay team capped the night with a fourth-place finish. The collection of sophomore Carly Palmer, Blattner, Carsrud and Jones boasted a time of 3:21.74.  
The NCAA Zone E Diving Championships represents the next competition for Wyoming. It begins March 9 in Flagstaff, Arizona. 
12 Cringeworthy Things Guaranteed to Piss Off Wyomingites
There are just certain things Wyomingites don't want to see or hear. Check out these 12 things that are guaranteed to anger someone from Wyoming.
- 12 Cringeworthy Things Guaranteed to Piss Off Wyomingites