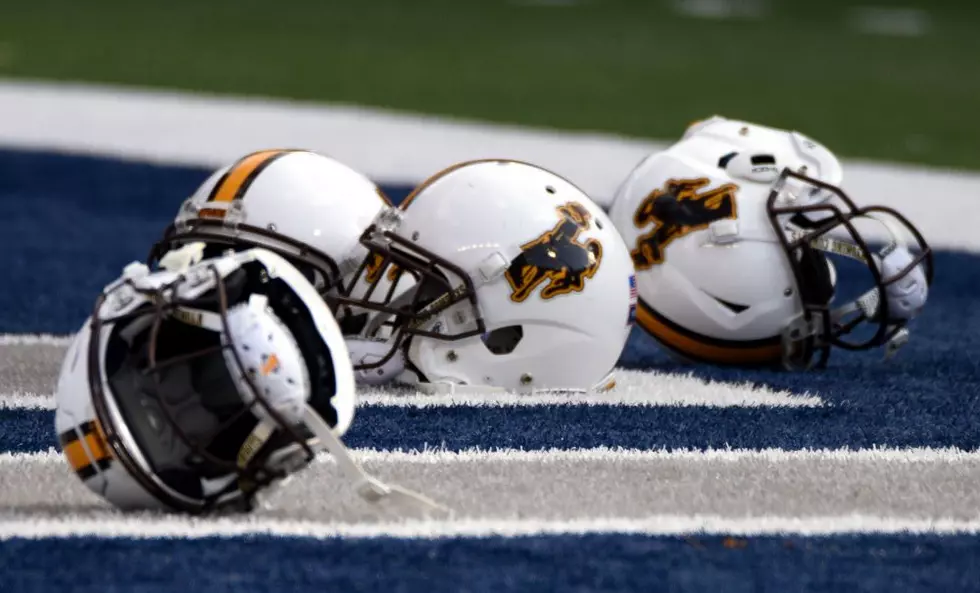 Wyoming has begun the rebuild of its secondary, adding Air Force transfer TJ Urban this week./ DJ Johnson photo
LARAMIE -- The Wyoming football team was escorted into Laramie by a pair of snow plows on Sunday afternoon.
More than a foot of the white stuff hit the Front Range Saturday night, forcing Craig Bohl and his team to bed down in Denver for the night after their flight from Reno was diverted to the Mile High City.
Bohl made his weekly press conference at noon Monday. Others -- me -- did not.
So, let's catch up on the news and notes from the week that was, including that 37-34 overtime loss to Nevada, and the upcoming Hawaii matchup that is set to take place at 7:45 p.m. Friday night inside War Memorial Stadium:
Wyoming quarterback Sean Chambers suffered a fractured fibula during the third play from scrimmage Saturday night in Reno. Dom Peterson twisted the redshirt sophomore around and Chambers left foot caught caught underneath the big lineman. Chambers, who suffered the same injury his freshman season, was also lost for the year in 2019 after sustaining a knee injury. Bohl hinted that Chambers could return this fall, but it's not likely. It all depends on how the leg heals. For now, Chambers will not be in uniform against the Rainbow Warriors.
Starting defensive end Garrett Crall will miss his second straight game as he waits for an offseason foot injury to heal. Jaylen Pate is again listed as the starter this week.
John Hoyland Monday was named the Mountain West Conference Special Teams Players of the Week. The freshman walk-on from Broomfield, Colo., was a perfect 4-for-4 on his field goals and made both point-after attempts. Luke Glassock, a redshirt freshman from Buffalo, was named the starter out of camp put suffered a groin injury last week. Hoyland is at the top of the depth chart against Hawaii. He's bringing his red kicking shoe with him
Wyoming's back-up quarterback has yet to be named. Bohl said both freshmen, Gavin Beerup and Hank Gibbs, have been dealing with COVID-19 protocols but would be available for practice this week. Bohl is expected to name the back-up signal caller on Tuesday.
Speaking of back-up quarterbacks, Wyoming had zero on the roster Saturday night in Reno. If Levi Williams would've went down with an injury, Bohl said a wide receiver who hasn't taken any reps would've entered the game. Thought Bohl did not name the player, one would have to believe that guy is Ryan Marquez, the Cowboys' current holder and wide out. He spent last season with the QBs.
Despite the loss, Bohl raved about the competitive nature of his team Saturday night, erasing a 28-6 deficit in just over a quarter of play. He said he pays attention to special teams and whether the effort is still there on kick coverage. He also added that when the defenses is still swarming, the team is engaged. Both of those things happened in Reno.
Bohl was asked about the leadership role of Chambers and how that will change. The short answer: it won't. The Kerman, Calif., product will not travel with the team (COVID-19 restrictions coupled with UW has never taken injured players) but will be a mainstay at practice and during home games.
Will weather play a factor this Friday night against a team from a tropical island? Bohl doesn't know, but joked that he wouldn't be opposed to freezing temperatures and sideways blowing snow at kickoff. As of Tuesday, it looks like it will be a balmy 46 degrees and sunny in Laramie.
Bohl also joked about how he once had hair ... then he watched highlights of Hawaii quarterback Chevan Cordeiro. The 6-foot, 1-inch sophomore completed 20-of-31 passes for 229 yards and rushed for a team-high 116 and a pair of touchdowns in the Rainbow Warriors 34-19 opening night victory at Fresno State.