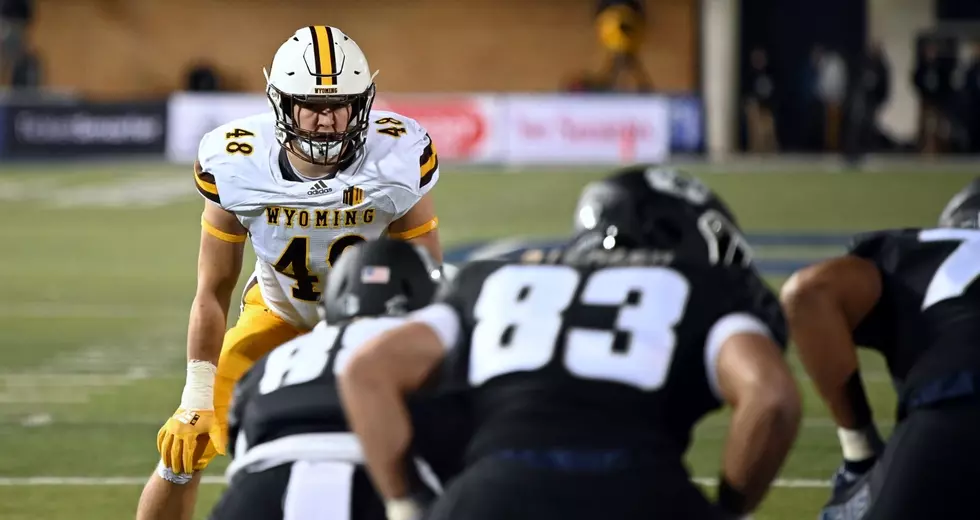 Muma, Agebrand, and Campbell Win Admiral Land Awards
DJ Johnson photo
* University of Wyoming press release
LARAMIE -- An outstanding student-athlete and two dedicated student workers are the winners of the 2022 Admiral Land Award and Trophy, a great Wyoming homecoming tradition. This year's Award winner is football player Chad Muma, and the Trophy co-winners are Emma Agebrand and Jocelyn Campbell. The presentations were made at Saturday's Wyoming-Utah State Homecoming football game.
The Admiral Land Award is presented to the student-athlete(s) who has completed his or her Wyoming competition during the preceding academic year and demonstrated outstanding achievement in intercollegiate competition, exemplary personal conduct during competition, and maintained academic standing with satisfactory progress toward a degree. The Admiral Land Trophy is awarded to the student (non-collegiate athlete) who has done the most to promote Intercollegiate Athletics at the University during the previous school year.
A native of Lone Tree, Colo., Chad Muma was drafted by the NFL's Jacksonville Jaguars in the third round after a stellar career playing linebacker for the 'Pokes. He was recognized as one of the top defensive players in college football in 2021, earning Second-Team All-America honors from both the Walter Camp Football Foundation and Pro Football Focus. He was a two-time First-Team All-Mountain West selection and played in the 2022 Reese's Senior Bowl. Muma ranked third in the nation in solo tackles (6.5 per game)and ranked No. 4 in the nation in total tackles (10.9 per game) for the 2021 season. Muma helped lead Wyoming to two bowl victories during his Wyoming career – the 2019 Arizona Bowl Championship and the 2021 Famous Idaho Potato Bowl title. The son of Ty and Kara Muma, Chad earned a 3.439 GPA while majoring in mechanical engineering.
Emma Agebrand is a graduate student in the Athletic Department Game Management Office. Her duties in Athletics include overseeing gameday officials, setup for events, coordinating the IPF for football pre-game, assisting with scoreboard operation, and overseeing interns. She earned her degree from UW with a double major in Accounting and Finance with a 3.6 GPA. She is currently enrolled in the Business Administration masters program where she carries a 3.7 GPA. During her academic career, she has earned the John C. and Esther L. Clay Graduate Fellowship in Business as well as numerous Dean's List and Provost's List honors. She is active in the Financial Women's Association, holds her substitute teaching license, and volunteers as a Youth Volleyball Coach and for the "Big Event" on campus. A native of Highlands Ranch, Colo., Emma is the daughter of Ericka and Martin Agebrand.
As an undergraduate, Jocelyn Campbell worked in the Cowboy Joe Club offices as an intern for three years while also a member of the Spirit Squad. She earned degrees in both English and Communications with a GPA of 3.895 and is now enrolled in the Communication and Journalism Department's Master's program in Communication. Campbell is actively involved with the Cowboy Joe Golf Series, the annual auction, football and basketball parking, Steer-A-Year program, W Club, Young Alumni Club, and member hospitalities. She serves as the lead on the Ragtime Club, working with young alumni. She has a positive and creative attitude and possesses excellent interpersonal and customer service skills, which have made her a valued member of the Cowboy Joe Club staff. A native of Phoenix, Ariz., Campbell is the daughter of Rick and Juanita Campbell.
The Admiral Land awards have been a special part of Homecoming since 1953. They were established as a tribute to distinguished UW alumnus Admiral Emory S. Land, class of 1898. Land was a World War II Shipping Administrator and head of the U.S. Maritime Service. At UW, he was a member of the first football team and four of the first five teams in school history.
Following are the previous Admiral Land Award & Trophy Winners:
     Year               Admiral Land Award                            Admiral Land Trophy
1953                                    Paul Carlin, Track
1954                                    George Galuska, Football
1955                                    Bob Jingling, Baseball
1956                                    Joe Capua, Basketball
1957                                    Jim Crawford, Football
1958                                    C.T. "Wimp" Hewgley
1959                                    Harold Farmer, Football & Track                                    Janice Elmer
1960                                    Dick Ballinger, Wrestling                                                Mary Jones
1961                                    Jerry Hill, Football                                                           Dave Bonner
1962                                    Chuck Lamson, Football                                                 Gene Bryan
1963                                    Bob Hanson, Basketball                                                 Judy King
1964                                    Mack Balls, Football                                                       Joan Selmer
1965                                    Flynn Robinson, Basketball                                            John Hursh
1966                                    Bob Dinges, Football                                                       Babette Numon & Harold Blumenthal
1967                                    Mike Gregorio, Cross Country                                         Phil White, Jr.
1968                                    Mike Eberle, Basketball                                                  Carl Hanson & Jim York
1969                                    Bruce Jennings, Skiing                                                    Bill Hill
1970                                    Stan Dodds, Basketball                                                   Debbie Hardy
1971                                    Roy Wilson, Basketball                                                   Mary Ann Gorman & Don Bogdan
1972                                    Gary Fox, Football                                                          Kathy Hunt & Larry Bresso
1973                                    Staale Engen, Skiing                                                        The UW Marching Band
1974                                    Steve Cockreham, Football                                            Michelle Green & Bill Yost
1975                                    Jody Sloan, Wrestling                                                     The UW Pep Band
1976                                    Bill Ewing, Baseball                                                        Steve Prosinski
1977                                    Christine Brown, Women's Athletics                             Sally Shurmur
1978                                    Kathy Merklin, Women's Athletics                                 Randall Luthi
1979                                    Ross Houston, Skiing                                                      Pete Kuhn
1980                                    Geir Kvernmo, Track/Skiing                                            Cynthia Fester
1981                                    Charles Bradley, Basketball                                            Bob Ihle
1982                                    Phil Davis, Football; Bill Garnett, Basketball                  Mike Larson & Mark Netzel
1983                                    Lynn Stetson, Swimming; Stacy Ward, Skiing                Scott Roberts
1984                                    Wes Gasner, Wrestling; Mary Shea, Volleyball              Bill Lamberty
1985                                    Joe Ramunno, Football; Kathy Romsa, Track;                                Annie Easterbrook
Becky Simning, Skiing
1986                                    Mike Hamel, Wrestling; Shari Ahola, Skiing                   Audrey Waldock
1987                                    Jim Walter, Baseball                                                       Mike Chisholm
1988                                     Mark Miller, Swimming; Ronda Munger, Volleyball              Patrick Stolz
1989                                    Randy Welniak, Football                                                Amy Dimond & Ron Loghry
1990                                    Darcy Cudaback, Volleyball;                                           Kevin Rochlitz
& John Wodny, Cross Country
1991                                     Shelly Thacker, Track & Field; Rob Clayton, Swimming          Jeff Ketron
1992                                    David McCleave, Golf;                                                    UW Marching Band
Dave Myers, Wrestling;
Reginald Slater, Basketball
1993                                    Scarlett Gustin, Basketball;                                            Wildfire Dance Team
Mike Abbey, Track & Field
1994                                    Kiesa Fornstrom, Swimming                                          Noah Buckley, John Carr & Brian Madden
1995                                    Amy Burnett, Basketball;                                               Karen Schatz
Ryan Christopherson, Football
1996                                    Joe Cummings, Football;                                                Doug Hoffman
Tom Hickenlooper, Wrestling
1997                                    Shilo Mathill, Wrestling                                                  Kevin Koerwitz
1998                                    Brian Lee, Football                                                          Dusty Clements
1999                                    Mark Winninger, Wrestling                                            Mark Gibbs
2000                                    Corey Hamrick, Wrestling                                              Baend Buus
2001                                    Joe Hall, Track & Field                                                    Abi Gerhard
2002                                    Oscar Delgado, Diving                                                     Will LeDoux & Shalee McCue
2003                        Josh Rollins, Football                                                      Mark Krug
2004                        Casey Bramlet, Football                                                  Keven Gibbs
2005                        Shauna Smith, Track, & Scott Usher, Swimming           Jason Wasserburger
        2006                         Bryce Leonhardt, Wrestling                                           David Primus
        2007                         Kevin Bretting, Diving                                                     Mark Bock
        2008                         Hanna Zavecz, Basketball                                               Eric Whiting & Shelley Heward
        2009                         Ward Dobbs, Football, & Amanda Lathrop, Soccer                 Sean Valentine
       2010                        Emily Huth, Diving                                                          Kellen Little
        2011             Aubrey Vandiver, Basketball & Chris Prosinski, Football            Andy Chapman & Nick Kinney
        2012                         Joe LeBlanc, Wrestling                                                   Ali Galey and Ryan Freeman
         2013      Alfonso Hernandez, Wrestling, & Chaundra Sewell, Basketball       Katie Stout and Steven Sundberg
        2014                           Morgan Hartigan-Calhoon, Swimming & Diving           Jami Baker
         2015        Erin Kirby, Volleyball/Track & Field; Larry Nance, Jr., Basketball;    Cory Fields
& Shane Woods, Wrestling
2016                          Tanner Harms, Wrestling                                                Cassandra Craddock & Patrick Hall
2017                          Ryan Wallen, Golf                                                           Mary Ginsbach & Zach Wisniewski
2018                          Bryce Meredith, Wrestling & Liv Roberts, Basketball    Kayla Cryer
2019                          John Murdock, Golf                                                         Dana Jorgensen & Keaton Yeend
2020                                  No Awards Given (Pandemic)
2021                                  No Awards Given (Pandemic)
2022                          Chad Muma, Football                                                      Emma Agebrand & Jocelyn Campbell
30 Wyoming Attractions To Visit
- 30 Wyoming Attractions To Visit