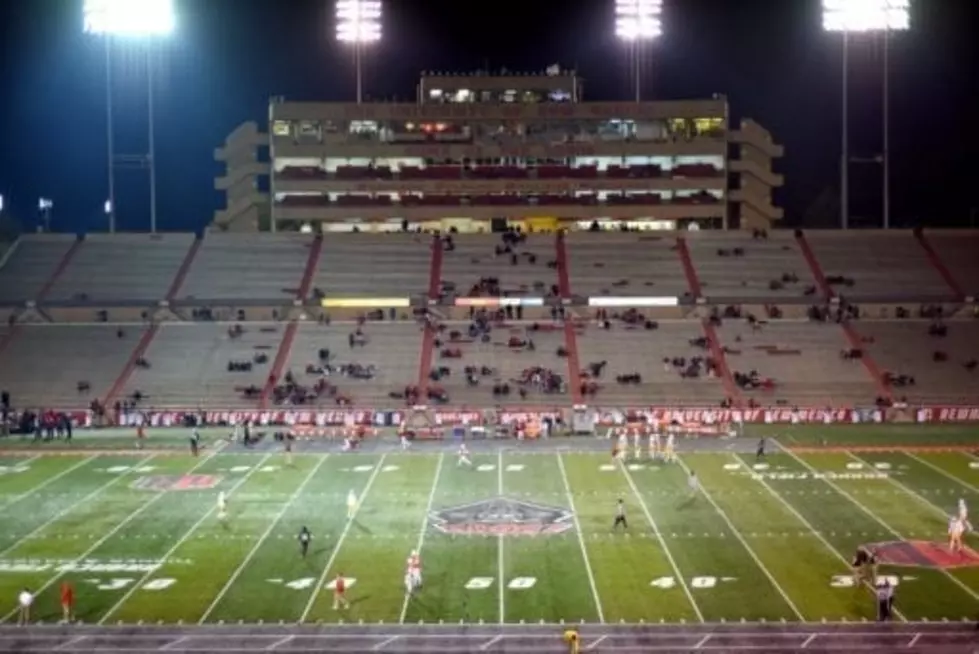 Around the Mountain: New Mexico, New Mexico State merging athletics?
aDSC 4216
CHEYENNE – Should New Mexico and New Mexico State merge its football and basketball teams?
The Rio Grande Foundation sure thinks it could be a solution for the school's woes both in the win column and in the bank account.
Let's just say UNM athletic director Eddie Nuñez isn't buying it. Not one bit.
"They are two different groups of student athletics. They are two different academic institutions. Even if, magically, somebody said 'yes,' (the NCAA) would not do that," Nuñez told the Albuquerque Journal Wednesday. "I don't think it's ever been posed that one school should combine with another school for any sport.
"I mean, holy smokes."
Holy Smokes is right.
The RGF website states that it is a research institute dedicated to increasing liberty and prosperity for all of New Mexico's citizens. The group published a brief Tuesday, stating that the financial state of both athletic departments are in disarray -- not to mention the on-field product.
"In a poor, sparsely populated state like New Mexico the best outcome is for the two major universities to act together in aligning their basketball and football programs with financial and long-term performance realities," the foundation said. "These sports entertainment programs should not outweigh fundamental mission priorities."
The foundation said they are "thinking outside the box."
"I'm not an expert on NCAA rules and regulations, and perhaps it's not something that could be done," said Paul Gessing, president of the foundation. "We're just saying explore that as an option. … Our philosophy is that it might be worth considering ways to have NMSU and UNM somehow join forces from a sports program perspective. Especially with football, they don't have the fan base or the money … to compete with major college programs."
The two universities, which are 200 miles apart, both went 3-9 on the gridiron last season. New Mexico went to back-to-back bowl games in 2015 and 2016.
In 2017, New Mexico State went to its first bowl game since 1960, knocking off Utah State, 26-20.
On the basketball court, the Lobos went 14-18 and made it to the second round of the Mountain West Tournament. The Aggies won the Western Athletic Conference regular season title, their conference title and lost to Auburn in the opening round of the NCAA Tournament, 78-77.
Yes, the same Auburn team that lost to eventual national champion Virginia in the Final Four.
Check out Rick Wright's column on the proposed merger. He even suggests bringing in UTEP … wink, wink.
UTAH STATE
The reigning conference Defensive Player of the Year and Freshman Player of the Year will be back to defend his crowns.
Utah State's Neemias Queta has told the school he will return for his sophomore campaign after testing NBA draft waters this offseason. The 6-foot, 11-inch center from Portugal bested the USU's single-season block record with 84 (He also led the MWC), while helping lead the Aggies to the NCAA Tournament for the first time since 2011. He was second on the team in scoring, averaging 11.8 per game and led the Aggies on the glass, pulling down nearly nine rebounds a game.
"I'm very glad to have this opportunity of having another year at Utah State," Queta said in an interview with The Herald Journal. "It's going to be a really good learning experience for me and all of my teammates. We can be a really good team next year."
COLORADO STATE
Colorado State has added Northern Colorado to its 2024 home football schedule.
CSU will pay it's Front-Range foe $400,000 to make the 31-mile trip west to Canvas Stadium. UNC will be the lone game for the Rams against a Football Championship Subdivision opponent. It could count toward bowl eligibility. CSU will also take on the Bears at home in 2020.
The Rams will open the 2024 season in Austin, Texas when they take on the Longhorns. CSU will host Colorado two weeks later.
AIR FORCE
The NCAA Division I Football Oversight Committee just added a first-team Academic All-American to its organization.
On Friday, Air Force safety Garrett Kauppila was named one of two Mountain West players to serve on the committee, which will be asked to provide feedback on various issues surrounding college football and participate in quarterly teleconferences.
"It is an absolute honor and privilege to represent the Air Force Academy as well as the Mountain West Conference on the NCAA Football Oversight Committee," he said in a press release. "As a member of the committee, my sole intentions are to provide a voice of reason and pursue innovative change that takes into account the needs and desires of student-athletes."
BOISE STATE
Boise State is getting ready to "Unveil the Blue." Yes, that means the school has new blue turf inside Albertson's Stadium. It's the sixth time in school history they have replaced the famed football field.
June 5, the school will give fans their first look at the new field. Season-ticket holders will get the first look, then it will open to the general public. And for free no less. Broncos head coach Bryan Harsin and the players will be on hand for the unveiling.
SAN JOSE STATE
The Spartan Daily, San Jose State's student newspaper reported last week that only 4.4 percent of more than $6 million in donations received in a four-year period actually went to scholarships for student-athletes.
Now, an independent auditor has been hired by the school because of the allegations of misappropriated funds by the Spartan Foundation, the fund-raising arm of the university. The Spartan Daily alleges that donations went to giving coaches bonuses, including car allowances and other perks. According to the San Jose Mercury News, SJSU president, Mary A. Papazian, will "look closely" into questions about the funds and where they were spread. Papazian told the paper that if it is brought to light that funds were mismanaged, the school will find other ways to follow through with donors wishes or refund the money.
FRESNO STATE
For the first time since 2012, the Fresno State Bulldogs are in the NCAA baseball tournament.
For the first time since the northern California school joined the Mountain West in 2013, they also brought home a Mountain West championship last Saturday, defeating UNLV 12-6 in Reno.
Of course, Fresno State is no stranger to the big stage in college baseball. In 2008, the "Wonderdogs" knocked of Georgia in Omaha to claim the school's first national championship. Fresno State finished the season 38-14-1 and will play in the Stanford Regional.
SAN DIEGO STATE
San Diego State's leading receiver is hanging up his cleats.
Tim Wilson Jr. announced this week that he is retiring from football because of a nagging foot injury that has not shown improvement despite offseason surgery.
"He won't be on the team anymore because his injuries will prevent him from continuing with us," SDSU head coach Rocky Long told The San Diego Union-Tribune. "He stays on scholarship for, I think he has two more years to graduate, as long as he keeps his grades up and all those sorts of things. But he can't play because he never got over his injury."
The 6-foot, 4-inch junior hauled in 19 passes for 362 yards last season and caught three touchdowns for the Aztecs.
UNLV
The rich are getting richer in Lubbock, Texas.
Last week, UNLV freshman forward, Joel Ntambwe, announced Sunday on Twitter that he is transferring to the Texas Tech basketball program.
"I'd like to thank everyone at UNLV for a great season last year, and all the schools that have recruited me," Ntambwe wrote on social media.
The 6-foot, 9-inch Ntambwe averaged 11.8 points and 5.5 rebounds last season for the Rebels. Ntambwe will have to sit out next season under NCAA transfer rules but then will have three years of eligibility.
Texas Tech made it to the national championship game last season, falling to Virginia, 85-77. Red Raiders' head coach Chris Beard briefly coached UNLV back in 2016.
Contact Cody at cody@7220sports.com or follow him on Twitter @CodyTucker_7220