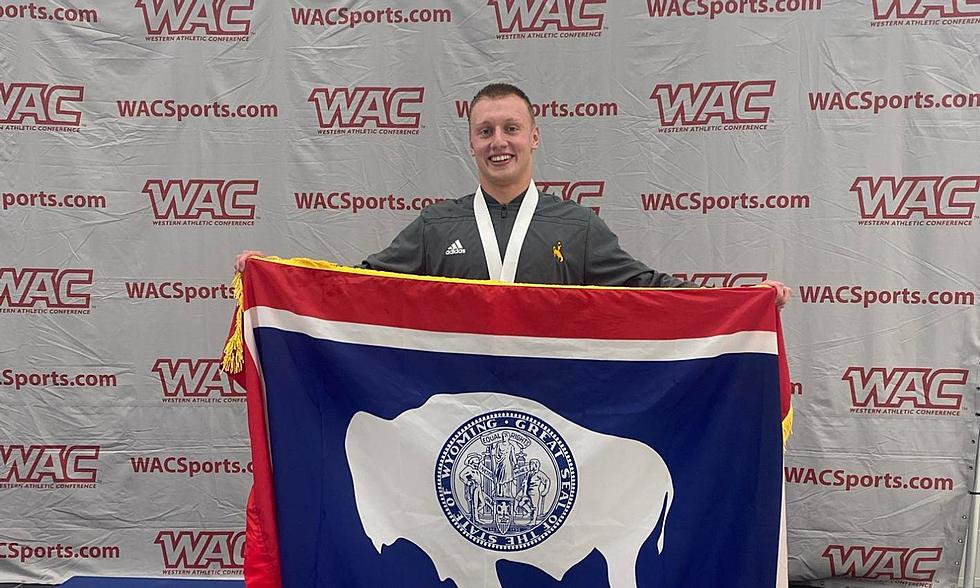 Pokes Vault Into Fourth Place at WAC Championships
The University of Wyoming men's swimming and diving team completed Day 3 of the Western Athletic Conference Championships on Friday inside the City of Pharr Natatorium. The Cowboys were well represented in Friday's A Finals, having multiple swimmers in four of the five races./ UW courtesy photo
* University of Wyoming press release
PHARR, Texas (2/24/23) – The University of Wyoming men's swimming and diving team completed Day 3 of the Western Athletic Conference Championships on Friday inside the City of Pharr Natatorium.
The Cowboys were well represented in Friday's A Finals, having multiple swimmers in four of the five races.
"There were a lot of great performances today as we start clawing our way back toward the top," head coach Dave Denniston said. "We had many highlights with multiple PRs, which made today our best day in Pharr."
Wyoming vaulted up to fourth in the team standings with 370.5 points. UNLV tops the field, having scored 586 points, while Grand Canyon and Cal Baptist round out the top three with 415.5 and 382 points, respectively.
One of those races that encompassed multiple swimmers also saw a new school record. Gavin Smith boasted a time of 47.02 in the 100-yard butterfly, placing third, which bested the old record of 47.06.
"Tonight, it was all Gavin Smith," Denniston said. "He set the tone for the Cowboys."
Quinn Cynor and Kody Hollingsworth also touched third in their races. Cynor took bronze in the 200-yard freestyle with a time of 1:35.40, and Hollingworth logged his third in the 100-yard backstroke, recording a time of 48.02.
The Cowboys enjoyed a trio of A Finalists in the 100-yard backstroke. Along with Hollingsworth, Collin Davis placed fifth with a time of 48.48, while Andrew Rodriguez finished sixth with a time of 48.60.
Wyoming had a pair of representatives in the 400-yard individual medley. David Mihalic took fourth, clocking in at 3:50.43, while Charlie Clark touched sixth in a time of 3:51.69.
"David Mihalic also fired up the team with a PR in the 400 IM," Denniston said. "Quinn Cynor followed suit, getting on the podium for the 200 freestyle. Kody Hollingsworth also earned his way to some hardware."
It was a similar story in the 100-yard breaststroke. John Wargin led the way, registering a time of 54.12 to take fifth, and Grant Sloan touched seventh in a 54.33.
Quinn Teller rounded out the individual A Finalist. He finished eighth in the 100 butterfly, clocking in at 48.12.
The 400-yard medley relay closed the book on the day. The team of Hollingsworth, Sloan, Smith and Cynor took fifth with a time of 3:13.06.
"I think tomorrow will be a dogfight to finish second," Denniston said.
The championships conclude Saturday. The day begins with preliminary heats of the 200-yard backstroke at 9:30 a.m.
30 Wyoming Attractions To Visit