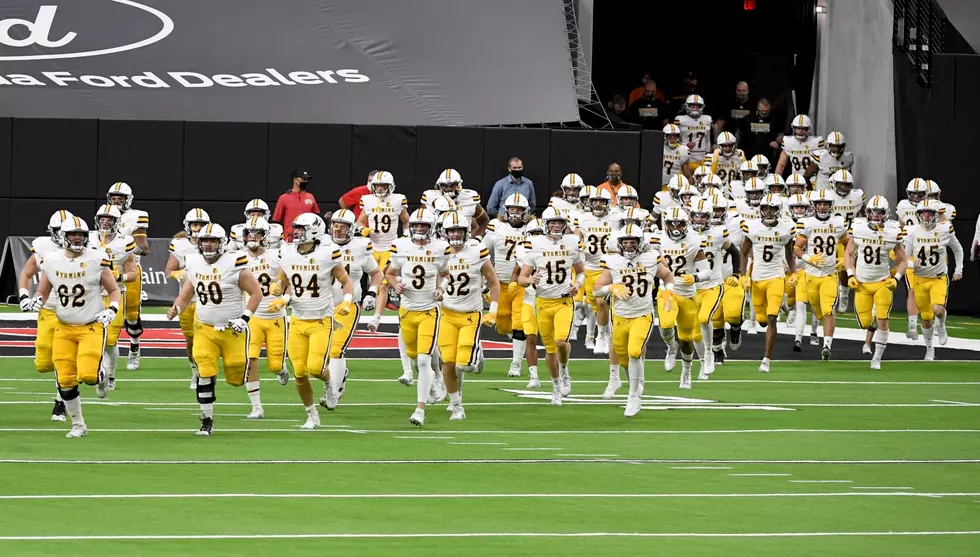 Polasek checks all the boxes
Head coach Craig Bohl of the Wyoming Cowboys leads his players onto the field for their game against the UNLV Rebels at Allegiant Stadium on November 27, 2020 in Las Vegas, Nevada. The Cowboys defeated the Rebels 45-14. (Photo by Ethan Miller/Getty Images)
LARAMIE -- Tim Polasek checks all the boxes.
Craig Bohl said Wednesday that his process for hiring assistant coaches isn't a complex one. Tom Osborne, Bohl's mentor at the University of Nebraska, looked for four things and jotted them down on the blackboard:
* Is he a good person?
* Is he intelligent?
* Can he communicate?
* Can he coach the position?
Now, re-read the very first sentence.
Back in 2005, Bohl made a phone call to a little-known special teams and defensive backs coach at an even-lesser known school. Polasek was in year three at Wisconsin-Stevens Point, a Division-III university 100 miles west of Green Bay.
That gig alone didn't pay the bills. It was actually labeled part-time. Polasek supplemented his income as a logger in the central part of the state.
"I'm not going to lie to you," Polasek told The Athletic in May of 2020, "I just cracked open a Miller Lite."
Bohl smiled Wednesday when that anecdote was recited. He fired back with a short story about Polasek of his own.
"The story goes he didn't have enough money even to get to Fargo," Bohl said. "I didn't know any of this, but when we hired Tim he loved to play golf. He was a single guy and took his driver down to the golf pro and sold it for, I think, $150. He had enough gas money, drove to Fargo and slept on the floor of the Fargo Dome for a while until the maintenance people kicked him out."
All that to become a graduate-assistant at North Dakota State.
Bohl said the decision to add Polasek to his staff went beyond talent. He showed an intense desire to be a great football coach, Bohl added.
"He was just was a football nut," Bohl continued. "He was always upstairs, always looking to grow. I saw how he had a great teaching progression. You know, he was able to break things down and then articulate that and relate it to players. We certainly saw his passion."
Polasek was introduced Wednesday as the Cowboys' new offensive coordinator, replacing Brent Vigen, who has spent the last 18 seasons as Bohl's play caller before accepting the head coaching job at Montana State earlier in the week.
Speaking of making big decisions, Bohl said it was one Polasek made that helped lead the Bison to their first of five straight national championships back in 2011.
Trailing 6-3 to Sam Houston State, Bohl and Co. needed a spark on offense. The Bison, led by quarterback Brock Jensen, failed to secure a first down on their final four drives of the first half. The first possession of the third quarter was following suit.
Facing a 4th and 4 at their own 34, a different voice came through the headsets. The running backs coach had a suggestion.
"That was probably one of the biggest calls in my coaching profession," Bohl said.
And it came on the most un-Bohl like call you could imagine -- a fake punt.
NDSU punter Matt Voigtlander (who was also listed as a running back on the roster) took the snap and hit the left edge. It was a 27-yard mad dash around the Bearkats' punt-return unit. The very next play Jensen connected with D.J. McNorton on simple screen pass. He bolted 39 yards up the middle of the field untouched and into the end zone to give the Bison a lead they would never relinquish.
Polasek's gutsy call helped lead NDSU to a 17-6 victory.
"We had not run a fake all year. It was something we kept in our hip pocket," Bohl told reporters as the confetti fell in Frisco that January day. "We needed to establish some momentum. We were disappointed we couldn't get a first down in a normal way. Things were right and our players executed a right idea."
Wednesday, Bohl said that call showed him something.
"I can tell he's got ice running through his veins," he said of Polasek. "I've seen it. That doesn't change."
Not surprisingly, Polasek earned a promotion the following offseason. He added special teams coach and recruiting coordinator to his list of duties. After a brief stint as the tight ends and fullbacks coach at Northern Illinois in 2013, Polasek returned to Fargo as the offensive coordinator.
Bohl had just accepted the job at Wyoming.
NDSU, and a quarterback named Carson Wentz, just kept on winning titles.
"Players loved him," Bohl said. "He did a great job and he got better each year. That just further, I guess, solidifies my impression of Tim."
In 2017, Polasek left Fargo for a job as the offensive line coach at the University of Iowa. Bohl calls that position one of the premiere ones in America. More impressive, long-time Hawkeyes' head coach Kirk Ferentz assigned him that duty with zero experience leading a front five.
Why?
Because, Bohl said, he checked all the boxes above. When you have the first three qualities, he said, the fourth one will come. Ferentz and Co. simply taught Polasek how to coach the line.
MORE UW FOOTBALL NEWS
* 'We knew this day was coming'
* Derek Frazier named UW offensive line coach
* COLUMN: A semblance of balance heading to the high plains
* Tim Polasek named Wyoming's new offensive coordinator
(Video above contains colorful language)
Polasek's list of accolades in Iowa City is a long one. He coached NFL players and All-Americans. He was a natural fit with his booming voice and enthusiastic, passionate personality. The tradition up front continued, though his first game inside Kinnick Stadium was a little shaky at times.
The Hawkeyes' line gave up a pair of sacks. The ball was on the turf four times that day. Three were recovered by the opposing defense. Nate Stanley added an interception as Iowa managed to rack up just 263 yards of total offense, 138 of which came on the ground.
Still, they won 24-3.
The team on the other sideline was Bohl's Wyoming Cowboys.
A quick peek at Polasek's résumé will show an offensive mind that believes running the football effectively comes first.
Sound familiar?
Polasek's NDSU teams from 2014-16 racked up more than 10,000 rushing yards. With Wyoming returning all five of its starting offensive linemen, plus their backups, and a pair of the Mountain West's top rushers in Xazavian Valladay and Trey Smith, it's no secret what Polasek is likely to implement in Laramie.
The running game was Vigen's strength over the past handful of seasons, too. Brian Hill won a league rushing title. So did Nico Evans and Valladay.
It's the passing game that has left fans -- and Bohl -- so frustrated since Josh Allen declared for the NFL Draft in 2017.
So, how will Polasek "re-engineer" this offense? Here are a few of Bohl's thoughts:
* Be on the offensive
"We need to be more of an attacking offense," Bohl said. "We certainly need to improve our completion percentage. You know, 46% is way off the mark. We need to be right around the 60% mark. We need to be more efficient in our running game and in pass protection."
* Run to set up the pass
"The team that was able to run the football, but then along with that play-action pass and protection, is what allowed Tampa Bay to (win the Super Bowl)," Bohl said. "They had always had those safeties spinning down."
* Hit the edges
"We will be a run-first football team, but we cannot be three yards and a cloud of dust and punt," he said. "That's just not gonna allow us to win ... We were pretty effective running inside the tackles, but we need to attack the perimeter more."
* Don't throw the baby out with the bath water
"We aren't just going to can everything we were doing," he said. "We aren't getting four wideouts and going to an empty backfield to start throwing and abandoning a lot of the framework. We have to get better at what we're doing and tweak things that we're doing to be more explosive and penetrating on offense."
COVID-19, injuries and opt outs caused too much "Jerry rigging" a season ago, Bohl said. Tempo and timing, he said, will be a major key to getting this passing offense out of the Mountain West cellar no matter if it's Sean Chambers or Levi Williams under center when Vigen's Montana State Bobcats pay a visit to War Memorial Stadium for the 2021 opener Sept. 4.
Polasek, Bohl said, will have complete autonomy when it comes to play calling with little interference from him. A former quarterback himself as Concordia (Nebraska), Polasek will be in charge of developing Wyoming's young signal callers.
MORE UW FOOTBALL NEWS
* UW's offensive coordinator named head coach at Montana State
* What Cowboy seniors are returning in 2021?
* Pokes' punter enters transfer portal
* Wyoming's opt outs will be back in '21
Bohl said he likes the weapons the program currently has on offense. He even compared them to the 2016 squad, which featured current NFL players like Allen, Hill, Chase Roullier, Jacob Hollister and Tanner Gentry.
Can guys like Isaiah Neyor, Keegan Cryder, Treyton Welch, Titus Swen and plenty of others accomplish half of what that team did? Time will tell. Their coach has confidence though.
Polasek likely won't need to sell a nine-iron to get to Laramie. He won't need to sleep in the High Altitude Performance Center either. It's not clear if the Miller Lite was flowing after this latest phone call from Bohl, but what is certain is the keys to this offense are his.
Bohl has set the tone of 2021 with impassioned speeches about re-tooling this scheme. Now, it's Polasek's turn to implement it.
"We need to, like I said, re-engineer," he said. "We need to look at what what players we have. I believe that we can really dominate in our league."
MEET: The Four Richest People in Wyoming