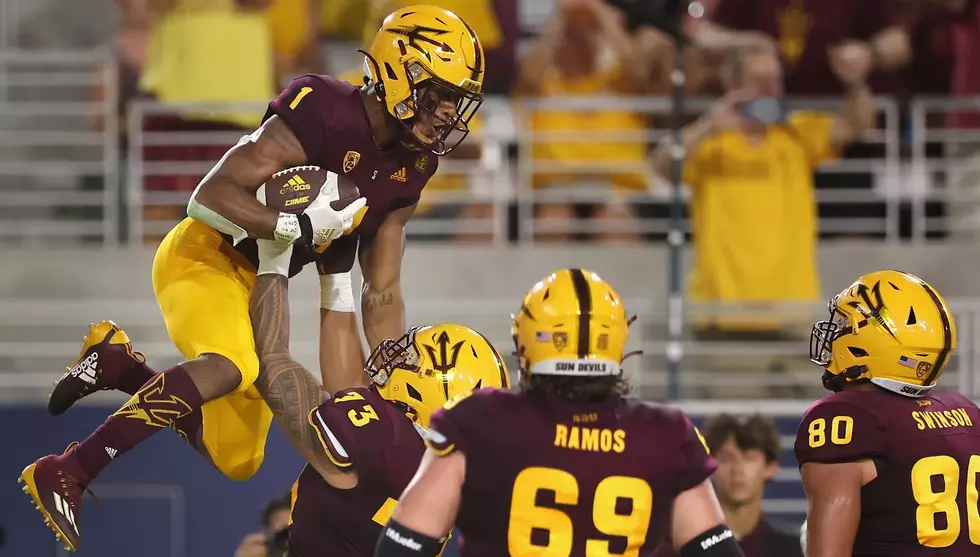 Portal Tracker: Let's Check in on Former Wyoming Football Players
TEMPE, ARIZONA - SEPTEMBER 01: Running back Xazavian Valladay #1 of the Arizona State Sun Devils celebrates after scoring a touchdown during the NCAAF game at Sun Devil Stadium on September 01, 2022 in Tempe, Arizona. The Sun Devils defeated the Lumberjacks 40-3. (Photo by Christian Petersen/Getty Images)
LARAMIE -- There are many differing opinions on the NCAA Transfer Portal.
Love it? Hate it? It's here to stay.
Wyoming lost 15 players after last December's bowl victory in Boise. The quarterbacks hit the road. So did the cornerbacks and big chunk of the defensive front. One of the top running backs in school history transferred, too.
Hey, welcome to college football in 2022.
Let's take a look at how those former Cowboys are doing at their new schools:
Xazavian Valladay - Running back - Arizona State 
Wyoming's second all-time leading rusher is spending his final season of eligibility in Tempe, Ariz. And he's doing work, too. Xazavian Valladay has rushed for 566 yards through six games on just 96 attempts. He has scored six touchdowns for the Sun Devils. In a 30-21 upset loss to Eastern Michigan, Valladay rushed for a season-high 127 yards and a score. He is currently ranked No. 18 in the nation in rushing yards.
Keyon Blankenbaker - Defensive back - Texas Tech
After spending four seasons in Laramie, former nickelback Keyon Blankenbaker made his way to Lubbock, Texas for his final collegiate season. The Oak Park, Ill., native has just one tackle through six games for far for the Red Raiders. That came during a 37-34 overtime victory over rival Texas.
CJ Coldon - Defensive back - Oklahoma
Not much went right for the Sooners last Saturday against rival Texas, but one thing that did was an interception courtesy of former Wyoming cornerback, CJ Coldon. He returned that for 20 yards in Oklahoma's 49-0 blanking inside the Cotton Bowl. Coldon also has seven tackles on the season.
Azizi Hearn - Defensive back - UCLA
This former Wyoming corner is still looking for that elusive first-career interception, but Azizi Hearn, like always, has been a steady presence in UCLA's secondary. The senior from Oceanside, Calif., has tallied 19 tackles and two pass breakups for the unbeaten Bruins.
Solomon Byrd - Defensive end - USC
Solomon Byrd registered 10 sacks during his three seasons in Laramie. Through six games as a pass rusher at USC, he already has three, including one that has impacted the Mountain West race. In Week 3, Byrd took down Fresno State quarterback Jake Haener. The Bulldogs' signal caller, the league's preseason Offensive Player of the Year selection, suffered an ankle injury and hasn't taken a snap since. Byrd also has 15 tackles, a force fumble and recovery and a pass breakup to his credit.
Jaylen Pate - Defensive end - Northwestern
The Chicago native has seven tackles -- all of the solo variety -- in his first six games in a Northwestern uniform. Jaylen Pate registered a season-high three stops during a 17-7 loss at No. 11 Penn State. Pate finished with 1.5 sacks during his two seasons in Laramie.
Rome Weber - Defensive back - Western Kentucky
Wyoming's former safety has tallied 12 tackles during his first season at Western Kentucky. Rome Weber has finished with four tackles in a game on two occasions this fall. The California product racked up 34 tackles, a forced fumble and an interception for the Cowboys last season.
Victor Jones - Defensive lineman - Akron
The fourth-leading tackler at Akron, former Wyoming defensive end/ tackle Victor Jones already has 27 stops this season through six games. His best outing came against then 14th-ranked Michigan State when he tallied five tackles and a sack in 52-0 loss to the Spartans. Jones also has 1.5 sacks and a pass breakup this season.
Cam Murray - Defensive back - Northern Colorado
Cam Murray, right on cue, had his best game of the season against his former team. On Sept. 10 in Laramie, the safety from Aurora, Colo., finished with a season-high seven tackles in a 33-10 loss to the Cowboys. Murray currently has 22 tackles and a pass breakup this season.
Sean Chambers - Quarterback - Montana State
Sean Chambers is looking like himself once again. Playing in parts of six games this fall at Montana State, the Kerman, Calif., native has carried the ball 77 times for 581 yards. He's averaging an eyepopping 7.5 yards per carry and has scored 15 rushing touchdowns. In a win over UC Davis, Chambers finished with 203 rushing yards on just 18 carries. He found the end zone three times on the ground. Through the air, he has completed 38-of-64 throws for 476 yards and five touchdowns. He has also tossed three interceptions. Brent Vigen's Bobcats are 5-1, their lone loss coming at Oregon State.
Levi Williams - Quarterback - Utah State
This former Wyoming QB has appeared in just three games this season for Mountain West rival Utah State. Levi Williams has attempted just six passes and has two completions for 15 yards. He's also carried the ball six times for eight yards. Williams and the Aggies will pay a visit to War Memorial Stadium Oct. 22.
Ravontae Holt - Defensive lineman - Akron
Ravontae Holt is back on the football field. The Sacramento, Calif., product suffered three season-ending knee injuries at Wyoming. It was unclear if he would ever play again. He is and he has one tackle in two games at Akron.
Malik Williams - Offensive lineman - San Jose State
The 6-foot-4, 295-pound redshirt sophomore has appeared in just three games for the Spartans this fall. One of those, of course, was in a 33-16 victory over Wyoming Oct. 1 in Laramie. Malik Williams appeared in one game during his UW career. That was the 2021 season opener against Montana State.
Michael Chavez - Defensive back - Colorado Mesa
In his first-career start at Colorado Mesa last week, former Wyoming defensive back Michael Chavez recorded 17 tackles and a pass breakup against Colorado School of Mines.
Isaiah Neyor - Wide receiver - Texas
This former Wyoming wideout tore his ACL in fall camp and will miss the entire 2022 season.
* Hearn, Murray, Valladay, Pate and Holt are all graduate transfers
University of Wyoming's Top 50 Football Players
The rules are simple: What was the player's impact while in Laramie? That means NFL stats, draft status or any other accolade earned outside of UW is irrelevant when it comes to this list.
This isn't a one-man job. This task called for a panel of experts. Joining 7220's Cody Tucker are Robert Gagliardi, Jared Newland, Ryan Thorburn, and Kevin McKinney.
We all compiled our own list of 50 and let computer averages do the work. Think BCS -- only we hope this catalog is fairer.
Don't agree with a selection? Feel free to sound off on our Twitter:
@7220sports
- #Top50UWFB
- University of Wyoming's Top 50 Football Players