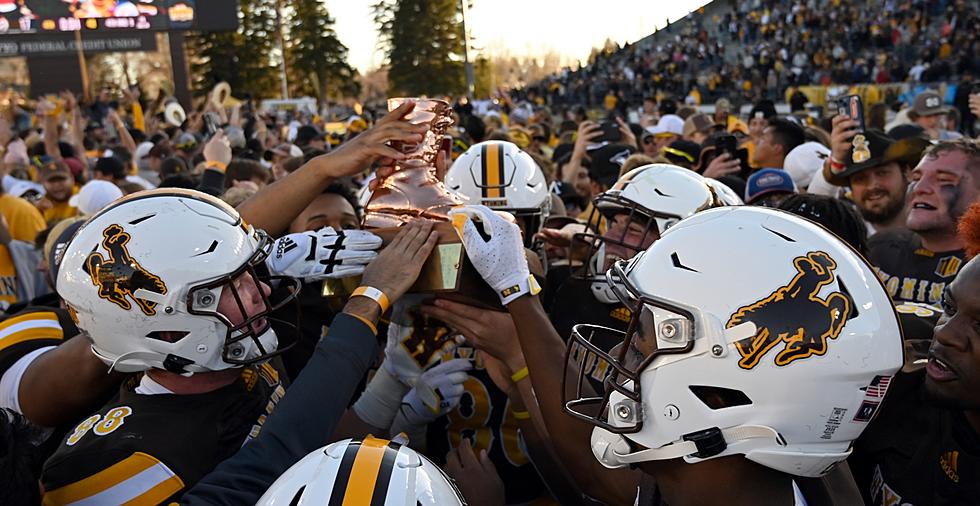 Quick takes: We stopped believing, Wyoming didn't
Wyoming players celebrate with the Bronze Boot after knocking off Colorado State 31-17 Saturday inside War Memorial Stadium./ DJ Johnson photo
LARAMIE -- Craig Bohl can't lie -- this last month has been really hard on him.
After walking away from the podium after the conclusion of his postgame press conference, I asked Wyoming's eighth-year head coach what it felt like to finally crack a smile again.
He took a deep breath, shook his head and did just that -- smiled.
"This has been a long, hard stretch," Bohl said. "I started thinking, 'I'm a veteran guy, but this is hard right now.'
"It's good to get a win."
How excited was Bohl after this one?
UW linebacker Chad Muma joked that the 63-year-old was busting a move in the locker room.
We didn't see it, but we could hear the raucous party going down in the Cowboys' dressing room. After a month of pure silence, moans, groans and hushed tones, these guys deserved this one.
"It's a big party," said quarterback Levi Williams, who finished the day 9-of-16 passing for 92 yards and a pair of touchdown tosses to Isaiah Neyor. "I can tell you that right now, it's a big party."
Williams played a major role in that ongoing celebration.
The redshirt freshman was also plenty responsible for sending a majority of the 24,000-plus in attendance onto the field after the final whistle to celebrate as the Cowboys hoisted the Bronze Boot among a sea of hands and cellphones at midfield.
Williams gashed the Rams to the tune of 116 rushing yards on just 12 carries. Late in the first quarter, the Texas native saw an opening and took it. He went untouched into the end zone from 43 yards out to get the home team on the board.
He had a 52-yard jaunt in the second quarter that also led to points. John Hoyland booted through a 29-yard field goal to give Wyoming a 17-10 lead at the half.
Titus Swen needs to share in the blame, too.
With the Cowboys pinned inside their own 4-yard line on the opening play of the second quarter, the sophomore running back saw a hole on the left side of the line and blew right through it. He was dragged down 87 yards later.
His buddy in the backfield, Xazavian Valladay, finished the job two plays later with a walk-in touchdown from five yards out.
Wyoming was up 14-7. They would never relinquish the lead.
Bohl tried to tell us a performance like this was coming. He's seen things on film over the last few weeks, believe it or not, that gave him confidence his power running game would return.
He saw glimpses of it in last week's loss to San Jose State. He admitted there were moments in a 14-3 setback against New Mexico that even made him feel better.
That, of course, was met with eye rolls and mockery.
We felt that way. His team didn't.
CSU head coach Steve Addazio said it best.
"That team came out with a purpose," he said of the Cowboys. "That team, I bet you, had an unbelievable week (of practice). That team was locked in and you could see it from snap No. 1. I give them a lot of credit."
Muma won't deny it -- the Cowboys took out some frustrations in this one. It showed on the stats sheet, in the win column and in the number of Rams players that needed assistance making it back to the sideline after big hits.
"I definitely think so," said Muma, who finished with 11 tackles and also intercepted a Todd Centeio pass in the fourth quarter. "I think this whole week we've been just preparing for this game like no other game that we've prepared for. Everyone understood the gravity of this game, especially coming off of four conference losses.
"So, I think everyone's energy was high and I thought that in all aspects of the game. We were just flying around today and just making those plays."
Logan Harris said the team motto this week was to raise the standard. The Cowboys did just that. Unfortunately that can also be met with this response -- Where has this been over the last four weeks?
We won't get into that right now. This program -- and state -- deserves a day to bask in the sun.
Hey, maybe even rip off a boot and pour a drink. It was that kind of day.
"No, I don't think so," Williams joked when I asked him if he was going to chug a "Gatorade" out of the Bronze Boot. "I mean, it just got redone, so I don't want to ruin it as soon as we get it."
Wyoming 31, Colorado State 17
Limiting No. 85
A quick glance at the final stats will tell you CSU's all-world tight end Trey McBride was up to his old tricks, hauling in a team-best nine catches for 98 yards on 15 targets.
He was.
As always, the 6-foot-4, 260-pound future NFL Draft pick was the Rams' best offensive player, go-to pass catcher and devastating run blocker. Despite being the team's top receiver -- by a country mile -- with 74 grabs and 838 yards, McBride has just one touchdown catch through nine games.
That number didn't change today.
"Oh, I thought we did great," Muma said of limiting McBride. "I know that they targeted him a lot today, but I thought defensively, in our coverage over him, I thought there was no really big explosive plays, except for that first one that he caught on the deep sideline route. But other than that, I thought that our defensive backs played really well today."
UW defensive coordinator Jay Sawvel deployed cornerbacks, nickelbacks and linebackers in an attempt to stop McBride. CJ Coldon more than held his own. So did Gibbs. Keonte Glinton put the cherry on top for the Pokes, getting underneath McBride's route and beating him to the ball for an interception early in the fourth quarter.
"I'm glad he's going to be gone," Bohl said. "He'll be playing in the NFL someplace, but he played well today. I thought we did a nice job on him."
CSU was 3-of-4 in the red zone today. Two of those were touchdown throws to Dante Wright. One was a 27-yard field goal off the right foot of Cayden Camper. The blemish, that was a 24-yard doink off the right upright.
McBride appeared to be an afterthought inside the Cowboys' 20-yard line.
I'm just a little league coach, but why you wouldn't throw the ball to that guy when it matters most is beyond me.
If this guys was going to make hay today -- and we all knew he would -- it had to be from the 20-yard line to the 20-yard line.
That's exactly what the Cowboys did.
Chuck it up
Does Neyor ever just tell his quarterback to toss it up and he'll go get it?
Nope. I asked.
Turns out, he doesn't have to.
"Yeah, man, he knows that," the 6-foot-3 freshman receiver said. "You know, we got a little chemistry going on. I believe in him to get that done and he believes in me to get the catch. So, it's a good thing that we've got going on and hopefully we can get some more of those in the future."
As inept at this offense -- especially the passing game -- has looked at times this season, Neyor still has a team-high eight touchdown grabs. It should be more.
Neyor is the only UW receiver to snag a touchdown pass this season. For good measure, he has a rushing score, too. He had another today, though it got called back on a hit-in-the-back penalty.
"He's unusually gifted," Bohl said. "He's got really strong hands, he's got a great catch radius and he can run like a deer. That's a tough combination -- and people know we're going to him."
Hard to believe this guy hasn't caught more than four passes in a game this fall. Surely, the secret will eventually get out, but for now, opponents are still taking their chances with the big fella 1-on-1.
Bad idea.
Neyor has hauled in four touchdown passes in the last two weeks. That equates to four scores on his six catches.
We all know what the Cowboys want to do on offense. Today was a textbook example of "Bohl Ball." But with this kind of talent roaming around the perimeter, you have to take more shots, right?
Williams tells the tale right here.
"He's just one of those guys, he's going to get everything you throw to him," Williams said.
Everything.
University of Wyoming's Top 50 Football Players
The rules are simple: What was the player's impact while in Laramie? That means NFL stats, draft status or any other accolade earned outside of UW is irrelevant when it comes to this list.
This isn't a one-man job. This task called for a panel of experts. Joining 7220's Cody Tucker are Robert Gagliardi, Jared Newland, Ryan Thorburn, and Kevin McKinney.
We all compiled our own list of 50 and let computer averages do the work. Think BCS -- only we hope this catalog is fairer.
Don't agree with a selection? Feel free to sound off on our Twitter:
@7220sports
- #Top50UWFB
- University of Wyoming's Top 50 Football Players