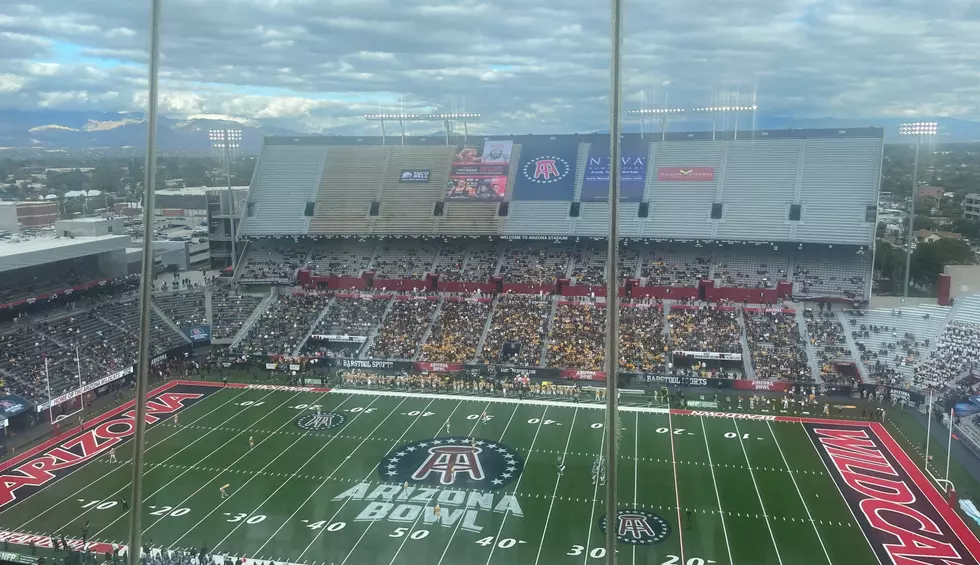 Rants & Raves: Arizona Bowl Edition
Wyoming fans fill in the lower bowl of the west side of Arizona Stadium for Friday's Barstool Sports Arizona Bowl in Tucson./ Cody Tucker photo
TUCSON, Ariz., -- It wouldn't be a Wyoming football game without a little drama, huh?
This Arizona Bowl had plenty of that.
A linebacker turned running back, an opening drive touchdown, an ejection, overtime, questionable play calling and plenty of time scouring the roster, wondering, "who is heck is that guy?"
Wyoming fell 30-27 in the extra frame. CJ Harris connected with Tyler Foster in the end zone on a 10-yard strike. Ohio players rushed the field, Cowboys slowly strolled back to the home locker room.
While some of you griped about Craig Bohl attempting to "ice" the kicker at the end of regulation and the disappearing act from the Cowboys' offense in the third quarter, most of the ranting was preserved for the Barstool fellas who unconventionally broadcast this game.
Then again, some of you loved it.
For the final time during the 2022 season, let's check out some rants and raves from the UW faithful:
FIRST HALF
Facebook: Shawn Farrell A ton of brown and gold there. Way to represent
Facebook: Mac ZT What happened!!!! This looks like a new team!!!
Facebook: Anne Conway Larsen These announcers are hilarious!! Funniest game I've ever heard/watched
Facebook: Brieanna Franze I feel like I'm watching a game with a bunch of dudes at a bar who have never seen these two teams play. I don't know what to say. It's like the Impractical Jokers of sports??? I could watch one game, but that's it.
Facebook: Karson Beutel Never realized our fan base was so allergic to humor lol. What a great broadcast and exposure for the team. I know a CSU team that would kill to be in the barstool bowl.
Facebook Jereme Capellen Love Barstool, only they would talk to Josh Allen during the game!
Facebook: Geo Muersch This has turned out to be a fun broadcast. I was skeptical at first. These guys sound like me and my friends watching a game. Good commentary, stupid observations, goofy stuff happening, only thing missing is the beer runs and brats. And a Cameo by Josh, doesn't get much better than that!
Facebook: Aaron Wilhelm I'm gonna go to my tractor and listen to the game for the second half. I hope to God they never get this bowl again. So unprofessional and not funny. I just want to watch my team play in a bowl game.
Facebook: Karson Beutel Whew, let's hope we make it back to the highly esteemed potato bowl next year so y'all will quit your incessant bitching
SECOND HALF
Facebook: Brent Wilkes Went flat, better figure something out
Facebook: Chris Lyda If I wanted to hear bar commentary I would just go to a bar and watch the game
Facebook: Michael Fox The D needs to relearn how to stop the run. That was too easy
Facebook: Murray Hill Dang, that's two sacks for massive loss. Not sure what the issue is but we need to figure out something on offense
Facebook: Eric Cantlin 3 dropped pass interceptions?? I know we are down on our defensive players, BUT???
Facebook: Clinton Starkebaum (Facebook) It's like we literally have no clue how to run offense. 2nd half has been beyond painful
Facebook: Steve Salter We are terrible in the 2nd half. Typical where our opponent makes adjustments at the half and we can't adjust. 16 yards in the 2nd half
Facebook: Geo Muersch That stupid ass icing the kicker crap never works unless you take the timeout before they kick it. All it does is give the kicker free practice. STUPID move again, coach!
Facebook: Hank Washut If this commentary and advertising is the future of college athletes, I may be out of the market.
Facebook: Tom Cudney This is too painful to watch. I want this team to win but most of the time it's the same OLD dog shyte. It's so vanilla..........
Facebook: Andy Edwards Little League coach back again. Bohl's New Years resolution hopefully includes converting a 3rd down.
Facebook: Bill Snively The broadcast feed is a damn joke! The whole presentation by Hooters (Barstool) is nothing but a Saturday Night Live skit. There's a reason these "announcers" are online ONLY. Who in the hell stops a bowl game for a field goal kicking contest, or a football toss? Geezus!
OVERTIME
Facebook: Luke Pennington That's the 2022 Cowboys.
Facebook: Michael Fox I feel like we gave that game away several different times. Overall, not a bad game but I just feel we beat ourselves as much as Ohio beat us.
Facebook: Henry Lasher If this game has shown us anything, it's that we need to sack bohl. He's now lost us 3 winnable games with horrible play calls and dumb timeouts
Facebook: Eric Popham Big Sky Conference is calling us
Facebook: Chad D. Decastro Wow I hope we never go to this barstool bowl again. Should just called the toilet bowl but what a game and what a catch at the end proud of the pokes just Not the end we wanted. Oh hey did anybody watch the Nebraska bowl game what was the score lol
Facebook: George Roberts I am friggin proud of every damn player..... that was a good game... good game indeed. Love my pokes
Facebook: Christian Lasher Welp, that was frustrating. But honestly, they did better than I expected.
Facebook: Jackson N Renee Stewart Well disappointing, but if you'd a told any of us in August how this season would turn out, we'd have said take it. Given our youth and the defections, this was an incredible season. Great job Pokes and coaches!
Facebook: Dale Wright what a game. that was a nice catch to win the game. You know at first I was annoyed with these Barstool announcers, commercials, and analysists. I feel like I was in the middle of a Will Ferrell or Adam Sandler movie. Great game.
Facebook: Cameron James I was hoping we'd win 3 games this season, so proud that they made a bowl game! Even better that they played in Arizona again! Quite a few key plays and calls went the other way.
Facebook: Chris-Beth Doyle The Cowboys did an amazing job of being competitive in this game given the number of starters lost to the portal. Proud to wear the colors today!
Facebook: Devin Davis Our play calling is bipolar. There is no rhyme or reason. Love the Pokes. Love that we played in a bowl game. Just don't think we play with any consistency.
Facebook: Celyn Rogers Good game pokes the boys played well. looking forward to Coach Bohl getting snappy with the reporters post game yet again when they question his play calling (rightfully so)
Facebook: Derek Walls There is a lot to second guess on this game. But look at this way. We weren't even predicted to make a bowl game first of all... and 2nd we played a hell of a good game with a lot of the key season players out.
University of Wyoming's Top 50 Football Players
The rules are simple: What was the player's impact while in Laramie? That means NFL stats, draft status or any other accolade earned outside of UW is irrelevant when it comes to this list.
This isn't a one-man job. This task called for a panel of experts. Joining 7220's Cody Tucker are Robert Gagliardi, Jared Newland, Ryan Thorburn, and Kevin McKinney.
We all compiled our own list of 50 and let computer averages do the work. Think BCS -- only we hope this catalog is fairer.
Don't agree with a selection? Feel free to sound off on our Twitter:
@7220sports
- #Top50UWFB
- University of Wyoming's Top 50 Football Players