The secret of Wyoming's Sean Chambers is starting to leak
LAS VEGAS – Sean Chambers is comfortable with roughly 85 percent of the playbook, according to Wyoming head coach Craig Bohl.
Chambers looked 100 percent comfortable gashing the Colorado State defense last season.
Whether it was his 101 yards on the ground or his 116-yard, two-touchdown performance through the air, the redshirt freshman looked like a man among boys at times during his first collegiate start. CSU defensive end, Emmanuel Jones, had a front-row seat.
"I mean, he's a solid player," Jones said Wednesday at Mountain West Media Days in Las Vegas. "He's got really good speed. He can run a little bit. We didn't see much of an arm, but I'm not doubting it's there."
No one outside of practice has seen much of Chambers' right arm. The 6-foot, 3-inch, 218-pound signal caller attempted just 25 passes in three-plus games in 2018. He completed just 15 of those for 266 yards and three touchdowns.
The Kerman, Calif., product did show off his wheels though. He rushed for 329 yards, including a career-best 129 in a home win over San Jose State.
Brent Brennan saw that one up close and personal.
San Jose State's head coach tried to coax Chambers into coming to San Jose out of high school. It was to no avail.
"He was a bad ass," Brennan said Tuesday. "When you play him, he presents a ton of issues. He's a super good kid. I talked to him after the game. I'm excited for the success he is having.
"They have a really good young player there."
SJSU linebacker, Ethan Aguayo, was equally impressed. He expected a heavy dose of running when the Spartans traveled to Laramie last November.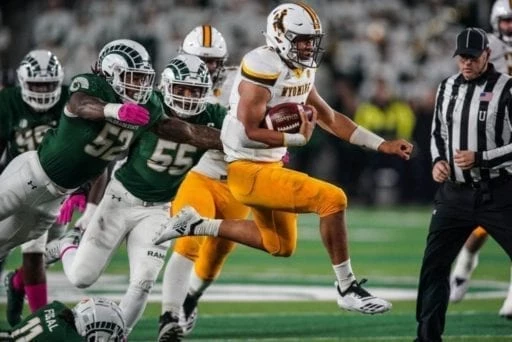 That's exactly what they got.
Chambers took off in the third quarter with the Cowboys clinging to a 10-3 lead. He hit the gas – on the slippery, snowy turf, no less -- going 64 yards for a touchdown. Wyoming pulled away, winning 24-9.
"He was really good," Aguayo said. "He's young, but he really had a command of that offense. You could tell they rallied around him. Wyoming has really good running backs and a good offensive line. He just made them even better."
Chambers broke his leg early in the final home game against Air Force. Bohl knows his quarterback can't run 50-plus times like he did over a three-game stretch.
That's the next step in his maturity at the position.
Logan Wilson faces Chambers in practice. He sees the guy behind the scenes. He said Wednesday that Chambers has all the tools, but for a freshman, he possesses a special skill that can't be taught – leadership.
"It's one of his best qualities," Wilson said. "To come in as a true freshman and spark our offense the way he did and show he could lead this team was amazing. "He's progressed even further this past winter and offseason. I'm excited to see what he can do this year. He's a good kid."
Bohl agreed, adding that while he doesn't have the arm of, say, Josh Allen, he has a quick release. Bohl said an NFL scout talked to him after the win in Fort Collins. He told Bohl that the Cowboys have a "horse" at quarterback.
Like the scout, we are all waiting to see if the horse can throw.