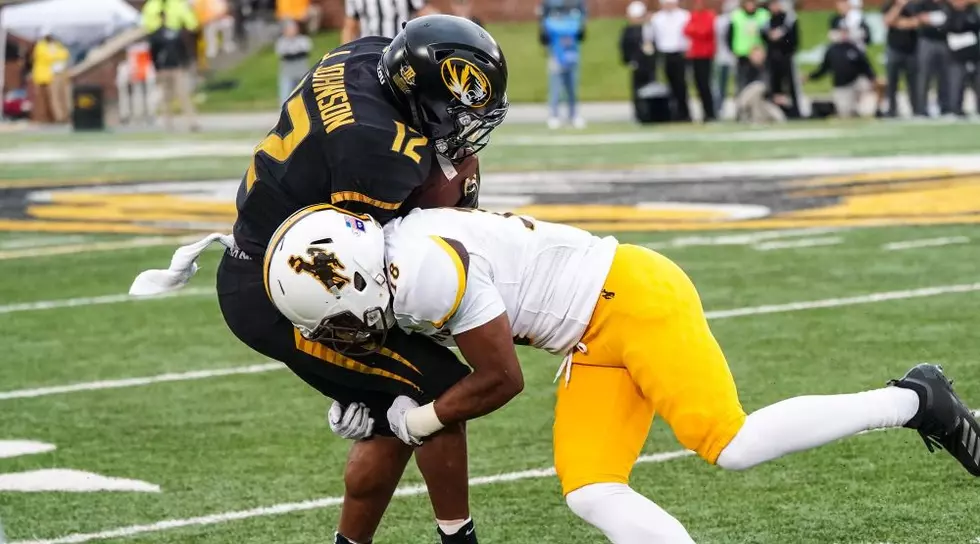 BlankenbakerUSE
LARAMIE – Keyon Blankenbaker doesn't look like a guy who is going to violently drop you on your backside at the point of attack.
He is low-key, comical and has an engaging smile.
Wyoming's nickel back is also small in stature. The Chicago
native is just 5 foot, 10 inches and weighs around 175 pounds.
In this case, big things come in small packages – including personality.
"All of this running back and forth takes a lot of energy,"
Blankenbaker said. "Luckily for them, I have lots of energy."
Blankenbaker already has 18 tackles this season out of the secondary, including 11 of the solo variety. He also has seven pass breakups. Three of those came in week three against Idaho.
In 2018, Blankenbaker finished with 29 tackles and three pass breakups.
For those who don't know what a nickel back's job is,
Blankenbaker laid it out. He is like a hybrid between a safety and a
linebacker. His responsibility on most plays is the slot receiver. Others, it's
following the running back out of the backfield. He even tangles with tight
ends.
Blankenbaker can even move to the outside and play the
corner position. That's where he spent his redshirt freshman season in 2018.
"I like to play physical and fly to the ball," Blankenbaker
said. "That's why they moved me to nickel in the first place. They wanted me to
be aggressive and I showed them I could be."
Jake Dickert, Wyoming's first-year defensive coordinator, couldn't agree more.
"He's been one of those guys, since the moment he got here,
was a physical dude," Dickert said. "He can play the corner position, but he
will also come up and hit you. That's not always a corner's cup of tea, right? We
moved him inside and it has really been a natural fit for him."
What hasn't always been a natural fit for Blankenbaker – Laramie.
Coming from the western suburbs of Chicago, the nation's
third largest city, he said moving to Wyoming was a bit of an adjustment.
"It's a huge," he said with a smile. "I'm good at adjusting because
of my personality. I'm really just focused on school and football though."
Teammate Xazavian Valladay helped the transition. He is also from the Windy City. So did Jahmari Moore and Jared Scott, Blankenbaker's former high school teammate who is now at Prairie View A&M.
Mike Green, who is also no longer with the program, really calmed some nerves back in 2017.
"That is my cousin," Blankenbaker laughed. "I found that out
after I committed."
Blankenbaker didn't hesitate when asked who he models his game – and hairstyle – after. That's Tyrann Mathieu of the Kansas City Chiefs.
He plays nickel and safety. He lays the lumber. He has fun
doing it.
Sound familiar?
Blankenbaker is not oblivious to the obvious. Yes, he knows
the Cowboys secondary has not lived up to the billing yet this season. Yes, he
knows the numbers aren't pretty.
No, he said, these first four weeks are not indicative of
what this group can do.
"We built a lot of chemistry and it feels like we are
playing together," he said. "I like that about our defense. I have no clue what
has been wrong, but we will step it up throughout the season. I'm not concerned
at all, and I don't think anyone else is.
"What matters is the finish, not the start."
Ranking 126th in the nation out of 130 FBS teams
in pass defense can't be placed on one person. Certainly not Blankenbaker.
Dickert said he has been more impressed with him in each outing.
"His experience grows each week," Dickert said. "The more we
can get him understanding the focus and preparation that he needs to continue;
we will see great results out of him."