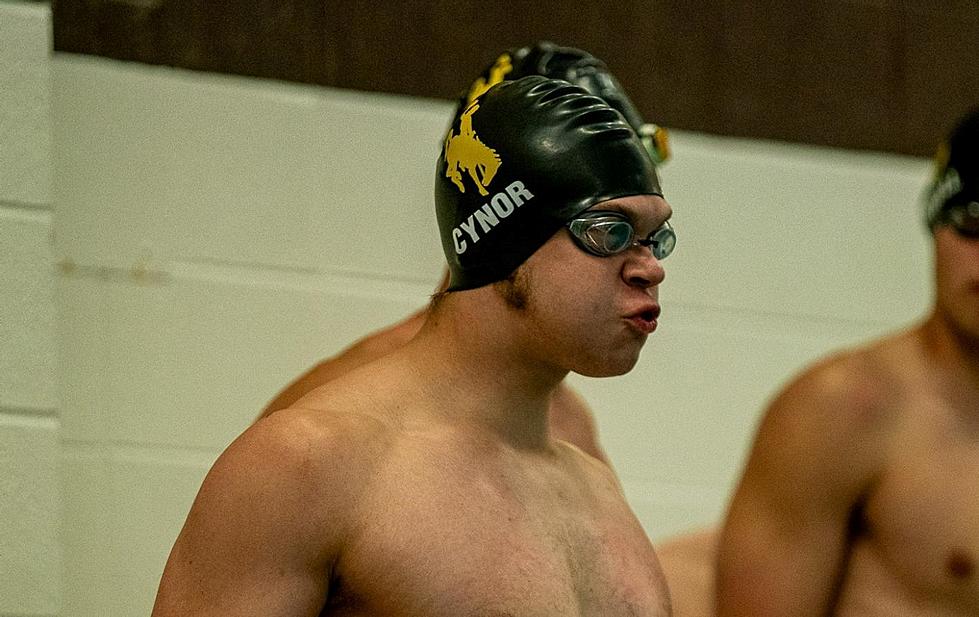 Swim-Dive Stays Unbeaten With Wins Over Colorado Mesa
The University of Wyoming swimming and diving team received a good test from Colorado Mesa on Thursday at Laramie High School. However, both the Cowgirls and Cowboys prevailed to remain unbeaten. / UW courtesy photo
* University of Wyoming press release
LARAMIE -- The University of Wyoming swimming and diving team received a good test from Colorado Mesa on Thursday at Laramie High School. However, both the Cowgirls and Cowboys prevailed to remain unbeaten.
"From a standpoint of swimming, this was one of our biggest challenges," head coach Dave Denniston said. "The character really showed through on our team. Mesa is no joke. They're one of the top two teams in Division II in the country. They're a fast program, and they came and raced, and our guys stepped up, and it was fun day."
Wyoming's women's team downed the Mavericks, 173-127, to move to 4-0 on the season. The men's team outlasted the Mavericks, 159-141, to improve to 3-0 on the year.
"It took a full effort from everybody from leadership to performance," Denniston said. "Today was a tough meet, and I was glad we were able to come away with a win."
The 200-yard medley relay team – comprised of Quinn Cynor, John Wargin, Gavin Smith and Quinn Teller – led off the meet with a victory for the men, logging a time of 1:29.66.
The Cowgirls went 1-2 in the 1,000-yard freestyle. Maisyn Klimczak won, boasting a time of 10:30.80, while Sage Morton took runner-up after clocking in at 10:33.66. Those two did the same thing in the 500-yard freestyle except Morton placed first with a time of 5:05.50 and Klimczak second with a 5:06.64.
The Cowboys one-upped the women, taking the top three spots in the 1,000. Charlie Clark touched first with a time of 9:47.17. Derek Long took second with a time of 9:50.99, and Caleb Ozenne placed third after swimming a 9:55.12.
Clark and Long made a carbon copy of that finish in the 500 free. Clark won, clocking in at 4:41.59, and Long was second at 4:46.17.
Tara Joyce placed first in the 200-yard freestyle with a time of 1:52.90. Joyce also took first in the 100-yard freestyle after swimming a 51.55.
Cynor and Gavin went 1-2 in the 200 free. Cynor went a 1:40.31, and Smith recorded a time of 1:41.43. Smith added a first in the 100-yard butterfly, clocking in at 48.76.
Brynlee Busskohl topped the field in the 100-yard breaststroke after registering a time of 1:03.74. Wargin won the men's race after going a 56.76.
Busskohl added to her first-place finishes with one in the 200-yard breaststroke, swimming a 2:20.85. Sydney McKenzie placed runner-up with a time of 2:25.60.
Lauren Swartz claimed first in the 50-yard freestyle. Jakob Borrman made it a Wyoming sweep in the 50, winning the men's race with a time of 21.15.
Katie Ford won the 200-yard butterfly with a 2:07.00. Heidi Billings touched first in the 200-yard backstroke, recording a time of 2:02.47. Drew Ravegum rounded out the victorious individuals, topping the field in the 200 breast after logging a time of 2:05.86.
The 400-yard freestyle relay – comprised of Kali Franckowiak, Rachael Horne, Joyce and Carly Palmer – put an exclamation point on the meet, touching first in a time of 3:28.61. The men's 400 free relay team – of Borrman, Smith, Reilly Gilbert and Cynor – followed suit with a first-place finish in a time of 3:03.68.
Wyoming's women's team has a quick turnaround. The Cowgirls compete against Northern Colorado on Saturday at 11 a.m. at Laramie High School.
From Bison to Triceratops - All of Wyoming's Official Things
Every state in our nation has chosen things that represent the state in one way or another to be official state things. Like a flower, or animal.
Wyoming
is no different.
The Equality State, or the Cowboy State, depending on which state slogan you want to go with, has a state flower. But did you know we also have a state tree and a state fish? Yes, we even have a state code.
To be an official thing, a member of the state legislature must write and submit a bill to the legislature declaring that a thing will be the official state thing. Then the legislature votes to pass the bill, or not, if it passes, the governor signs the bill into law and we have a new official state thing.
Here is what we have so far, all of Wyoming's official things. Now you can win big on Wyo Trivia Night if that's a thing that exists.
Gallery Credit: Ben Kuhns
- From Bison to Triceratops - All of Wyoming's Official Things