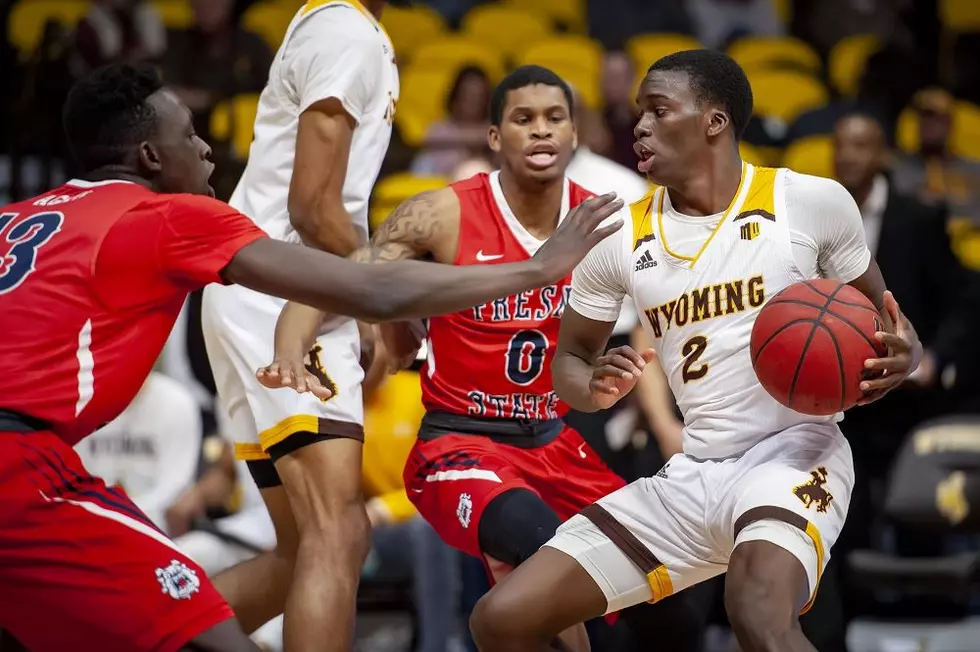 Banks2USE
LARAMIE – Pratt, Kansas has just 6,771 residents. It's tucked away in the south central part of state, roughly 80 miles west of Wichita.
Two silver water towers dwarf the trees in town. One says hot, the other, cold. It's an old dusty railroad town. It's also home to the Miss Kansas parade and pageant and the headquarters building for the Kansas Department and Wildlife and Parks is just south of town.
In other words, not much happens here.
A.J. Banks played two seasons at Pratt Community College where he averaged 11.2 points per game. He shot 50 percent from the field, 40 percent from beyond the arc.
The 6-foot, 2-inch Banks grew up in Las Vegas. A place known
for late nights, lights, poker, and a few other hobbies that earn his hometown
the warranted nickname, "Sin City." He was never into that lifestyle. Still isn't.
But it was in Kansas where Banks learned how the other half
live.
"My journey started with going out to Kansas," he said. "That
got me adapted to a different kind of lifestyle. Going from Vegas to a town of
about 7,000 people was a big change for me, but something I adapted really well
to, I think. So, when it came time to move on to a different school, location
wasn't a big part of it."
While in Kansas, Banks embraced the culture. He bought
cowboy boots. He wore Wranglers. He put in a little work on ranches and even
discovered a new genre of music.
"I definitely do. That started that in Kansas as well,"
Banks said of his new affinity for country music. "When I was with a teammate
in the truck and my head phones would die, I'd have to listen to that. He
offered to change one day, and I told him no. Now, it's a regular thing. I have
to hide it a little bit depending on the crowd I'm with."
You think the transition to Laramie was tough for Banks?
Not hardly.
Wyoming sophomore, Hunter Maldonado, said at least four days a week, Banks strolls into practice wearing his cowboy boots. When Wyoming's football team hosted UNLV, Banks was spotted on television wearing a cowboy hat. During the summer, teammates, Hunter Thompson and Haize Fornstrom took Banks and others to their hometown, Pine Bluffs. There, they roped and rode horses.
Banks has fully bought in to the cowboy way of life.
"He's always dressed up," Maldonado laughed. "He likes his boots. He likes to be a cowboy. whatever fits."
"He came from Kansas, so he kind of has that outdoor -- out in the sticks -- experience," Thompson said with a smile.
This isn't a joke. I kept waiting for Banks to crack. He
really loves the lifestyle.
"I have ridden a horse before, but I've never roped anything
live," he smiled. "I got the skill, I'm just ready for the test now."
Here's a test for you, A.J. – How about getting on the back
of a bull after basketball season?
"I'd like to give that a shot," he said, surprisingly in a
serious tone. "It's official."
Wyoming head coach, Allen Edwards, would probably prefer his point guard focus on being a Cowboy on the court for now.
In his first season in Laramie, Banks averaged just 5.2 points per game to go along with 2.9 rebounds and 1.9 assists. Banks started 18 of the Pokes' 32 games, scoring a career-high 20 points in a home tilt with New Mexico in early March.
Things started clicking for Banks at the backend of the schedule.
Over his last four games, the then-junior averaged 11.8 points per game. As
good as things were personally, the team continued to falter. Two of those
demoralizing losses happened in Las Vegas, where Banks had friends and family
scattered throughout Thomas & Mack Arena.
In the first round of the Mountain West Conference Tournament,
the Cowboys watched an 18-point halftime lead disappear. The Lobos were moving
on. Wyoming was heading home.
"Yeah, that was a tough one," Banks said. "That ended up
being our last game. It was a bummer, walking away from another opportunity to
win in Las Vegas. It was a really big deal. We'll be back though."
Wyoming's 8-24 record is a distant memory for Banks. He said
he likes the cohesiveness of the guys in the program. He likes the team
mentality. One thing above all though sticks out to Banks in the early goings
of 2019 – "competing."
"It's in the sense that we are competing to get better at everything we do," he said. "Whether that's in the weight room, condition or on the court when we are having practice. All across the board we are working hard."
Why should Wyoming fans believe this season will be any
different?
Banks said the whole mindset of the program is in a much
different place.
"Guys have the right attitude," he said. "That makes it a
whole lot easier mentally. Knowing that we are all working toward something and
we all have a goal, makes things fun. "For me, personally, being a senior and
having a year under my belt, we have a lot of new guys, but that has just
helped me grow into a better leader and hold guys accountable."
Wyoming will host Northwest Nazarene tonight at 7 p.m. at
the Arena-Auditorium for its first exhibition game of the season. The real
thing gets underway next Tuesday night when the Idaho State Bengals pay a visit
to Laramie.
This team is tired of answering questions. They are ready to
go out on the court and prove that 2018-19 was not the norm around here, but
the exception.
With Halloween just around the corner, Banks said his focus
is squarely on basketball. He doesn't really celebrate the holiday too much
anymore anyway. Plus, it's his birthday.
But, if the opportunity to dress up does come about, he's
going with old reliable.
"I was thinking about being a cowboy this year, but that's
regular now," he said with a smile.