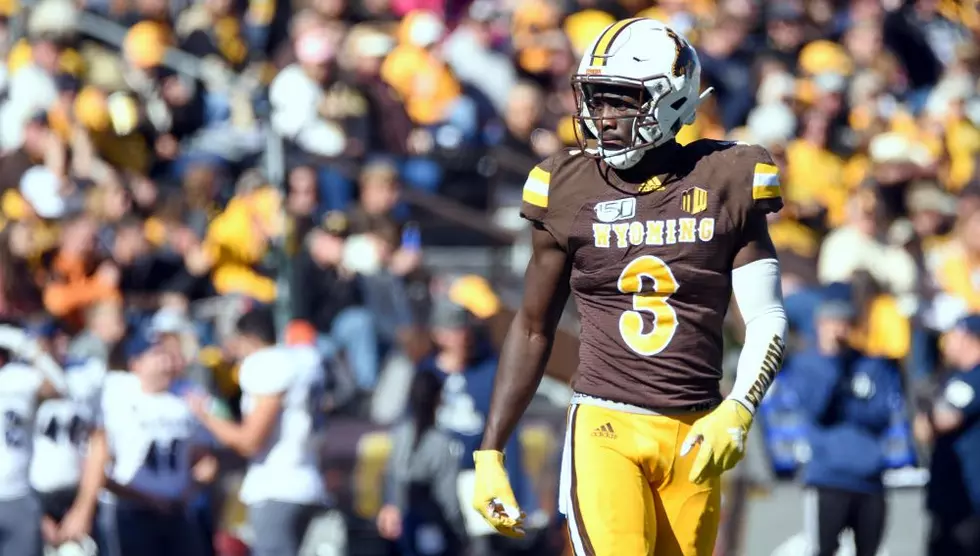 Alijah
LARAMIE -- Alijah Halliburton hates talking about himself.
He is the consummate team guy. After recording 17 tackles in the Cowboys stunning opening-night upset over Missouri, the senior safety acted surprised to hear he made that many tackles. He quickly switched the subject to the victory and his teammates.
He did the same thing after tallying 17 more tackles against Tulsa. Only this time he was in no mood to celebrate anything. It was the Pokes first defeat of the season. That's all he cared about.
Last week, I asked Halliburton to discuss the topic of, well, Alijah Halliburton.
He sheepishly squirmed in his chair, rubbed his hands together and said, "aw, OK."
My first question was a simple one -- "Can you imagine what your numbers would look like if you were a four-year starter?"
Halliburton has played sparingly during his Wyoming career. And for good reason, too. He was behind a pair of safeties named Andrew Wingard and Marcus Epps. Those guys are both in the NFL.
"I used to, I'm not going to lie," Halliburton said. "When I was a sophomore, I'd think, 'damn, if they weren't here, I'd be the guy.' Not anymore. I'm a team guy."
Halliburton is not just 16th in the nation in tackles this season with 76, he typical shows up the point of attack with bad intentions. That number is second in the Mountain West Conference behind only David Woodward of Utah State, who has 93.
Turns out, Halliburton isn't the only one wondering "what if?"
"Yeah, you wonder when he played as a true freshman, going down on the kickoff team," Wyoming head coach Craig Bohl said. "He's been a real pleasant surprise. He played quite a bit last year. We played with three safeties quite a bit, but the big headliners were Marcus and Andrew."
Yes, those two stood in the way of Halliburton cracking the lineup throughout his first three seasons in Laramie. But he might not be good enough to play with out the tutelage of those guys.
"I've learned so much," Halliburton said, referring to Wingard and Epps. "My freshman year, I was a lanky, long kid. My feet were terrible. Marcus helped me control my feet. There are not many DB's that are my height. I wear a size-13 shoe. It's hard to control the feet and make breaks really fast. I really worked with him on that and controlling my back peddle."
Wingard was the cerebral one.
"With Dewey, I focused on how smart he was," he said. "He is seeing plays before it happens. I'd be like, wow, he brings different set of mind to the game. To be able to get all those tackles, he got saw the play before it's happening. Id' be sitting right there with him watching film. For me, it was more like -- I got to see how he's doing this. He taught me little tendencies. Dewey helped me out in that aspect: how to tackle, shed blocks and make a tackle. He really did that well. Combined, both of them taught me a lot and I try to do the best I can."
Now, Halliburton is becoming the mentor.
"I look up to him a lot, to be honest," Wyoming safety Rome Weber said. "In film room, things like that, off the field, school and stuff. We make sure look for him to lead the way.
"He has a bunch of tackles," Weber continued. "When I first saw the number, I thought, that's crazy. When you look at film, he's at the ball."
The numbers suggest Halliburton is doing just fine in whatever role he takes on. To go along with all those stops, Halliburton also has two sacks and a long fumble recovery against Mizzou as time expired in the first half.
Halliburton was flying down the west sideline before being drug down by Tigers' quarterback, Kelly Bryant. It took a horse-collar tackle to bring down the Cowboys exhausted safety. That gave Wyoming an un-timed down and a chance to put three more points on the board.
He added an interception to his résumé Saturday, picking off Carson Strong in a 31-3 victory over the Nevada Wolf Pack. It was the first interception of his career.
He wasn't shy about what that one meant to him during his post-game press conference.
"I hit the wide receiver and the ball just pops up off him and I snagged it," Halliburton said behind the podium, a smile creasing his face. "I thought, 'Oh, I''l take that.' I'm excited about that one. First career -- doesn't get any better than that."
Halliburton was a highly touted recruit out of Overland High School in Aurora, Colo. Arizona State really wanted him. So did Nevada, UNLV, Fresno State, Colorado State and others.
He came to Laramie for the small-town feel. Having his high school teammates, Austin Conway and Kevin Prosser, didn't hurt either. He didn't want distractions. Life, Halliburton said, is much bigger than a game.
After the Cowboys knocked off New Mexico Oct. 19. Halliburton was late for his press conference. He apologized to the media and set a bible down on the desk.
Before he came to tell reporters about his seven-tackle performance in a 23-10 win over the Lobos, he was standing in front of a group of young kids on the west side of War Memorial Stadium.
"I went to go share a little testimony and scripture with Fellowship of Christian Athletes (FCA) after the game," he said with a grin. "There was a whole bunch of kids there, so I shared my faith with them. I think it's very important. God gave me these abilities. He gave me the platform and spotlight to be able to have kids come up to me."
During fall camp, Halliburton paid an unexpected visit to Bohl. He told his coach that he had big plans this season. He laid out a list of objectives and goals. He wants to be the best. It's not just lip service.
"I don't know, I was just compelled," he said of that impromptu meeting with the head coach. "I told him, 'this is what I want to do and accomplish.' I think it's important for coaches to know what your goal is, what you want to accomplish and how they can help me be the best player I can be. I wanted them to set me up in best positions to help this defense out."
Bohl was happy to help.
"He had a real frank conversation with me," Bohl said. "He went through what his expectations were of himself -- and they were pretty high. He set a high bar for his performance, and I can tell you his performance has matched his expectation."
If Halliburton is lucky, he has six collegiate games remaining. That, of course, would mean the Cowboys are playing in the Mountain West title game. That, he said when asked if just getting to bowl eligibility was enough, has always been the priority. Nothing less.
No matter what transpires, one thing is becoming crystal clear: Halliburton is etching his name into Wyoming lore, the way so many safeties before him have.
He admits, he doesn't know much about the history of Wyoming players at his position. We spoke about John Wendling, Chris Prosinski, Brian Lee, Al Rich and the two guys that forced Halliburton to wait his turn, among others.
Once again, imagine if No. 3 had a full four-year career here?
Bohl definitely does.
"He's a joy to coach," Bohl said. "He's always around the football and he's very talented at what he does. However many more games we have with him, as a senior, I'm personally going to enjoy every single one of them."