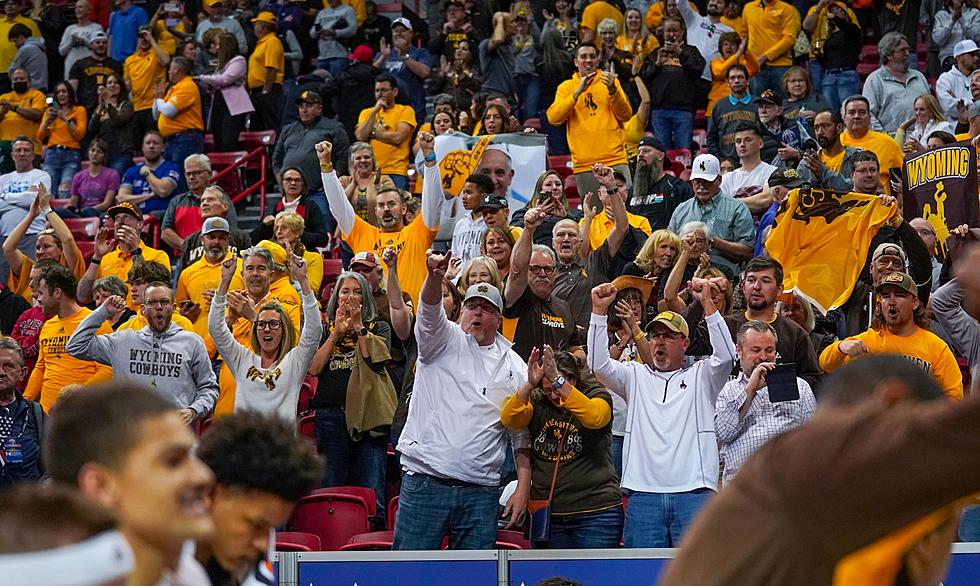 'This is genuinely a dream come true'
Wyoming has punched its ticket to the NCAA Tournament and will face Indiana Tuesday in the First Four game in Dayton, Ohio./ Troy Babbitt photo
LARAMIE -- Did you honestly expect it to go any other way?
Four games this season went into overtime. Eight were decided by five points or less. It's only fitting today's fate came down to the waning seconds.
Wyoming, for the 16th time in program history, is heading to the NCAA Tournament. As soon as Greg Gumbel uttered their name, the players, along with hundreds of fans inside a ballroom of nerves, exploded into a frenzy that would culminate with fist pumps, hugs and even a few tears.
The Cowboys will face the Indiana Hoosiers Tuesday in the First Four game in Dayton, Ohio. The winner will claim the No. 12 seed and soon after jet off to Portland where a date with the fifth seed in the East Region, St. Mary's, awaits 48 hours later.
The selection committee calls Wyoming the 68th-best team in the field of 68 -- but they're in -- sliding past Texas A&M, Oklahoma, SMU and the host-school, Dayton.
"It's pure misery, in terms of waiting for your name to be called," Wyoming head coach Jeff Linder said with a smile. "... We're going to enjoy it."
Now, exuberance. Satisfaction. Relief.
"Just to play in this is genuinely a dream come true," said Graham Ike, flashing his trademark grin.
"To see our name pop up, it's emotional," Hunter Maldonado added. "I'm just super happy."
The last 24 hours have served as a whirlwind of emotions for this group, its coaches and fans. Would they be left out of the dance after falling to Boise State Friday in the semifinals of the Mountain West Tournament? Did five setbacks over the team's final nine games cost them?
Some national experts said the Pokes were a lock. Others, maybe next year.
In Las Vegas, Boise State head coach Leon Rice was certain UW was bound for March Madness. Colorado State's Niko Medved agreed. So did San Diego State's Brian Dutcher.
Were they simply trying to prop up the Mountain West Conference and make their own resumes look better with those statements?
One had to wonder.
Now, we know it was the truth.
Still, Linder joked that he flipped on The Last Kingdom on Netflix to escape it all.
"Based on some of the things that happened today, when Richmond won, I started to get really nervous," he said. "I really didn't watch those games because I didn't want to watch them."
Another blow for Linder came when he saw the Broncos flash across the screen as a No. 8 seed. The league champions landed that low, he thought? When Border War rival CSU was tabbed a six and SDSU snagged an eight, he knew the Cowboys were back in business.
"Thankfully, the committee recognized how good our conference was, how tough our non-conference schedule was," he continued. "Our resumes and our records are not that much of a difference for us not to be in and, thankfully, the committee put us in."
Hunter Thompson said he attempted to distract himself with some homework. That didn't help. The texts just kept rolling in. Jeremiah Oden tried to avoid his cell, too. He just couldn't.
"It's almost impossible to stay away unless you just don't pick up your phone," the sophomore forward said. "Like, you see so many different things -- we're in, we're out, first four in, first four out. It was just good to be able to get in there."
Wyoming's roster, filled with so much youth and inexperience, sat in the front row of the conference center inside the Gateway Center. Most, glued to their phone screens. Occasionally one would strike up a conversation with a neighbor or look up at the large screens hanging above, blaring CBS's team-by-team countdown.
Fans mostly sat quietly, aside from a few moans when conference rivals names were announced. The Michigan selection also drew the ire of one man in a UW hat. He obviously didn't feel like the 17-14 Wolverines deserved a spot.
Likely, he was worried a power program stole an at-large bid from the little guy -- Wyoming.
Drake Jeffries was nervous, too, admittedly rattled as he awaited the announcement.
"It's just an unbelievable feeling," the senior guard said, still slightly shaking his head in amazement. "You know, growing up, I always dreamed of being in this position, going to the tournament. So, you know, being in this position is unreal obviously -- and a relief.
"I'm just super excited to be put in this position and hopefully go into Dayton and get a win."
This Wyoming team, one the league's media thought would finish tied for eighth in the preseason polls, is headed to the biggest stage in the sport for the first time since 2015.
It was worth the wait.
"How 'bout them Cowboys," UW athletics director Tom Burman shouted into the microphone.
Indeed, how about them Cowboys?
Dome of Doom