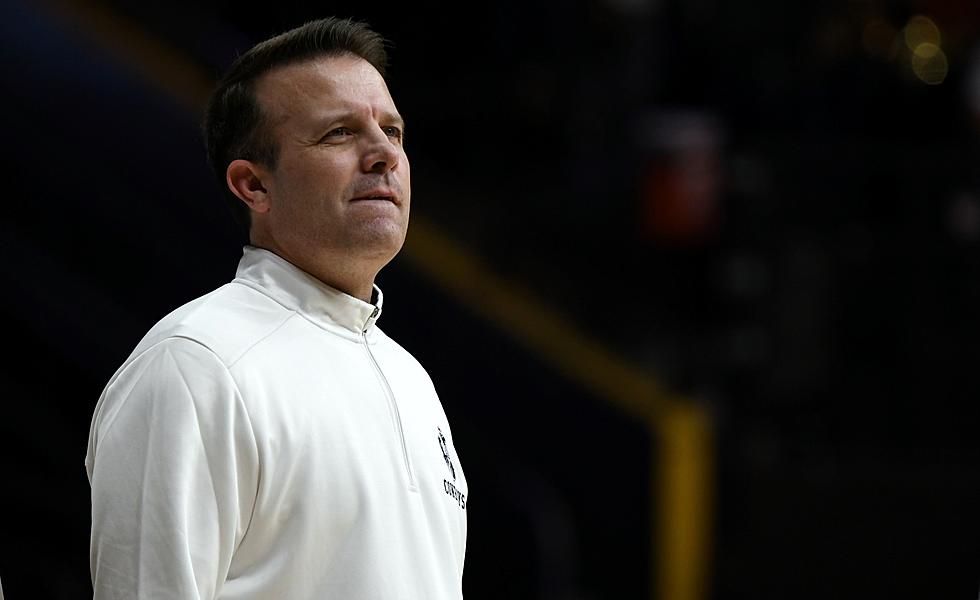 Tuck's 10 takes: Jeff Linder is pushing all the right buttons
Jeff Linder's Cowboys moved to 19-3 overall and 8-1 in conference play Sunday with a 61-59 road win over Fresno State./ DJ Johnson photo
FRESNO, Calif., -- Jeff Linder shrugged off the idea last week that being outscored off the bench was a big issue.
"We'll take what the defense gives us and how they are playing us," Wyoming's second-year head coach said. "The guys that we do have coming off the bench, I know they are capable of scoring baskets and making plays."
That was rare during Wyoming's two-game sweep of Mountain West heavyweights Colorado State and Boise State.
The Pokes bench netted just seven points in those two contests. The opposition, 39.
While Linder may not be telling us it's an issue, he changed his tune yesterday after the team landed in Fresno, calling out his role players, one of which was junior forward Hunter Thompson.
The Pine Bluffs product has been mostly MIA over the previous five games. He didn't record a single point. He didn't play more than 12 minutes in any one of those contests. Thompson had just three rebounds to go along with five personal fouls.
It hasn't been pretty.
That changed Sunday evening inside the Save Mart Center.
Thompson not only hit a pair of 3-pointers, he helped hold the league's fourth-leading scorer, Orlando Robinson, to just 11 points -- eight below his season average -- in a gutsy 61-59 victory over Fresno State.
That was just the Cowboys fourth road win in 18 games on the Bulldogs home floor.
Turns out Linder did care a little more than he put on when it comes to bench production.
"I challenged Hunter last night and I told him and we need him to be better. I mean, that's just the bottom line," Linder said postgame. "It's hard sometimes when you come in as a pinch-hitter, and to come in and make shots or come in to impact the game when maybe you're not playing as much as you would like. But, you know, I really got after him. I said, we need you."
Linder warned Thompson that his team could need him if, say, Graham Ike found himself in foul trouble. That scenario played out less than 24 hours later. Wyoming's star forward picked up his second foul with 6:54 remaining in the first half. Ike played just 10 minutes.
Thompson was forced into duty.
He took his coach's pleas to heart, knocking down a big shot and giving Robinson fits in the paint.
"It's not always the easiest pill to swallow when you get called out, but, you know, it was rightly deserved and it was something I needed to hear," Thompson said. "I wanted to show him what I am capable of doing. You know, I took it like a man as best I could.
"I just ultimately decided to respond the way that I needed to respond."
Robinson, a 7-foot, 235-pound Las Vegas native, scored a game-high 33 points in the second meeting between these teams a year ago. Thompson bore the brunt of that damage with Ike still on the bench and not cleared yet to return from a torn ACL.
Thompson said he took that personal, too.
"I wanted to get my revenge," he said with a grin.
The 6-foot-10, 232-pound perimeter player averaged less than three points per outing coming into this one. Though Linder doesn't put much weight into the plus-minus section of the stat sheet, Thompson did lead the team with a plus-4.
That means Wyoming scored four more points than the Bulldogs when he was on the floor.
While Fresno State still held on to win the battle of the benches, 13-6, the Cowboys -- and Thompson -- took a big step in the right direction.
Wyoming moves to 19-3 overall and 8-1 in Mountain West play. The Cowboys remain tied in the loss column with Boise State atop the conference standings with nine regular-season games to go.
UW will host Utah State Tuesday night in Laramie. The Aggies have won five straight. Tipoff is scheduled for 7 p.m.
Here are some other takeaways from the Pokes' ninth win away from the friendly confines of the Arena-Auditorium this season:
* Of all the impressive things Hunter Maldonado does on the basketball court, his IQ and situational awareness are right up near the top. With 3:58 remaining in the game and the Pokes clinging to a 49-44 lead, the redshirt junior was surrounded under the hoop. He attempted the lay-in only to have it swatted right back into his arms. Falling backward, Maldonado knew Ike was right behind him. Before he traveled or lost possession altogether, he shoveled a pass right to his big forward who laid it up and in to give visitors a seven-point lead. Maldonado finished the night with a team-high 21 points and added eight rebounds and six assists. Oh, and for good measure, on the Bulldogs next trip down the floor, he drew a charge courtesy of Junior Ballard. He also made a pretty sweet defensive play in that video above. Big time player making big time plays. What else is new?
* Linder joked after the Boise State victory that he needed to start taking blood-pressure medication. That, unfortunately for him, didn't change in this one. Wyoming had a six-point lead with just 1:20 remaining, but a pair of Isaiah Hill triples and three straight free throws from Ballard, thanks to a Drake Jeffries foul, turned this into a two-point game in the blink of an eye. Jeffries did redeem himself -- like he's been known to do of late -- by drilling four clutch shots from the charity stripe down the stretch, but once again, UW is finding ways to hang on late. "We've been in that situation time and time again," Linder said. "That's the way this league is. I mean, the margins are really, really thin." The Cowboys have won their last four games by a combined 18 points.
* Winning away from home has become second nature for this group. For a team with zero true seniors, that's nothing short of amazing, especially in this league. The Cowboys have now knocked off Utah State, Nevada, Air Force and the Bulldogs on their floors. Wyoming also notched true road wins over Washington, Grand Canyon and Cal-State Fullerton in non-conference play. Tack on a pair of victories in the Diamond Head Classic in Hawaii over Northern Illinois and South Florida, and you've got nine wins away from home. Consider this: Steve McClain, the last head coach to lead the Cowboys to an NCAA Tournament victory, never won more than six true road games during a season in his nine-year stint on the high plains. Larry Shyatt hit that mark one time back in 2012-13. Heath Shroyer's best team won three away from Laramie once. Allen Edwards took five back in his second year on the bench. Linder has seven true road victories already this season and added six last year. Think this guy knows how to push the right buttons?
* Have you ever in your life seen a foul-less half of basketball? You did if you watched this one. Fresno State didn't commit a single infraction over the first 20 minutes tonight. The Cowboys, a team that lives as the free throw line, attempted just 15 freebies all night. The Bulldogs finished with the same number. Coming into this one, UW attempted 450 shots from the charity stripe, connecting on 322 of those. That first number is the most in the Mountain West, followed closely by New Mexico. Ike and Maldonado have attempted 154 free throws this season, ranking the duo sixth in the country. Tonight, they combined to shoot just nine.
* Rebounding, as always, is at the forefront of Linder's game plan. Wyoming won that battle convincingly in this one, snagging 46 compared to just 28 for the home team. The Pokes were really impressive on the offensive glass, pulling down 14 boards. The Bulldogs, just seven. That's why Wyoming had 12 second-chance points compared to just four for the 'Dogs.
* Wyoming played its fourth game in nine days Sunday. Linder refers to it as an "NBA schedule." COVID-19 concerns postponed four straight games in early January. Now, the Cowboys are paying for it. Don't tell Linder that though. He calls it an excuse. "There's not a lot of difference between teams," Linder said of the Mountain West. "We know that and we know that our preparation and our mentalities has to be our separator."
* The previous two seasons before Linder arrived on campus, Wyoming compiled an overall record of 17-48. In league play, the Cowboys finished 6-30. Thompson and Maldonado played on both of those squads. So, what has this turnaround truly been like from the guys who once lived in Death Valley and now live near the top of the conference standings? "It's fun because growing up, honestly, I know what Wyoming basketball can be, as a fan," Thompson said. "... It's fun to get back to the way that Wyoming basketball should be playing. That's something that we are prideful about and, you know, it's a joy to watch the team play as well as they are playing and to play a part in that."
* There was a sea of red inside the Save Mart Center tonight -- red seats. When I think of lackluster fanbases in the Mountain West, Fresno State is not at the top of the list (San Jose State is). Why no love for this team? The official attendance says 6,017 were in the building. I call ... you know what. I'm sure the Central Valley of California is beautiful and all but Sunday's crowd was embarrassing. The student body alone sits at roughly 24,000. Apparently they had better things to do. This team is solid, Bulldogs fans, give them some support.
* Wyoming has averaged nearly 10 3-pointers per game through 22 games. Of late, that hasn't been the case. In six straight outings, the Cowboys have failed to reach double-digits in that category. That isn't exactly worrisome for Linder. He cares about the shot selection more than anything. Tonight, his squad attempted 25 from beyond the arc the most since Dec. 23 when the Cowboys put up 41 in a 71-69 win over Northern Iowa. While the Cowboys still aren't draining them like earlier in the season, they received a big lift from Brendan Wenzel in the win over the Bulldogs. The San Antonio, Texas product splashed a team-best 3-of-6 from three. (Wenzel also added nine rebounds and earned the "hard hat" award from his teammates after the game.) Wyoming finished just 6-of-25 from deep. It certainly hasn't helped that Xavier DuSell hasn't found his shot yet since returning from a hamstring injury. It will come.
* Wyoming scorers: Maldonado 21. Ike 14, Wenzel 12, Jeffries 6, Thompson 6, Jeremiah Oden 2
* Mountain West men's basketball standings:
Boise State: 18-5, 9-1
Wyoming: 19-3, 8-1
Colorado State: 17-3, 7-3
San Diego State: 13-6, 5-3
Fresno State: 16-7, 6-4
Utah State: 15-9, 6-5
UNLV: 13-10, 5-5
Air Force: 10-11, 3-7
Nevada: 9-12, 3-7
New Mexico: 9-14, 2-8
San Jose State: 7-15, 0-10
Dome of Doom