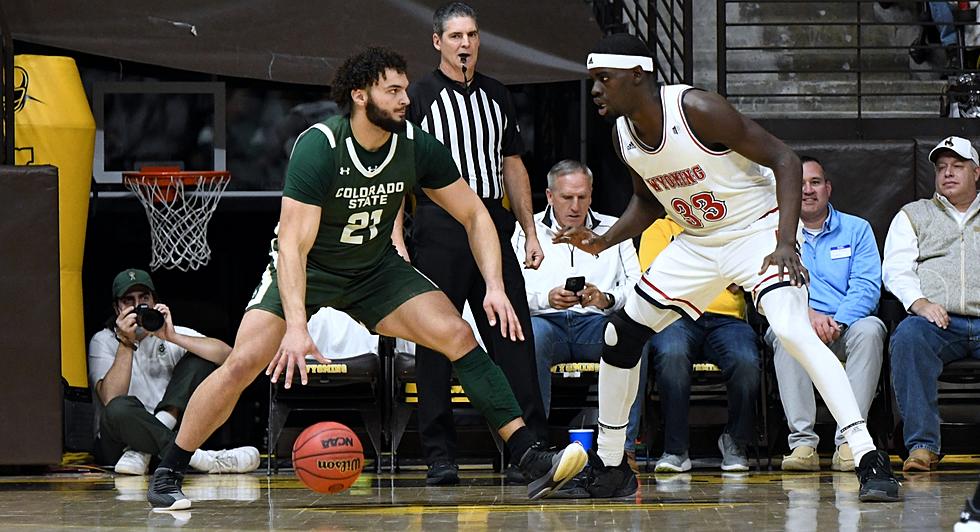 Tuck's 10 takes: Rams use threes and D to stymie Pokes in FoCo
David Roddy netted a game-high 26 points and hit four threes in a 61-55 win over Border War rival Wyoming Wednesday night in Fort Collins./ DJ Johnson photo
FORT COLLINS, Colo., -- Wyoming had an opportunity to stay atop the Mountain West standings and all but dash any hopes of a regular-season championship for its most hated rival.
David Roddy had other ideas.
So did Chandler Jacobs and Isaiah Stevens.
Those three combined for 54 points in the Rams' 61-55 victory over the Cowboys in front of a raucous sellout crowd inside Moby Arena. Roddy, who missed a potential game-winning free throw in Laramie in late January, got his revenge in this one, dropping a game-high 26 points, pulling down 11 rebounds and sinking 4-of-7 from beyond the arc.
Jacobs added 18 points off the bench and Stevens chipped in with 10.
Typically it's Hunter Maldonado and Graham Ike putting up numbers like that and carrying the offensive load for their team.
Not tonight.
Maldonado netted a season-low four points and Ike added an equally head-scratching eight. The leading scoring duo in the nation was anything but that in Fort Collins, draining just 5-of-19 shots and combining for nine turnovers, six from Ike alone.
Jeff Linder called it an "off night" for the big two, handing out plenty of credit to a stingy Rams defense that held the visitors to just 34% shooting from the field.
Maldonado scored a career-high 35 in the first edition of the Border War. Tonight, he didn't put the ball in the basket until the 9:56 mark of the second half.
Roddy said the Rams' plan for the redshirt junior worked to perfection.
"We were just not allowing him to get deep catches," he said. "He dribbles down a lot and we came with a blitz and a choke. So, we just didn't want him to be involved, mostly in the paint."
He wasn't.
Maldonado attempted just six shots in 26 minutes and fouled out with 21 ticks remaining.
What about the job the Rams did on Ike?
The 6-foot-9 freshman from down the road in Aurora went 3-for-13 from the floor. He also attempted just two free throws. Coming into this one, Ike ranked fifth in the nation in that category with 190 shots from the charity stripe.
Maldonado ranks fourth. He didn't fire off a single shot from the line tonight.
"It's just about being as physical as possible," Roddy said. "We were just trying to contest his post fade away."
The Cowboys didn't hit a bucket over the last 3:42 of this one. Three starters -- Brendan Wenzel, Jeremiah Oden and Maldonado -- didn't have a single point until Oden drained a three with 15:08 remaining.
That simply won't get it done.
"We can't sit here and hope down the stretch that you're going to win games or hope that other teams lose games," Linder said. "We're still in a great position -- three losses in the league -- but we have to continue to find a way to keep getting better as we make the stretch run."
Wyoming falls to 22-5 overall and 11-3 in Mountain West play. The Cowboys are now a game behind Boise State in the loss column and just one ahead of CSU (22-4, 12-4) and San Diego State (17-7, 9-4).
The Cowboys host Nevada Saturday at the Arena-Auditorium in Laramie. Tipoff is slated for 6 p.m. and the game will be televised on CBS Sports Network.
Here are some other tidbits and takeaways from the Pokes Border War loss in Ft. Collins:
* Linder said earlier in the week he challenged his role players to step up and start making the most of their few opportunities. Drake Jeffries got that message loud and clear. The junior guard from Illinois sank six triples and led the Cowboys with 22 points. Jeffries hadn't hit double figures since a 12-point outing against Utah State earlier this month. That was also the last time he drained more than two 3-pointers in a game. "I just I knew I had to do my part because I've been struggling," Jeffries said postgame. "Even tonight wasn't my best night. But, you know, I still have a lot of work to do. As a team, we really have to dig down and see if we're really built for this time."
* No fear Noah Reynolds provided a spark for the visitors inside Moby, slashing his way through the lane for a lay-in and hitting his lone attempt from deep. With Maldonado on the bench for a majority of the first half with two fouls, the freshman from Illinois stepped in and gave the Cowboys quality minutes. Is he the future at the point guard spot? In spurts, he sure looks the part. "Noah probably has the highest confidence on the team, honestly," Jeffries said. "He comes in every day ready to work and you can't mess with him because he will go get 20 if he really wanted to and that was his role." Maybe it should be.
* Wyoming has been dreadful of late from beyond the arc. Like 9-for-their-last-35 dreadful. That changed thanks to Jeffries' big night and an additional three triples from Xavier DuSell, who Linder said is getting his "swagger" back. "You know, X stepped up, Drake stepped up and those guys did a really good job of putting us in a position where we can win the game when our two top guys just (had an off night)," Linder said.
* Speaking of DuSell, the freshman guard from Arizona has found himself in foul trouble early and often since returning to the floor from a hamstring strain he suffered in a Jan. 15 win at Utah State. He has landed at least three personal fouls in five of the team's last eight games and fouled out tonight in the dying seconds of regulation. Linder often refers to DuSell as the best defender on his roster, but is he playing too aggressive? Something like that. "I guess I just have to stop using my hands," he said. "I need to try to play defense more with my feet and my chest and not reach so much. I guess I'm just trying to make a play on the ball. I just have to adjust because, you know, Insanity is when you just keep doing the same thing over and over again expecting a different result. I have to change."
* Wyoming was clearly rattled in the opening minutes Wednesday night. With 8,000-plus in this Cracker Jack Box of a gym, the Rams jumped out to a quick 16-5 lead thanks to a quick dozen from Roddy. DuSell settled things down when he threw an in-bounds pass off the back of James Moors and laid it up and in. He followed that up by sandwiching a pair of threes around a Reynolds lay in. The Cowboys looked like they were going to get boat raced early but the role guys picked up the slack. That will be handy with just four regular-season games remaining and the Mountain West tournament just around the corner.
* The Cowboys turned the ball over 11 times tonight. CSU turned those into 14 points. The Rams also led in the fast-break points category, 12-2. "We talked about empty possessions and 11 empty possessions on 11 turnovers in a game like this, I mean, you just can't afford to have those empty possessions," Linder said. In 13 conference games, UW is averaging nearly 12 turnovers per outing. That ranks the Pokes eighth overall in the 11-team league.
* You won't catch me blaming officials for much. In fact, tonight served a pleasant surprise seeing just 17 free throws attempted all night long. The refs let these two battle it out on the court, and for the most part, stayed out of the way. It's still mind boggling that Ike could put up 13 shots and go to the line just one time though. I asked Linder if he ever thought he would see that day. "No," he said bluntly. "I mean, he's No. 1 in the country in terms of fouls drawn. He drew four tonight, but that's also a credit to CSU in terms of doubling him and not allowing him to get into the paint ... It was just one of those nights. I mean, what can you do? You just have to chalk it up, move forward and give CSU credit for playing good defense on those guys."
* The Rams always seemed to have an answer in this one. After trailing by as many as 11 in the early stages, UW battled back and tied the game at 21-21 with 3:23 remaining in the first half. Then, Roddy hit a pair from the line. Reynolds sank a three, followed quickly by two John Tonje free throws. Jeffries nails a triple, Isaiah Rivera answered with one of his own. Wyoming would tie it up once again early in the second half on an Oden three. Jacobs had an answer on the next trip down the floor. "It's tough," Jeffries said. "It was hard to see that because I thought we did a pretty good job scouting them. The guys just made winning plays and they made shots. Chandler Jacobs went 4-for-8 from three. I don't know if he'd ever hit four in a game in his life, to be honest." Jeffries is right, Jacobs hasn't hit more than two triples in a game this season. He typically shoots just 27% from deep. It was just one of those nights.
* It feels like these two are going to meet again, doesn't it? You aren't the only one who thinks that. "I mean, of course," DuSell said of hoping to see the Rams at the conference tournament in Las Vegas. "I mean, that's what everybody wants, right? So, why not?" Roddy has a gut feeling, too. "Yeah, they're getting hot and we're getting hot at the same time," he said. "So, you know, if it ends up that way, it's going to be another classic."
* Wyoming scorers: Jeffries 22, DuSell 11, Ike 8, Reynolds 5, Maldonado 4, Oden 3, Wenzel 2
* Mountain West men's basketball standings:
* Boise State: 22-6, 13-2
* Wyoming: 22-5, 11-3
* Colorado State: 22-4, 12-4
* San Diego State: 17-7, 9-4
* UNLV: 17-11, 9-6
* Fresno State: 17-10, 7-7
* Utah State: 16-13, 7-9
* Nevada: 12-14, 6-9
* New Mexico: 11-17, 3-11
* Air Force: 10-16, 3-12
* San Jose State: 8-19, 1-14
Dome of Doom