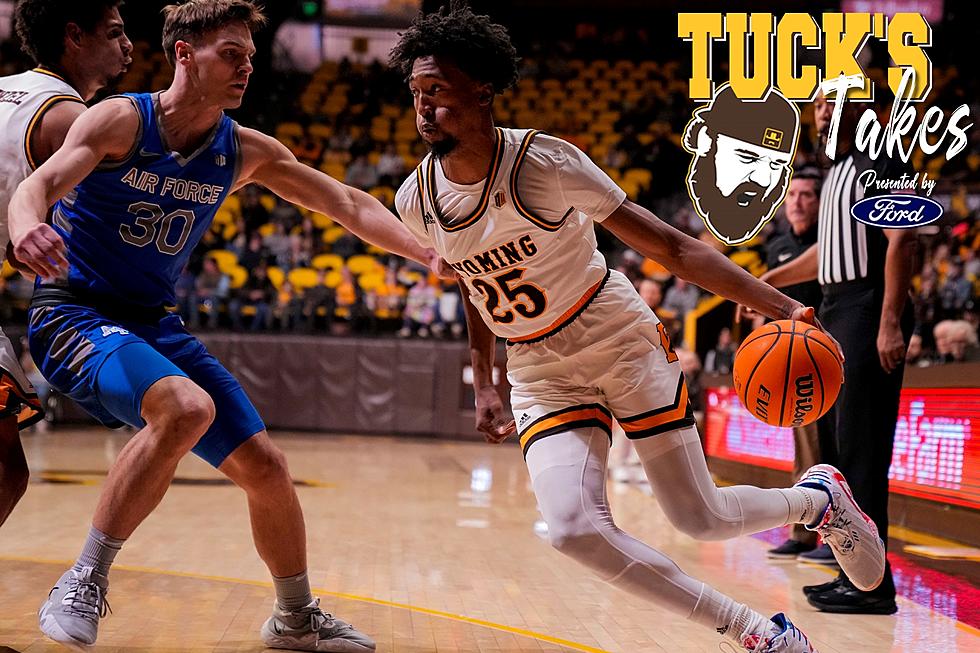 Tuck's Takes: Pokes a Step Slow in 75-69 Loss to Visiting Air Force
Jeremiah Oden sank a career-high 19 points in Friday night's 75-69 loss to visiting Air Force./ UW courtesy photo
LARAMIE -- The big question entering this one: how would Wyoming respond coming off its biggest win of the season?
The answer?
Let's ask Jeff Linder.
"I just thought that, probably all night long, we were about a half step behind," Wyoming's third-year head coach said after the 75-69 loss to Air Force inside the Arena-Auditorium. "That's where a team like Air Force where, if you're a half step behind, then you start giving up easier baskets than what you normally do. In the past, we've never really had issues with the back cuts."
That changed tonight. In a big way, too.
The visiting Falcons scored 28 points in the paint. To make matters even worse, they torched the Cowboys from the outside, connecting on 8-of-17 from deep. Jake Heidbreder sank two of those and netted a team-high 22 points on 8-of-10 shooting.
In fact, Air Force didn't miss many open looks -- and there were plenty of those -- finishing 23-of-42 from the field. That's better than 55%.
"Credit to Air Force because they hit those shots," said Hunter Maldonado, the Colorado Springs native, who finished with 22 points and seven assists in the loss. "They had a really good pace throughout the whole game."
Not the entire game.
Wyoming jumped out to an early 12-4 lead thanks in large part to a pair of triples off the right hand of Xavier DuSell. It looked like it might be one of those nights.
It wasn't.
The Cowboys hit just 6-of-26 from beyond the arc. two of those came in garbage time with the Falcons salting this one away.
Brendan Wenzel featured a limp, still attempting to fully recover from a right knee injury. DuSell, according to Linder, "tweaked" his knee in warmups. "Add that to the list," the head coach quipped. Kenny Foster, playing just his second game since mid-December, landed hard on his surgically repaired back twice in this one.
Maybe that's why this team was a step slow all night?
"It's no excuse," Linder said. "... I thought, you know, the effort was good, but wasn't good enough."
Though Linder downplayed some of the postgame stats, a couple appeared, well, troublesome. The Falcons and Cowboys both finished with 28 rebounds, the road team winning the defensive battle on the glass, 25-20. That doesn't happen. Wyoming turned 13 Air Force giveaways into just eight points. Second-chance points were even at 5-5 despite UW pulling down eight offensive boards -- seven in the second half -- compared to just three.
Despite all of that above, this was a one-possession contest with just over three minutes to go in the second half.
I want you to think back to Tuesday night. Remember all those warm and fuzzies you felt after the Cowboys rolled into the vaunted Pit and pushed around what should have been a much more desperate New Mexico squad?
All that momentum might have flown out the window for you -- and me -- but not these guys.
"I wouldn't say it's frustrating," said Jeremiah Oden, who netted a career-high 19 points Friday night. "It just comes with the game. You win some, you lose some. We're just going to learn from it. I wouldn't really say it's frustrating. I don't think that we lacked effort, there were some mental lapses that we don't normally give up against Air Force that we've got to clean up, but it's nothing that we can't fix going to the next game."
Maldonado jumped in on that question.
"Each game we have to take something away and take another step," the senior said. "I don't think we took a step back today although the outcome wasn't what we wanted. I think we did a good job, like JO said, we had effort. But now it's finding a way to have effort and be on edge mentally throughout the course of a 30-second shot clock, not 27, not 28, not 29.
"I think today, we just couldn't get there in those last 10 seconds."
MORE UW HOOPS NEWS VIA 7220SPORTS:
* Linder, Wyoming embracing spoiler role down the stretch
* Jeff Linder says he's no longer coaching effort, calls it 'liberating'
* PODCAST: Pokes burst Lobos' bubble in ABQ
* Tuck's Takes: Bubble-bursting Pokes play spoiler in The Pit
* Three Pac-12 transfers no longer with Wyoming basketball program
* Noah Reynolds 'shutdown' for remainder of season
Linder reiterated this will be a game-at-a-time process with this undermanned unit, who once again rolled just eight deep. He liked the try, not the outcome. Are these guys tired? Obviously. What team in America isn't? He also added this is only the fourth game this roster has played together this season after the lengthy injury list and the abrupt departures of offseason transfers Ethan Anderson, Max Agbonkpolo and Jake Kyman.
Everything seemed off in this one. Everything except the Falcons offense.
"Every game right now is a one-game season," Linder said. "I can live with losing, as much as I don't like to lose, if it boils down to whether or not you just made or missed shots.
"Offensively, it's a make-or-miss game and we had a lot of open looks, but they didn't go in tonight. I thought we got some good shots but you've got to knock them down. We missed some free throws, too, at a critical juncture."
* Wyoming scorers: Maldonado 22, Oden 19, DuSell 10, Wenzel 7, Barnhart 6, Foster 2, Thompson 2, Powell 1
* This was the 125th all-time meeting between these two programs. Wyoming holds an 82-43 advantage. The Pokes are now 42-17 against their Front Range foes inside this building.
* Oden not only netted a career high in this one, he also reached double figures for the ninth time in Mountain West play. He had 10 of his 19 points in the first half.
* 103. That's how many times during his Wyoming career Maldonado has reached double digits in the scoring column. He entered this tilt against his hometown team with 2,038 points. He passed Flynn Robinson for fourth all-time in scoring at UW. "I think, obviously, it just shows how much work I put in," Maldonado said. "But, at the end of the day, I'm here to win. I couldn't care less about the records. Those are cool when you look back in time, and you're like 35, 40. But right now I'm just trying to find a way to help these younger guys learn and keep getting better every single day." Maldonado is just two points away from surpassing Justin James for third on the school's scoring list.
* This was the fourth straight double-figure outing for DuSell. He now has 10 of those this season.
* The Cowboys (8-18, 3-11) will host Utah State (20-7, 9-5) Tuesday night inside the A-A. That game is slated for 7 p.m.
LOOK: Pokes' unis through the years