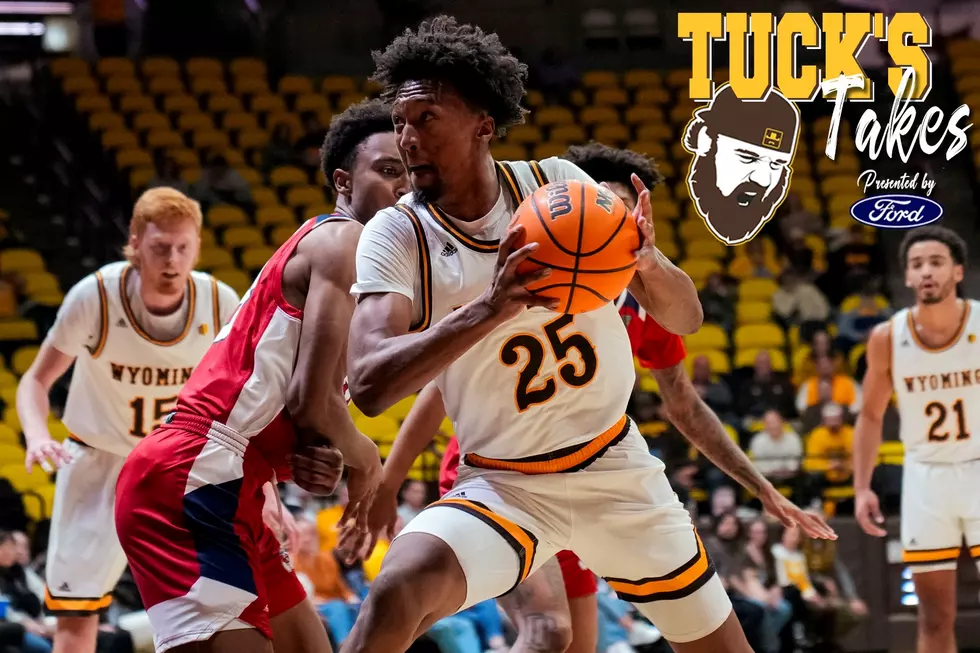 Tuck's Takes: Refreshed Pokes Take Out Frustration on 'Dogs, 85-62
Wyoming's Jeremiah Oden netted a double-double -- 15 points, 10 rebounds -- in Tuesday night's 85-62 rout of Fresno State./ UW courtesy photo
LARAMIE -- That didn't look like the six-win team we all know and love.
That's because it wasn't.
Amazing what a couple of days off and some healthy bodies can do, huh? Drilling 13 triples certainly didn't hurt, either.
With Brendan Wenzel and Jake Kyman back in the lineup, Wyoming put on an absolute clinic in an 85-62 rout of visiting Fresno State Tuesday night inside the Arena-Auditorium. The Cowpokes shot 51% from the field, owned the glass -- 45-22, 13 of which came on offense -- and were dishing out plenty of helpers in the process. Sixteen, to be exact.
Here might be the most surprising stat of the night: 14-of-14. That's what UW did at the free-throw line. This team ranks second to last in the conference when it comes to freebies.
Those guys mentioned above only chipped in with a single three and six rebounds, but that's not the point. Jeff Linder said with them back in action, his team was able to practice 5-on-5 for the first time since November.
It showed.
The Cowboys' third-year head coach was also able to mix and match lineups and give guys a blow while his team cruised to just its second Mountain West victory in nine tries.
"I just thought in terms of our effort, I thought our effort had to exceed theirs, knowing that, you know, they had a tough trip here and having to play at altitude," Linder said postgame. "Could we be the team over the course of 40 minutes that just has more effort?"
That answer is a resounding yes.
Wyoming had eight triples in the first 14 minutes. Fresno State started 0-10 from beyond the arc and didn't connect on one from deep until there was less than six minutes to go in the first half.
The Pokes attacked the rim. The ball movement was crisp. The forward-laden lineup Linder rode with at the jump -- Nate Barnhart, Hunter Thompson and Jeremiah Oden -- paid off big time. Oden (15 points, 10 rebounds) and Thompson (18 points, eight rebounds) flirted with a double-double in the first 20 minutes.
Barnhart had attempted just five 3-pointers all season. He was 2-for-2 in that category in the first half and finished with a dozen points to go along with four boards.
"I mean, big is good if you can play big," Linder said with a grin. "Those guys, it's not a matter of being big, but just the effort that's required. I thought that all of those guys' efforts were really good."
Wyoming also spread the love in this one. Everyone on this roster not named Caden Powell or Max Agbonkpolo got on the scoresheet. The true freshman did pull down four rebounds, though. The USC transfer, for the second straight game, didn't leave the bench.
More importantly, nine different players were on the floor for double-digit minutes.
On the defensive side, the Cowboys held the Bulldogs to just 25 first-half points. The visitors misfired on 36 shots and only connected on 7-of-25 attempts from beyond the arc.
"Obviously, it's nice to get a win, but at the same time, even though we're having the season we're having, we still believe that we can beat anyone in this league. So, you know, it's a great win for us, but we just have to take this one game and put it into the next game. So that's all we're focused on right now."
Even when it was announced before the start of the regular season Graham Ike would miss significant time with a lower-leg injury, we though this program has enough depth to stay a float and win plenty of games while we all waited for the "6-to-8 week" return of the preseason Mountain West Player of the Year.
At times, it did.
This victory looked an awful lot like the beating the Cowboys put on Louisiana Tech back on Dec. 10. You remember that one, right? UW boat raced the Bulldogs to the tune of a 92-65 blowout. The home team stroked 14 triples that night and shot nearly 52% from the field. They won the battle of the boards and led by as many as 31.
Tuesday, that number reached 25.
I thought the Pokes turned a corner that day. I wrote all about it. This column reminds me of that one, in fact.
Wyoming went on to lose eight straight and 9-of-10.
It didn't help that it was without Hunter Maldonado, Noah Reynolds, Thompson, Kyman, Wenzel and Kenny Foster for long stretches. If this team can stay healthy -- a huge if -- the trajectory of this squad might finally be pointed in the right direction with two winnable tilts awaiting at San Jose State and at home against UNLV.
Linder isn't looking ahead. Do you blame him?
"We've won two out of the last three," he quipped. "We haven't said that in a while."
Wyoming (7-14, 2-7) will travel to San Jose State (13-9, 4-5) Saturday night for an 8 p.m. tipoff against the upstart Spartans. The game will be televised on CBS Sports Network.
* Cort Roberson, a walk-on from Arlington, Wash., netted two points in the win over the Bulldogs. With a late sizable lead, Linder sent in the 6-foot, 157-pound freshman guard. He ended up sinking a pair of free throws after Isiah Moore was hit with a late technical foul for shoving Barnhart. It was a special moment, one that wasn't lost on his teammates. "It means a ton," Oden said. "Cort is one of those guys, I mean, he's kind of the heart and soul of our program. It's just what he comes in and does every day. It doesn't necessarily show up to the public but we know how big of an impact he has." Stay tuned for more on Roberson this week.
* This one got chippy toward the end of regulation. Moore and Oden got tangled up in the paint, fighting over a rebound. Neither player was hit with a foul, but Reynolds and Destin Whitaker were. So was Wenzel, who was ejected for leaving the bench area.
* If there was one true black mark on this outing for the Pokes it came in the form of turnovers. Wyoming gave the ball away 18 times -- a dozen in the second half -- compared to just six from Fresno State. The visitors turned those handouts into 18 points.
* Were homemade cookies the key to Thompson's big night? They certainly didn't hurt. Todd Thompson joked on Twitter, writing that was the big difference in this one. So, I asked the man himself if that aided in his best outing of the season. "I didn't know that until I walked in the locker room," Hunter said with a smile. "But, yeah, thank you, dad."
* Wyoming scorers: Thompson 18, Oden 15, Maldo 14, Barnhart 12, Reynolds 9, Anderson 9, Kyman 3, DuSell 3, Roberson 2
Former Wyoming walk-on Marcus Epps leaving his mark in the NFL
Former Wyoming football player Marcus Epps has been an iron man for the top-seeded Philadelphia Eagles this season and is now one win away from the Super Bowl