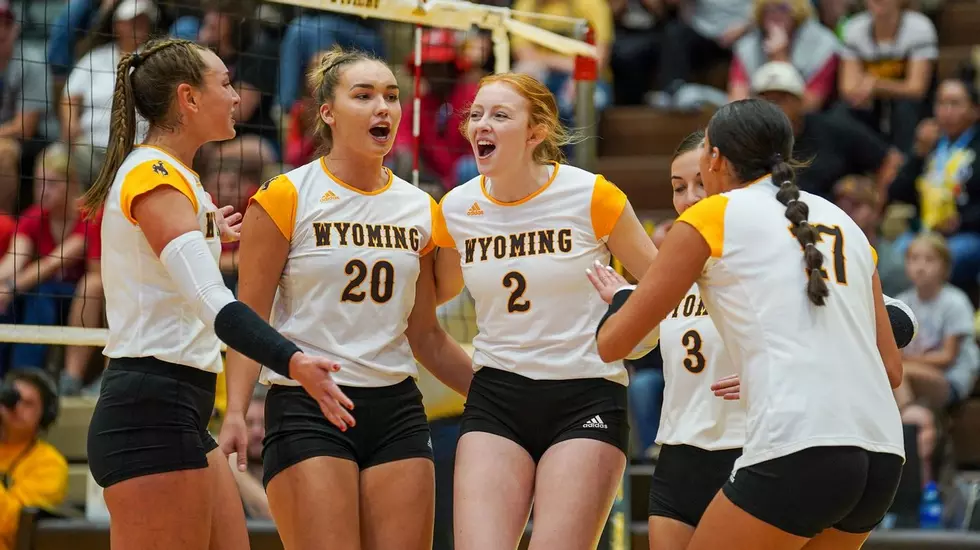 UW Hits the Road to New Mexico, Air Force
The Wyoming volleyball team has its first full week of conference travel this week as the Cowgirls hit the road to face New Mexico at 6:30 p.m., Thursday, September 29 and Air Force Saturday, October 1 at 4 p.m./ UW courtesy photo
* University of Wyoming press release
LARAMIE -- The Wyoming volleyball team has its first full week of conference travel this week as the Cowgirls hit the road to face New Mexico at 6:30 p.m., Thursday, September 29 and Air Force Saturday, October 1 at 4 p.m.
The Cowgirls (4-10, 0-2 MW) are in search of their first Mountain West win this week after beginning league play with losses to Colorado State and UNLV.
Teresa Garza led the Cowgirls in the league-openers with 15 kills in the two matches while also tallying a team-high 16 digs. Kasia Partyka averaged 8.71 assists per set during the week while her 9.29 assists per on the season ranks third-best in the league.
Tierney Barlow, who hit .500 and was second on the team last week with 14 kills, continues to hit well this season, as she comes into the week hitting at a .358 clip. That mark ranks fourth in the Mountain West. Hailey Zuroske also continues to rank towards the top of the league in digs, averaging 3.65 per set, which is fifth in the MW.
UW is 20-21 all-time in Albuquerque against New Mexico. Last season's loss at UNM snapped a five-match road winning streak in the series against the Lobos. It also snapped a seven-match winning streak overall for the Cowgirls in the series. Air Force also defeated the Cowgirls at home last season, snapping Wyoming's 13-match winning streak in the series.
UW is 23-5 all-time at Air Force.
New Mexico has a trio of attackers with more than 100 kills in 2022 and are led by All-Mountain West performer, Kaitlynn Biassou's 197. Biassou is averaging 3.86 kills (4th in the MW) and 4.55 points (3rd) per set this season.
Kali Wolf and Uxue Guereca have 142 and 123 kills, respectively. Anilee Sher is averaging 9.19 assists per set this year and leads a Lobo offense that is hitting .203 on the season. Defensively, Avital Jaloba leads the Lobos with 35 total blocks while Alena Moldan's 4.77 digs per set leads the Mountain West. UNM is 10-2 and 1-1 in the league in 2022 and is a perfect 3-0 at home.
Air Force enters the week 8-6 and 0-2 in the MW and has a 4-2 mark at home in 2022. The Falcons are led by Joi Harvey and BrookeLyn Messenger with 141 and 139 kills, respectively. Harvey ranks second in the league in hitting percentage at .382. AFA has used multiple setters this season and are led by Amber Soto's 142 assists (4.90 per set). Messenger and Caroline Reinkensmeyer rank fifth and sixth, respectively in the conference in service aces with 0.38 per set, each. Harvey's 1.44 blocks per set in 2022 is tops in the league thus far on the year.
The 10 Highest Paying Jobs in Wyoming