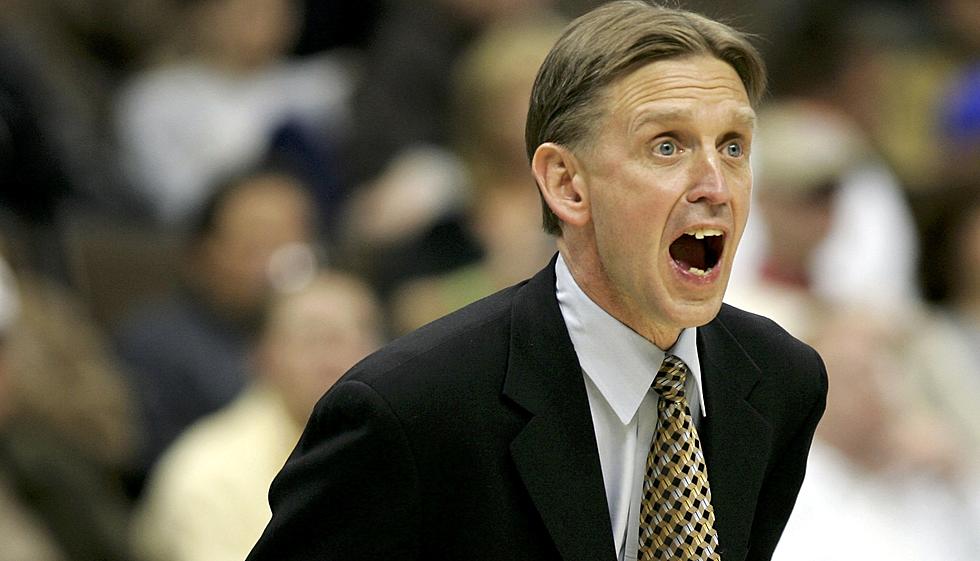 What Teams Should Wyoming Fans Pull For in the Sweet 16?
DENVER - MARCH 10: Head coach Steve McClain of the Wyoming Cowboys directs his team against the Utah Runnin' Utes in the semifinals of the Mountain West Conference Basketball Tournament on March 10, 2006 at the Pepsi Center in Denver, Colorado. (Photo by Doug Pensinger/Getty Images)
LARAMIE -- Sixteen college basketball teams are still playing meaningful basketball.
Wyoming isn't one of them.
Yes, you were already well aware. That dreadful nine-win campaign in the rear-view mirror is still much closer than it appears. Thanks, transfer portal. Maybe this weekend's slate of games can take your mind of the nightmare that was or the fact powerhouses from around the country are currently drooling over Graham Ike.
We know that won't happen, but we could all use the much-needed distraction.
Struggling to find a rooting interest this March? Maybe some Wyoming ties will help? At this point, positives are hard to come by. Let's try anyway.
TEXAS LONGHORNS:
There's some Wyoming flavor on the Longhorns' coaching staff, starting with former head coach Steve McClain, who is now a special assistant to interim head coach Rodney Terry in Austin.
From 1998 to 2007, McClain roamed the sidelines in Laramie, leading the Cowboys to a 157-115 record, including an appearance in the 2001-02 NCAA Tournament. You might recall, that is the last time Wyoming won a game in the Big Dance. That was a 73-66 opening-round victory over Gonzaga.
Ty Larson, a graduate assistant at Texas, is a Douglas native. Larson also played college basketball at Eastern Wyoming College before joining Chris Beard's staff at Texas Tech. If you haven't watched this highlight, do yourself a favor:
No. 2 Texas will face No. 3 Xavier Friday at 7:45 p.m. on CBS. That game will be played in Kansas City.
SAN DIEGO STATE AZTECS:
Maybe you're one of those pull-for-the-conference types. If so, San Diego State is the Mountain West's last hope this season. The No. 5 Aztecs will tangle with top-seeded Alabama at 4:30 p.m. Friday in Louisville, Ky. You can find that one on TBS.
There's one additional reason to pull for SDSU -- JayDee Luster.
The former Wyoming guard is an assistant on Brian Dutcher's staff. In 117 games played in a Pokes' uniform, Luster averaged just under five points per game. The San Diego native played in Laramie from 2009-12 after transferring from New Mexico State.
Luster, who was a team captain at UW, was named the Mountain West Defensive Player of the Year in 2012. He is 10th all-time in program history with 344 career assists.
SWEET 16:
Thursday, March 23, 2023
No. 3 Kansas State vs. No. 7 Michigan State - 4:30 p.m. - TBS
No. 4 UConn vs. No. 8 Arkansas - 5:15 p.m. - CBS
No. 4 Tennessee vs. No. 9 Florida Atlantic - 7 p.m. - TBS
No. 2 UCLA vs. No. 3 Gonzaga - 7:45 p.m. - CBS
Friday, March 24, 2023
No. 1 Alabama vs. No. 5 San Diego State - 4:30 p.m. - TBS
No. 1 Houston vs. No. 5 Miami - 5:15 p.m. - CBS
No. 6 Creighton vs. No. 15 Princeton - 7 p.m. - TBS
No. 2 Texas vs. No. 3 Xavier - 7:45 p.m. - CBS
* All times are Mountain
University of Wyoming's Top 50 Football Players
The rules are simple: What was the player's impact while in Laramie? That means NFL stats, draft status or any other accolade earned outside of UW is irrelevant when it comes to this list.
This isn't a one-man job. This task called for a panel of experts. Joining 7220's Cody Tucker are Robert Gagliardi, Jared Newland, Ryan Thorburn, and Kevin McKinney.
We all compiled our own list of 50 and let computer averages do the work. Think BCS -- only we hope this catalog is fairer.
Don't agree with a selection? Feel free to sound off on our Twitter:
@7220sports
- #Top50UWFB
- University of Wyoming's Top 50 Football Players