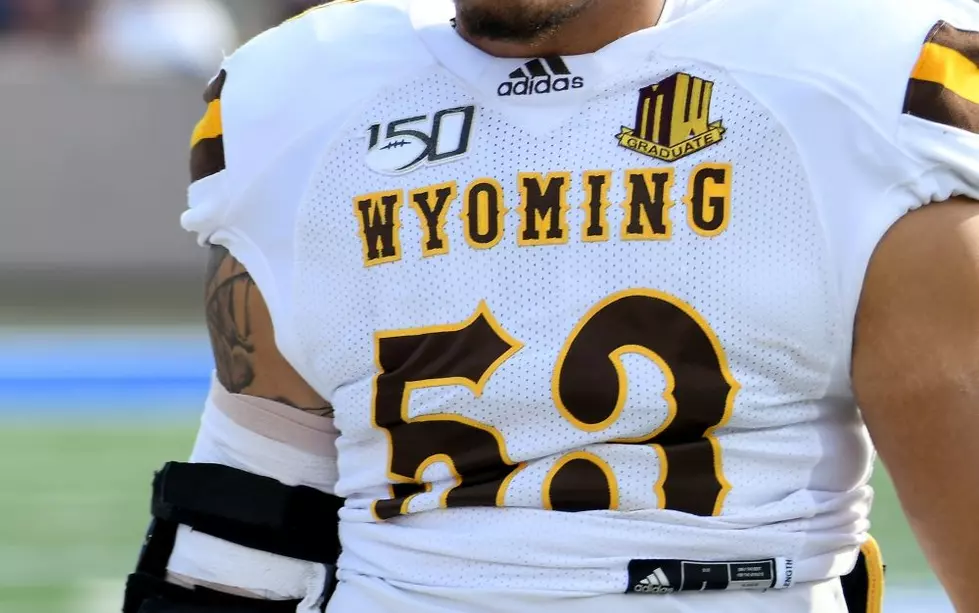 Which Wyoming Cowboy wore it best? No. 53
53cropuse
CHEYENNE — Do you ever see a number on a Wyoming football jersey and think of all the great players to wear it? Yeah, me too. In this daily series, I'll give you my take on which Pokes' football player was the best ever to don each number. The criteria are simple: How did he perform at UW? What kind of impact did he have on the program?
No. 53 – Rob Rathbun
Center, 1994-96, Denver, Colo.,
Résumé in Laramie
Rob Rathbun was a starting center on one of the best teams in University of Wyoming history in 1996. The Cowboys went 10-2 and played in the WAC Championship game behind one of the best offensive units in college football lore. Rathbun blocked for Ryan Christopherson, who at the time was the top running back in program history. He earned All-WAC honors as a senior in 1996, and was a redshirt when the Cowboys played in the Copper Bowl in 1993.
Why Rathbun?
Is it ever good when the head coach wants you to go see him in his office?
Joe Tiller wanted to have a word with redshirt freshman tight end Rob Rathbun. He wasn't in trouble, but his job title changed in two sentences.
"Would you like to touch the ball every play," the Wyoming head coach asked.
That's a dream for anyone, especially a young, eager pass catcher.
"Good, you're a center."
Rathbun changed his number from 80 to 53 that day and soon would become the Cowboys starting center. For three seasons, Rathbun joined some of the best linemen in program history, paving the way for running back like former All-time leading rusher, Ryan Christopherson, Marques Brigham and Len Sexton.
Rathbun was part of plenty of big moments during his career in Laramie.
In 1994, he helped pave the way for a 244-yard rushing performance by Christopherson on just 27 attempts. That is still the fourth-best day by a Cowboy running back in program history. The following season, Wyoming took down Oklahoma State (45-25), Louisville (27-20) at War Memorial Stadium. They went to San Diego in Week 9 and took down the 25th-ranked Aztecs, 34-31.
In 1996, the wins started to finally mount.
Rathbun, joined by Steve Scifres, Rob Bohlinger, Jeff Smith, and others, helped lead the Cowboys to a 10-2 record and a berth in the inaugural Western Athletic Conference Championship Game in Las Vegas.
The Cowboys did most of their damage through the air that season. Quarterback Josh Wallwork and future Biletnikoff Trophy winner, Marcus Harris, became one of the best duos in college football history that season.
How good was that 1996 offense?
They still hold the school record for:
Total passing yards: 4,310
Average passing yards per game: 359.2
Total touchdown passes: 35
Average yards per game: 498.9
Average yards per play: 6.6
First downs: 315
Average first downs per game: 26.3
Total first downs passing: 193
Not bad, huh?
This game would probably serve as one of, if not the biggest moments in Rathbun's career at UW.
With eight minutes left on the clock, trailing by five and staring at 96 yards of snow-covered grass in front of them, the Cowboys offense had to get one last touchdown in the regular season to punch their ticket to Sin City and a date with No. 5 BYU.
In a game simply referred to as "The Drive," Wallwork and Co. methodically picked apart Border War rival Colorado State that frigid day inside Hughes Stadium. Brigham finished off the Rams with a five-yard jaunt into the south end zone.
He went right through a hole created by No. 53.
Wyoming 25
Colorado State 24
Rathbun currently lives in his hometown, Denver, where he is a senior sales representative at Balfour.
Pete Gosar/ University of Wyoming photo
Honorable mention
Pete Gosar (1987-90) was a strong candidate for the best ever to wear the No. 53. Why? Well, the Pinedale native anchored the linebacking corps of one of the runs in UW football history. Under the guidance of head coach Paul Roach, the Cowboys won the WAC championship in 1987 and '88. Gosar and the Pokes played in back-to-back Holiday Bowls after churning out a 21-5 record.
Did I mention Gosar was a walk on?
He is also a legacy player. His older brother, Tim Gosar, was the best No. 48 in Cowboy football history. Gaston Gosar also played football at Wyoming. Each season, the "Gosar Family Walk On" award is handed out to the player most deserving.
And speaking of walk ons. Lets give some love to Josiah Hall (2016-19). The Pokes defensive end didn't put up monster number during his days in Laramie, tallying just 74 tackles and 3.5 sacks, but he did help turn the program into what it is today.
He will always be remembered for his "safety dance."
Chase Appleby caused the fumble and the safety during the Cowboys upset win over No. 13 Boise State in 2016, but Hall did the pleading with the refs, which was caught on national television -- and by our cartoonist, Chad Blakely.
Who else wore No. 53
Jack Hall (C), Tom Bramlet (DE-C), Dick Maier (DT), Trent Greener (DL), Brian Griffis (HB), Cody Kelly (OT), Richard Knight (OL), Avi Kurtz (OL), Matt Schneider (LB), Damon Roark (DT), Luke Chase (LB), Corey Orth (DE), Kevin Bell (K), Alex Borgs (LB)
All available rosters and photos courtesy of the University of Wyoming. If we missed one, please email Cody@7220sports.com.